Nowa generacja drukarek serii M Plus trafia na rynek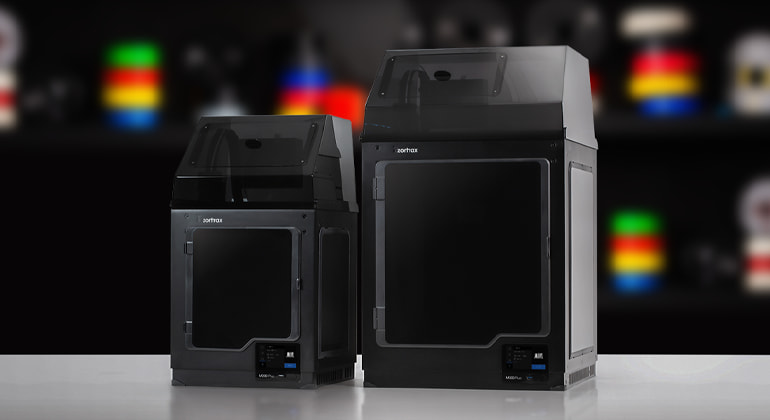 Wprowadzamy nową generację popularnych drukarek M200 Plus i M300 Plus, z szeregiem nowoczesnych rozwiązań poprawiających bezpieczeństwo i komfort użytkowania. Wszystkie nowe funkcje są szczegółowo omówione poniżej.
Lepsze czujniki
Nowa generacja serii M Plus jest wyposażona w bardziej niezawodne, optyczne czujniki osi. To rozwiązanie zostało już sprawdzone w M300 Dual, jednej z najbardziej zaawansowanych, dwugłowicowych drukarek w ofercie Zortrax. Teraz, ten sam system trafił także do urządzeń działających w technologii pojedynczej ekstruzji.
Poprawiona komunikacja
Kolejnym obszarem gdzie wprowadzono zmiany jest interakcja z użytkownikiem. Ulepszone urządzenia serii M Plus, oprócz wyświetlania komunikatów na ekranie dotykowym, mogą także emitować sygnały dźwiękowe. Taki sygnał pojawi się za każdym razem, gdy konieczne będzie szybkie działanie użytkownika. Przykładowo, drukarka powiadomi w ten sposób o nagrzaniu się hotendu i potrzebie załadowania filamentu.
Blackout Response System
Blackout Response System jest jednym z najbardziej zaawansowanych systemów bezpieczeństwa, który do tej pory dostępny był jedynie w droższych, dwugłowicowych drukarkach M300 Dual. Teraz, to samo rozwiązanie zostało wprowadzone w nowej generacji drukarek serii M Plus. Każda drukarka ma wbudowany kondensator, który przez cały czas przechowuje energię konieczną do zachowania postępów druku. Dlatego nawet w przypadku przerwy w zasilaniu, drukowania nie trzeba zaczynać od początku. Drukarka z nowej serii M Plus może po prostu kontynuować pracę, kiedy zasilanie zostanie  już przywrócone.
Aby skorzystać z nowych funkcji, konieczne jest zainstalowanie firmware'u w wersji 2.3.0 lub nowszej. Ulepszenia dostępne są jedynie w nowowyprodukowanych urządzeniach. Drukarki serii M Plus nowej generacji można zakupić u jednego z naszyzch oficjalnych Resellerów, bądź w naszym oficjalnym sklepie internetowym.