Zortrax Team Went to Amsterdam – AM Europe 2016 Coverage
The main points of interest during the Additive Manufacturing Europe 2016 trade fair were themes of aerospace, automotive and healthcare. And thanks to the versatility and great reliability of our 3D printers we were nothing but to adjust to the requirements and show that we surely can 3D print models that can be well incorporated in each of these industries and many more. Of course we wouldn't be ourselves without giving you some extra models that are pure pleasure to the eyes. Come and take a look!
Out of Space Model
The model of a Plane Cockpit serves as the example, that the technology offered by Zortrax can be well used for creating models for the aerospace industry. But that's obviously not all the great news. Now you can prototype even faster and more efficiently, as thanks to the huge work space offered by Zortrax M300,  you can materialize even your biggest ideas. The model was 3D printed using Z-HIPS and Z-ULTRAT printing materials.
Get Your Pulse Racing
The models of Artificial Heart, Medical Winch and Modular Arm are the objects many of you may be familiar with, as we've already presented them on our Zortrax blog. Although some of them may not look as spectacular as the Super Hero model that we wrote about on the first day at AM Europe 2016, they're even more precious. This set of life-saving pieces is here because by creating them we wanted to put a special focus on how innovative tools, that find their utility in everyday patient's lives or during surgeries, can make contribution to improving healthcare and living standards of many. It is worth adding that apart from the 3D printed elements, the model of the Artificial Heart contains also rubber elements that were casted using special patterns that were designed and 3D printed on Zortrax M200. This simply shows that by having a Zortrax M200 device that 3D prints in LPD technology, you can in fact create prototypes using some other materials and every time do it fast and cost-efficiently.
Let's Swing into High Gear
Here's yet another example of a 3D print that came directly from the build plate of our latest 3D printer Zortrax M300 – the Motorcycle Helmet. Having to choose from the four types of printing materials that are available for this 3D printer, we decided to go for Z-ULTRAT to guarantee great level of resistance and durability. Among these physical properties, the use o this particular material allowed for easy post-processing that in this case helped the model to obtain the look of a real end-use object. Without the need to divide the model and devote time for assembling and gluing, this tool gives you the real speed of working, just set the print and you're ready to go!
The Printing Precision
This Clock is a model for those who are curious of one of our most compact professional 3D printers – Zortrax Inventure. The complex mechanism of the device was 3D printed as one build and owes its quality mainly to the precise extruder that 3D prints using two materials, one of which is known under the name of Z-SUPPORT. By incorporating such innovative solution it is possible to create even the most intricate shapes without the risk of destroying the small elements during the support removal, as the supporting material is in this case soluble in water based solution. After using this smart tool we were convinced that 3D printing process can be really flawless.
Sounds Good?
It can even better, as we prepared models for all of you, also for those who are more about the entertainment and wanted to see the application of the 3D printing technology in the consumer goods sector. Well, have a look at the speaker and tell us if you see any difference between this one and the devices that you can buy at an ordinary store. If you can't see any – here's a tip – the prototyping process. The presented model was 3D printed on Zortrax M300 using Z-HIPS and Z-ULTRAT materials, the layers of chrome and spray paint were applied to the finished model to make its final look. Everything was done in-house: 3D printing, redesigning and post-processing, just to make sure that we can create the models that are personalized an tailored for each individual user without need for outsourcing and involving long and expensive methods of production.
Off the Scale
Here's another model that wins the attention thanks to its look and great precision. The scale model of the Station was 3D printed on Zortrax M200, which is a reliable desktop 3D printer that can help architects create mockups fast and avoid lots of manual effort and time spent on assembling the parts. The model was 3D printed using Z-HIPS and Z-ULTRAT materials that apart from the vast range of 22 colors provide you with extra durability. However, the main thing that deserves attention here is the precision, as each of the tiny pieces resemble the look of the initial architect's project. So, if you are into creating complex mockups, make sure you've got the smart tool on your desk.
Color Clash
Plenty of colorful cubes grabbed in one place – that's our printing materials display. All carefully picked and divided, as they were selected in a way to meet the needs of a particular Zortrax device. As you've probably noticed during this event, the range of our products is getting constantly richer and so does the printing materials palette and the whole Zortrax Ecosystem. As some of you are already familiar with our classic materials like economical Z-ABS, Z-ULTRAT with 22 shades and mat and durable Z-HIPS, during the AM 2016 you also have a chance to get to know the latest ones dedicated to Inventure and M300. When it comes to the forementioned devices, don't forget to check the smart way in which they are provided – the special spool that shows you the material consumption for M300 and easy to use cartridges with Z-ULTRAT Plus dedicated for Inventure.
Get to Know it Better
Apart from showing you how each of our devices and materials can be applied in various industries, we also wanted to fill you in with the more general data concerning current market tendencies and forecasts on the 3D printing technology. During the series of presentations taking place during the trade fair, our Marketing Director, Bartek Cymer put some effort to convince you that we are already facing the "Desktop 3D Printers Expansion" – be prepared!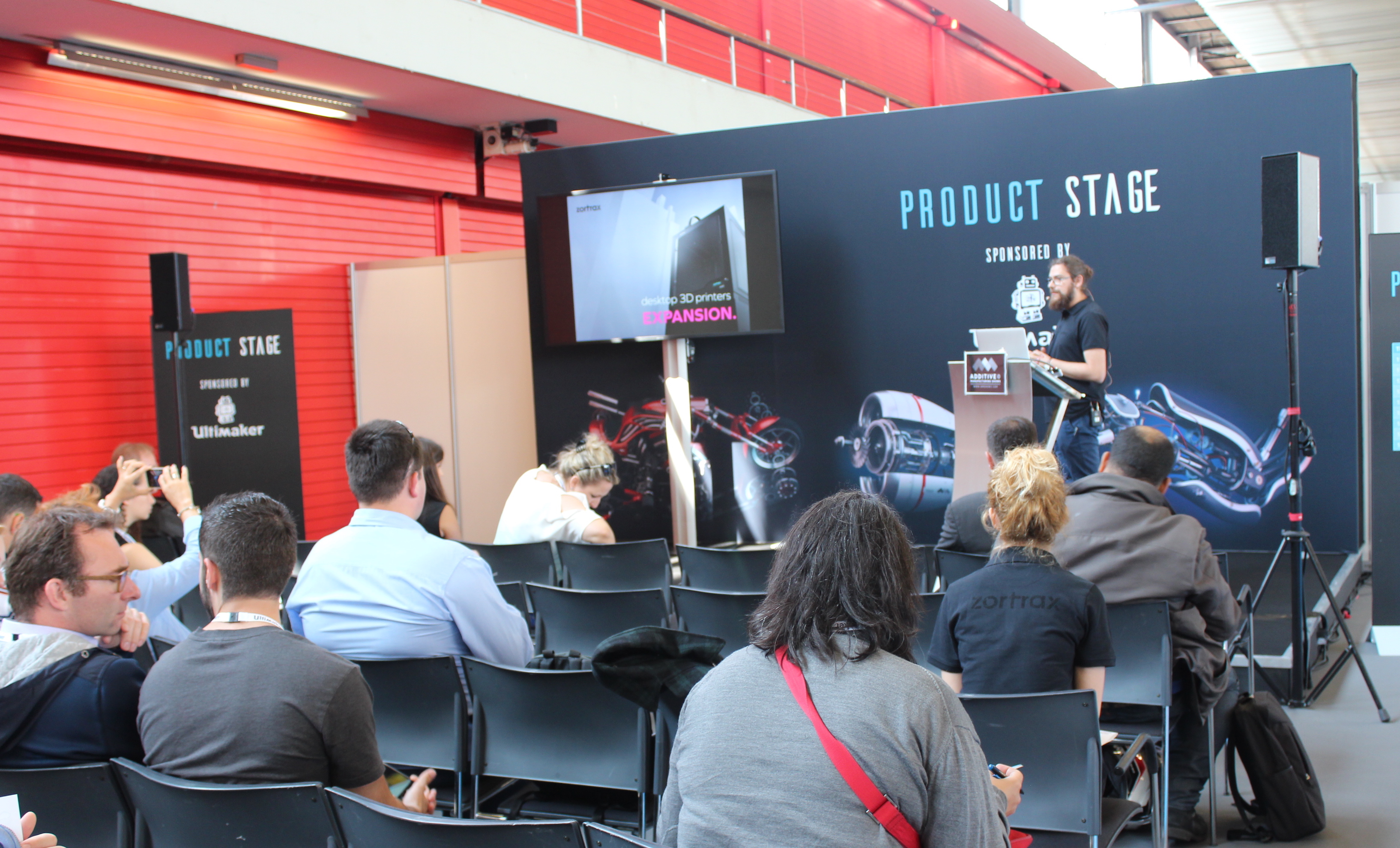 It's All for You
Yet again we want to thank you all for giving us the possibility to listen. Your comments, suggestions and ideas for 3D printing application are the basis for our development. After the trade fair we are richer and even more motivated to extend the range of our devices and materials that meet various needs and serve you and your business well.
We assume that the real statement of our user-oriented approach was the Zortrax M300 that came into life according to the most popular request of our users who were constantly asking for the quality of M200 in XXL size. It caused our team working night and day, but there you have it – a huge robust tool for prototyping big models really fast.
Last but not least, we want to add that our team did its best, but we obviously wouldn't have been such successful without the help of our Super Hero who simply made the people coming, but also showed that with this technology you can get the results that amaze even us.