The Latest Models from the Zortrax Library – Game Accessories
Have you ever thought about making your own board game or a trick object? Have you ever wanted to reconstruct a figurine or a dice that got lost or damaged? Or perhaps there is a trick toy that you played with as a child but is nowhere to be bought anymore? Thanks to the 3D printing, it is now all within your reach.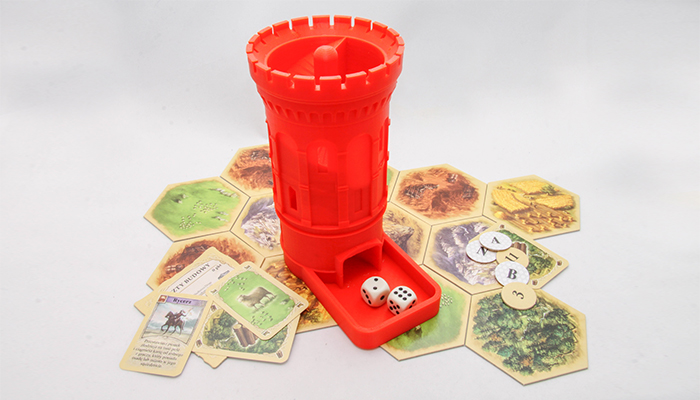 3D printed dice tower
The Renaissance of Board Games
Although board games, or any games not involving using a computer, a tablet or a mobile phone for that matter, may seem old-fashioned for the younger generation, they are actually in their heyday.
Whether it's the longing for social interaction, or the fact that there's a vast selection of a superb quality of boarding games to choose from, the fact is that more and more people are becoming to be in thrall to the new-old fashion.
Bring Your Gaming to the Next Level
And now how about creating your own board game or gaming accessories? 3D printing gives you an opportunity to be not only a user, but also a creator. It allows you to make your game using components such as interlocking board pieces, figurines or dice.
Speaking of dice, imagine a board game without one. Whether you are a game designer or just want a customized dice to show off, a 3D printer is there to serve your needs. You can find models of dice in Zortrax Library. 10 Sided Dice designed by Polymorphic3D, for instance, is elegant, original and it includes crisp, embedded numbers for easy reading. It was 3D printed on Zortrax M200 with the use Z-ULTRAT, and it can be scaled to whatever size game piece you prefer. Thanks to the Zortrax M200 precision and its high quality printing material we can get a small dice with fine detailing on the numbers.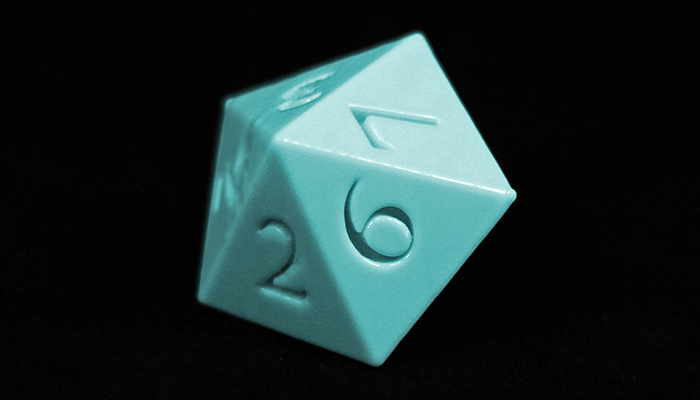 3D printed D10 dice
You can also bring your board game to a new level by creating your own gaming accessories. And here your imagination is the limit. To make games more fun and joy, NIXA used Zortrax M200 to make a Dice Water Tower. Instead of throwing a dice manually, you can just drop the dice into the tower and it will roll down itself. The tower was made of Z-ABS, which is very economical printing material.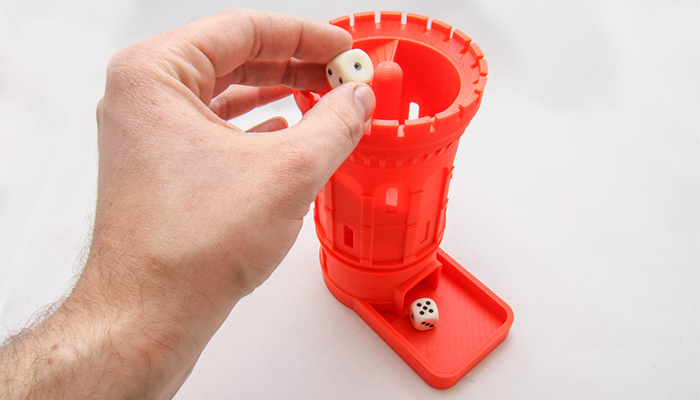 3D printed dice tower
If you're thinking about making your own board game, you can get inspired by 3D Printed Characters of Bostwa Board Game.
Don't forget to check out Zortrax Library for figurine and dice models.
Trick Gadgets not Just for Kids
If you are grown up but still have the urge to play and trick others, 3D printing can meet your expectations, too. Now you can breathe life into your ideas. And again, your imagination is the limit. Challenge your friends with a trick object of your own design or search in Zortrax Library for ideas and models. For instance, Ball in a Cage by Joe Bowers  3D printed on Zortrax M200. The trick here is to pause the 3D print when the cage is half-done and open. At that point the ball is plucked off the perforated plate, and dropped into the open cage. Then, the 3D printing process can be simply resumed to finish off the object. And here you go!
Get to know the Zortrax Ecosystem – the package of integrated solutions including professional 3D printers, compatible materials and dedicated software – to make things real. A range of materials in a variety of colors will make your gadgets and figurines look the way you want. And always feel free to use out Zortrax Library online.
The 3D technology provides you with the real freedom of design. It gives you a chance to make simple, as well abstract models. With Zortrax M200 you can create strong, high quality objects with intricate details.
As you can see, 3D printing proves useful not only for professional use, but also for entertainment. Because life is not just hard work and no play…