Discover How 3D Printing, Jewelry Design and Architecture Intersect
Jewelry design is a world of many possibilities. Indeed, we've noticed that the whole fashion industry is more and more explored by the users of 3D printing technology. Although we are willing to see each end every new 3D printed jewelry piece, an original combo of 3D printing, jewelry designing and architecture seems even more appealing.
3D printed jewelry by Roberta Conti
Mix up Your Talents
The woman that stands behind the pieces presented in this blog post is the Italian architect Roberta Conti. Being a highly creative person devoted to constructing architectural models, one day she found her passion for the jewelry design. That, together with the reliable tool – Zortrax M200 3D printer helped her obtain such amazing and original models and switch smoothly from one branch to another.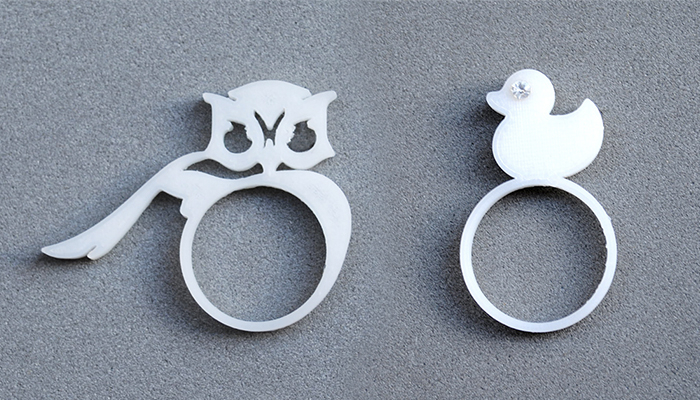 3D printed rings by Roberta Conti
The "Natural" Consequence
Being an accomplished architect and possessing the right skills she started designing jewelry items under her own brand brujita.me. As it is visible, some of her pieces reflect her architectural background as they consist of unique combinations of geometric forms and structures. The designer stresses the Zortrax 3D printer gave her in fact a lot of freedom of creating quite unusual and originally shaped items that were difficult to obtain by other means. The difficulty of finding the perfect piece of jewelry among the whole lot of those available in the market was also the factor that eventually pushed her to start her own business.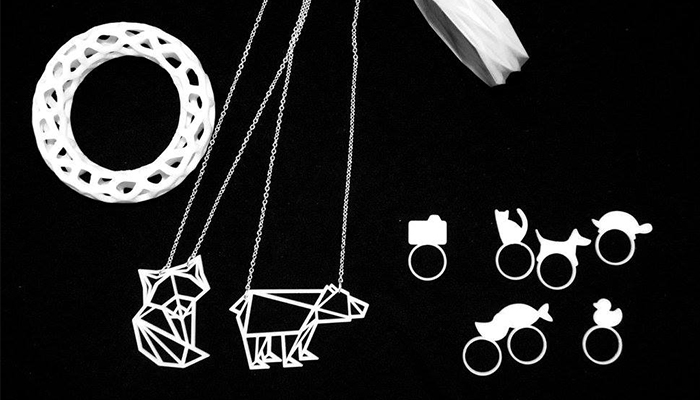 Jewelry 3D printed with Z-ABS material
Into the Wild
Apart from the architecture-oriented models, we can also distinguish the ones influenced by the world of Fauna. It's especially visible in the eye-catching collection of earrings and pedants that include various animal-shaped pieces. Most of these fancy shapes were 3D printed on Zortrax M200 with Z-ABS printing material in the Pure White color. The finished elements were of high quality so the designer decided not to use any post-processing techniques and left the models as they are – making the user to put the main focus on their intricate shape and superior quality. Those of you who would like to see some more examples of 3D printing applied to fashion and jewelry should definitely check out our articles about Irina Tosheva's SS 16 collection and the Micro 3D Prints of Ronny Raimondi.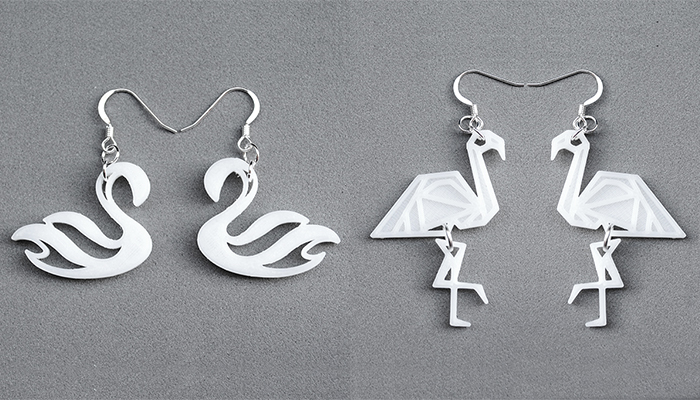 3D printed jewelry by Roberta Conti
Pathway to Perfection
Having the knowledge of numeric control as her "background" Roberta had no problems with transferring her ideas into shapes in the modeling programs. The software she most often works on are Rhinoceros and Cinema 4D that, as most of the modeling programs, are fully compatible with the Z-SUITE slicing program developed by Zortrax. Although Roberta stresses that she is satisfied with the great printing quality of the Zortrax M200, she also reminds that autocalibration of the platform of the 3D printer is a thing that everyone should do from time to time to guarantee the satisfying results. The main material the designer uses is the forementioned Z-ABS, however recently she has been trying out ultra strong Z-ULTRAT and translucent Z-GLASS materials to obtain various visual effects.
3D printed jewelry by Roberta Conti
Is Your Jewelry Market-Ready?
Apparently, designing and selling your own 3D printed models is a good business idea for those with willingness and a certain amount of talent. However, there are in fact a few points that should be taken into consideration. The perfect business obviously doesn't exist but there are various means that can be undertaken to add your products more flexibility and to prolong the lifespan of your business activity. Without being boastful, we can admit that 3D printing is in fact the technology that gives such opportunities. As the only way that is consistent with the present market is the constant change. Clients come and go but most of all they change their preferences tastes and needs. This happens according to newly appearing trends or plenty of other variables that we should monitor and be prepared for. Well understanding of such factors is one thing, but having a tool like a reliable Zortrax 3D printer that allows fast prototyping and quick product launch may save you from some of the risks of running your own business.