Premieres and 900 € Off the Zortrax M300 at Formnext
Formnext is one of the biggest events in the 3D printing community and we have just made it even more exciting. Premiers of unique materials soon to join the Zortrax Ecosystem and 900 € voucher for the Zortrax M300, our biggest 3D printer, are waiting there for you at stand 3.1-D88. You can order your voucher by clicking the button below, and collect it at our stand. See the map to get directions.
The Voucher to Go Big
The Zortrax M300 is based on the proven design we have used in the M200, our iconic award-winning 3D printer, but its work space is significantly larger. At our stand you'll be able to get a voucher valid only during Formnext to order it with 900 € off through the Zortrax Online Store. There are several reasons to seize the opportunity.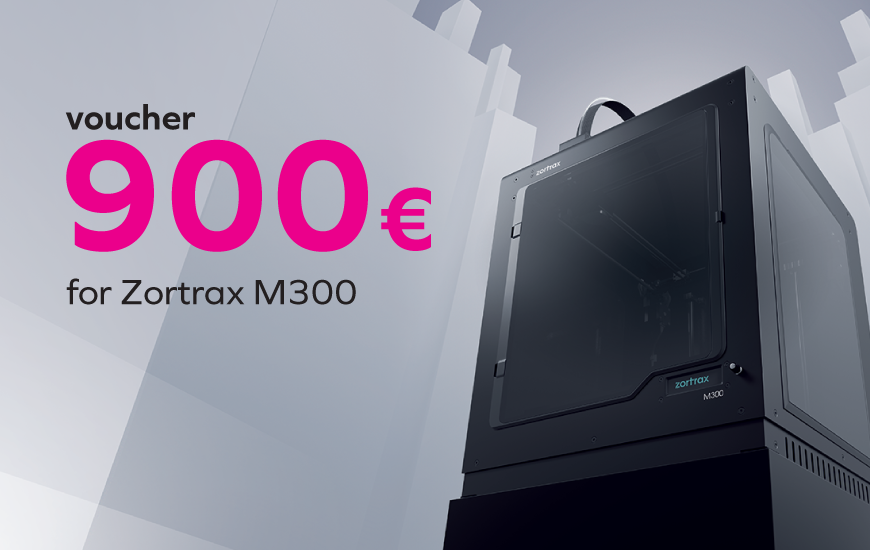 The Zortrax M300 is renowned for its state-of-the-art build quality, reliability and precision-something than can be measured only by hundreds of subsequent projects printed without a single failure. The LPD technology we use in our 3D printers always causes the so called staircase effect on model surfaces. It can be all too visible, if a printer is poorly made, but with the Zortrax M300 it's barely there. Moreover, working with our dedicated materials with reduced warping and shrinkage, the 3D printer guarantees flawless printouts of large models with no cracks nor distortions. In the 3D printing community, leaving a working printer unsupervised used to be considered careless. Having the Zortrax M300 onboard, you can do just that without a second thought. And it won't be distracting you- the machine is surprisingly quiet.
All of this arise from numbers, and those are nothing short of impressive for the Zortrax M300. The printer is built around a direct feed print-head moving along X and Y axes and a vertical Z plane build platform enclosed in a black aluminum body. Its build volume stands at 300x300x300mm- enough to print quite large models in one go with no need for additional assembling. The resolution stands at 90-400 microns. The minimal wall thickness and the resolution of single printable point are both 400 microns. Extruder's maximum temperature is 380°C which allows for work with even the most technologically demanding materials in our range. You can order your voucher by clicking the button below and collect it at our stand at Formnext.
New Kids on the Block
But the voucher for the Zortrax M300 is just one of the reasons to visit our stand at Formnext. A premiere is always an icing on the cake and we have not one, but three of them scheduled. New materials are coming to Zortrax Inventure, our smartest 3D printer designed around the dual extrusion technology. Here we just introduce them briefly.
Z-ULTRAT Plus is all about resilience and durability. It is an ABS-based material, designed for low shrinkage, great interlayer adhesion, and resistance to temperatures as high as 90°C. It will come in handy whenever you need functional prototypes built to withstand demanding tests. Another possible application is 3D printing entire mechanisms in one go, as the material wears off slowly even when applied in interlocking parts. Z-ULTRAT Plus will also work great if you decide to go beyond prototyping and use it for 3D printing end-use parts. But if what you need is flexibility, we have a truly special solution.
Shape memory materials have been all the rage in the 3D printing research community for some time, and we have decided to take our own shot at it. Z-SEMIFLEX, a polyurethane thermoplastic based on TPU-98A, is the result of our efforts in the field. With shape memory as its defining feature, the material can also withstand temperatures up to 130°C and has extremely high interlayer adhesion. It's the best choice when you need semi-flexible end-use parts or models that are to be exposed to high temperatures. Additionally, Z-SEMIFLEX is resistant to most chemical compounds used in the industry.
Since the Zortrax Inventure works with separate, easily dissolvable support material, we also introduce Z-SUPPORT Plus. Once the printing is done it dissolves in water and disappears quickly in our DSS Station leaving all surfaces flawless. Last but not least, it's designed for compatibility with Z-ULTRAT Plus. Z-SEMIFLEX, on the other hand, works with the Z-SUPPORT. But we know words can't describe a hands-on experience. See you at Formnext!