Get Your Ultimate 3D Printing Experience – Zortrax Inventure Pre-order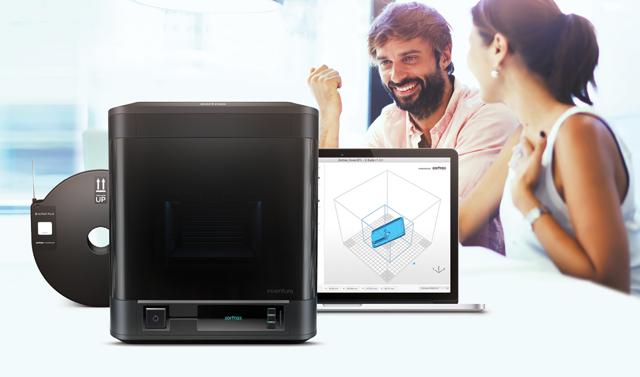 This year you can start Christmas earlier as Zortrax has a special gift for its users – the new and long awaited 3D printer Zortrax Inventure which is finally available for purchase in Zortrax Store. Users can choose pre-order option and buy our latest device even for 20% less than the standard price. Great deal for professional quality – sounds promising, so let's run trough the main features of the device to get the full image of this smart solution.
Leave the Place on Your Desktop
Not much place, as Inventure is really convenient and innovative without losing anything from the reliability of our flagship 3D printer Zortrax M200. At first glance we can see a sleek and modern device that doesn't interfere with the space of a modern office, but after trying it out we can really see that a 3D printer doesn't have to be big to show that it is powerful and professional. Inventure is an example of a perfect match of great design and rich content in a form of one smart box. We believe that combining the perfect looks and professional 3D printing results is the basis we want to provide all our users with.
For Engineers, Designers and Professionals
We put constant effort to make our offer more complex and adjusted to individual needs. Inventure is a great tool for those who value quality. Engineers, industrial designers and entrepreneurs would find the device useful for creating prototypes of complex geometry, moving parts and models that are reach in details. All the professionals who need precise and durable prototypes to incorporate them in the development of the product and evaluating the production process should be satisfied with having assistance of such device as Inventure. Using smart and reliable machine of Zortrax class in your workplace could definitely influence the quality of your overall business performance.
Take It Easy
With our latest device you are fully allowed to do so. It is mainly because by choosing Inventure you get the whole ecosystem – a set of fully integrated elements to make the 3D printing process simpler, more intuitive and almost hands-free. The first step to precision starts with choosing the model and exporting the files to the dedicated software Z-SUITE – a vital part of the Zortrax Ecosystem. The model could be designed in various CAD programs as they are compatible with Z-SUITE or chosen and downloaded from Zortrax Model Library which is an inseparable part of the software. As the right parameters are set in the Z-SUITE software the 3D printing process can start.
When it comes to the Inventure 3D printer, convenience comes in. And it is visible at the very first moment when we start 3D printing, because the user has got close control over the whole process – the device simply communicates all the changes of the 3D printing status, so if anything has changed in your printer you are the first to know. Changing the materials is also pretty easy because of the cartridges system – just load a new cartridge with Z-ULTRAT Plus when the one you used is finished. There are also other functionalities that make using Zortrax Inventure most intuitive – to find all the key information together with the specified parameters download this brochure. For more advice, assistance and tips concerning the 3D printing process visit our Support Center.