The Force of 3D Printing Unleashed in Star Wars
"Precision and lots of practice, that's what it takes to make models for Star Wars", says Alexander Jay Hutchings, a model maker at Lucasfilm Ltd. also involved in production of numerous other blockbusters. "Besides, I've been lucky. You got to be lucky to get in there". Driven by passion for modeling, and equipped with the entire Zortrax Ecosystem, Hutchings has made it nonetheless. Here's how he's got in there.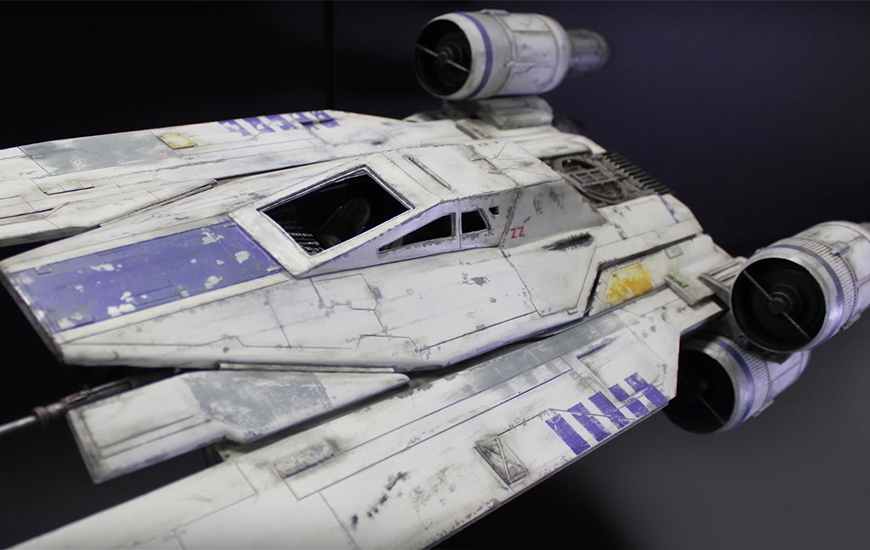 The U-Wing featured in Rogue One. 2016 © Disney & Lucasfilm Ltd. & TM. All rights reserved.
 Childhood Passion
"Modeling was a part of my life since I was a child", says Hutchings. Growing up in Kent, UK, he and other boys form the neighborhood ran through the gardens waging wars with little tanks, plastic soldiers and rifles made of sticks. But even back then, Hutchings wanted to take it one step further. Detailed Air Force, Navy and Army models filled his room, later joined by meticulously painted Games Workshop Warhammer figurines. "I just wanted to make stuff with my hands. I was particularly good at it", says Alex – a knack quickly noticed by his friends who used to give him their own Warhammer figurines to paint. "They knew I was better at it than them", recollects the model maker.  "And of course, I watched Star Wars. It was probably The Return of the Jedi that truly made me look at models, saying wow, they're really cool, for the first time".
Millimeter Precision
Childhood passion eventually turned into a career choice for Alex. Having graduated from high school, he enrolled in the Kent Institute of Art & Design back in 2005. "There was a course specifically dedicated to model making. I jumped right in", he says. But the road to movie industry was not that straightforward. To earn his living as a model maker, Hutchings got himself a job at Pipers Model Makers, one of the top studios in London specializing in architectural mock-ups. "Lots of people think this job is just doing stuff kids do for fun. Not the case at all", explains Hutchings. According to him, architectural models need attention to detail elevated to almost impossible heights. "We're talking down to a millimeter precision. One mistake and you don't get paid. Above all else, it teaches you discipline", says the model maker. The newly mastered discipline really paid off a few years later.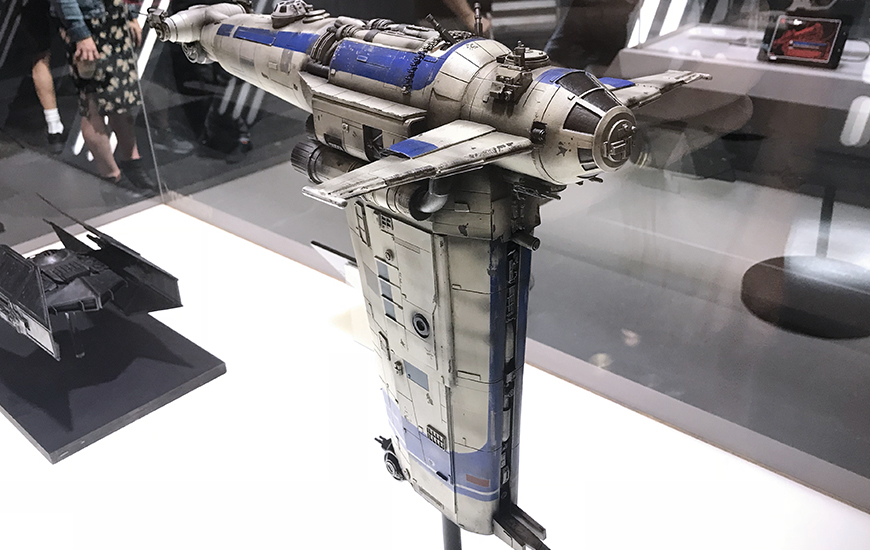 The Resistance Bomber featured in Star Wars: The Last Jedi, exhibited at Comic Con, New York. 2017 © Disney & Lucasfilm Ltd. & TM. All rights reserved.
Wedded to the Stars
In 2012 Alex attended a wedding with some of his friends. One of those friends was involved in art department for The Edge of Tomorrow, a movie featuring Tom Cruise and Emily Blunt, then being shot at Leavesden Studios, a birthplace of Harry Potter among others, based near Watford on the outskirts of London, UK. "He told me they had an opening for a few days and asked if I wanted to come in. I was like ok, yeah", says Alex. The internal referral opened the gates to otherwise closed circles. Good job done at Leavesden Studios earned him trust in the community. One thing led to another. "I met a guy in there. A production designer named Neil Lamont. Neil's father was the designer for Titanic, Alien, and True Lies, all three of James Cameron's biggest movies. For Neil, film making ran in the family", explains Alex.
Dreams Come True
Neil Lamont was also the co-production designer on Rogue One, and the supervising art director of the art department on Force Awakens, and was about to get involved in another, not yet disclosed Star Wars movie. "On Force Awakens it was a team of two doing the models. Me and an extremely talented model maker named Neil Ellis. His background was in props. Mine was in architecture. We just constantly bounced ideas off each other", says Alex. While working on Force Awakens, he encountered a few 3D printers being used in the department. "Two Ultimaker 2s. Honestly I wasn't impressed with them. I was like: is this what 3D printing has turned into, like really? I wasn't sure if we should go down this route. They simply weren't reliable", says Hutchings. Then, halfway through Rogue One he found out some of his colleagues worked with different machines. "They had quite a few of those, all Zortrax M200s. The guys showed me the prints and I was blown away. Was like wow!", recollects Alex.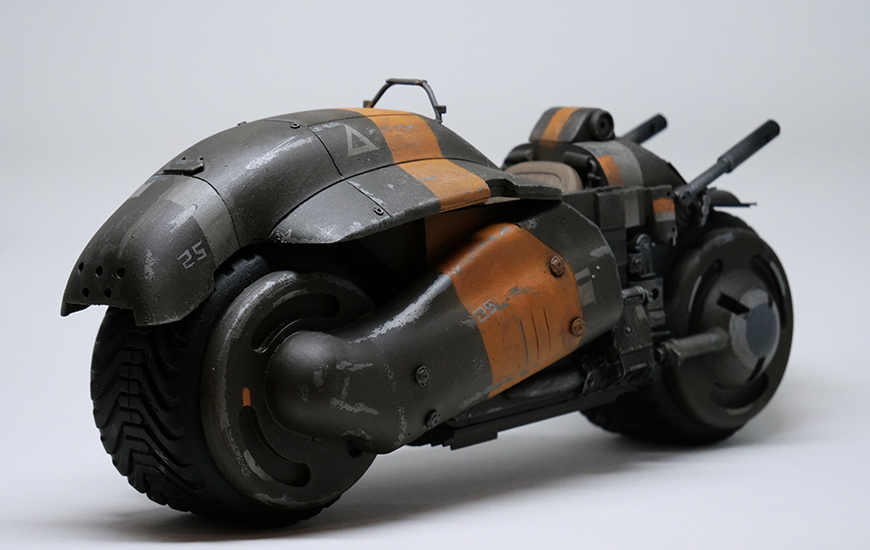 Bike's concept by Jon McCoy.
Ins and Outs
Shortly enough, he bought the Zortrax M200 for himself. Further into Rogue One, he and his co-workers were using it for 3D printing complex components for their models. "Lots of grills, complex geometry. We would 3D print those whenever we couldn't make the part by hand", explains Alex. He started off with using the Z-ABS. Price mattered a lot, but the most important thing was the ease of post-processing.The material had to withstand lots of it. "Sanding, smoothing in acetone, gluing various parts together, sophisticated painting", says Alex. With time, Hutchings progressed more into Z-ULTRAT he grew to find the best material for his needs mainly due to its very low warpage. "Those models are not used to shoot the movie like they were in the original Star Wars trilogy. We have CGI nowadays. But they are here to stay, only at different stages of the creative chain", claims the model maker. "It all begins with the script".
Sketching Ideas
First, the hero's or heroine's vehicle description put in there by screenwriters goes to the production designer who in turn delegates the work to concept artists. "They create artworks and sketches that are then shown to the director", says Alex. The director, having a range of different vehicles in various configurations in front of him, makes his mind during vehicle-choosing sessions called passes. Several such passes later, the choice is narrowed down to merely a few, most promising designs. "Those are ordered as models. That's where our work starts. We get a sketch and make model", Hutchings explains. Even today, there are a few remnants of modeling techniques employed on the set of the original Star Wars. Spaceship's models used for shooting the first trilogy had been made in 1:24 scale, the same for all vessels used in one shot to get the proportions right. While today the models migrated down the production chain, the scale remained unchanged. "For really big spaceships we also use 1:48, otherwise the thing would have to be massive", says Alex.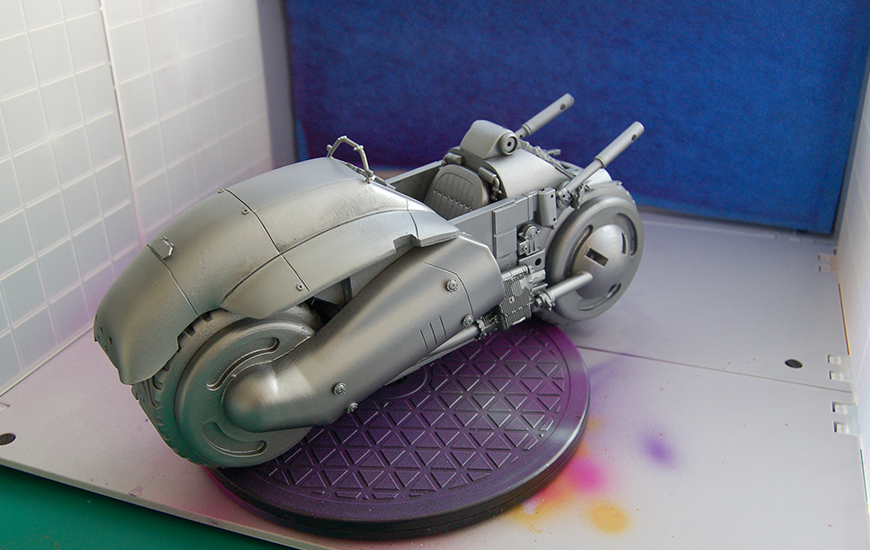 A Ride for a Hero
If a design's made it to the modeling stage, it usually makes it to the final cut of the movie. "One of the models I'm particularly proud of is the U-Wing from Rogue One", claims Alex. "The final version is heavily based on my model finish and I always have a smile on my face whenever it appears on the screen", he adds. Quite often, scale models are used as reference points for teams charged with building full-sized mock-ups. They're also used for promotional purposes. Hutchings' models were featured at New York Comic Con for The Last Jedi, where Lucasfilm organized an exhibition promoting the latest Star Wars installment. "One of the models to be found there was the Resistance Bomber. My work, partially done on the Zortrax M200", says Hutchings.
The Resistance Bomber. 2017 © Disney & Lucasfilm Ltd. & TM. All rights reserved
The upper hull basic shape was 3D printed then worked by hand and detailed with kit parts then moulded to make a master. Same thing with relatively tiny, but precisely made turrets. "I spent quite some time drawing up the basic shape of the top part and the cylinder pieces. Before the weekend I simply threw the parts at the M200 and took them off the build platform on Monday", he explains. The 3D printing done, the parts were detailed up and assembled. Then the wings, also 3D printed on the M200, were attached to the hull. "The 3D printer is an invaluable asset when you work on tight deadlines. Time efficiency was also part of the reason I opted for the Zortrax Ecosystem as a whole", says Hutchings.
Into the Future
In 3D printing, Hutchings relies solely on Zortrax's dedicated materials. "The reason is simple, Zortrax has tested them. From my perspective, if I would use a third-party material, and it would clog up the printer, the machine would go out of order for half a day. It's half a day's worth of work lost. I don't have time for this", he claims. Using the 3D printer on the daily basis, he also became an advocate for the additive manufacturing technology in the film industry. "I met with reluctance here and there. Some of my colleagues perceived the 3D printer as a machine that would take their jobs away. It's been and it is absurd. It's not a technology about to replace us. It's a tool to make our work better", says Hutchings. And this, without taking one bit of fun out of it."You know, people working at Lucasfilm nowadays grew up with the Star Wars franchise. They have tons of fun with our models, they run around offices flying them in their hands, making noises of shooting lasers and so on. I understand it, I've been doing this myself, flying the X-Wing in my hand, I just couldn't help it", he claims. According to him, Star Wars hasn't lost any of its original magic throughout the years, even despite turning into a huge business it is today. "What's next for us? Well, we're going to need even more detailed, more sophisticated models, more thoroughly designed parts. The Zortrax M200 is a wonderful machine. But with this level of complexity in mind, we're seriously looking at the Zortrax Invenutre", concludes Hutchings.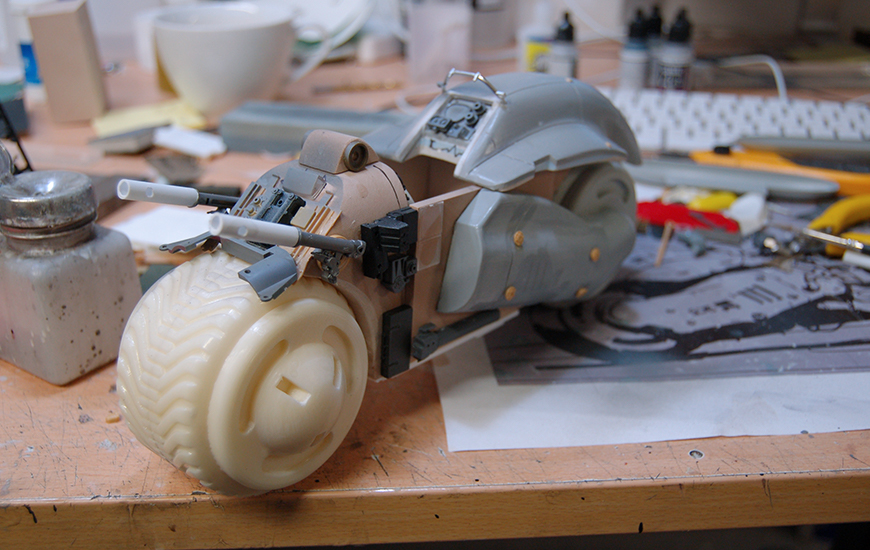 If you are interested in model making in architecture, you may want to read more about how Zortrax Ecosystem can benefit your business here. Also, don't forget to go see Star Wars: The Last Jedi yourself. The movie's truly outstanding!