2017: The Year of 3D Printing Premieres
Time flies, 2017 is almost over, and yet we are still under the impression there's more to come. It was such a fruitful year after all. We had many reasons to celebrate, but more importantly, it was a year of hard work. All the premieres, announcements and events that took place call for a summary.
Welcome to Zortrax Experience
The major event of the year was Zortrax Experience. The conference took place in Olsztyn, Poland, were Zortrax has its headquarters. We have invited over 50 of our Resellers and Partners with purpose to celebrate the premieres in Zortrax Ecosystem. Our guests were the first to discover the capabilities of Zortrax Inventure and the announcement of new materials. During two days of the conference they also had a chance to try out the upgraded version of Z-SUITE 2 Beta. If you missed all the excitement, you can catch up by watching testimonials recorded during Zortrax Experience.
Discover Smart Professional
The spotlight of this year belongs to the newest addition to the Zortrax 3D printers portfolio. Zortrax Inventure is an ultimate 3D printing solution for demanding professionals. The brand-new device offers everything needed in a smart office of an architect or in an engineer's workshop. Zortrax Inventure is a compact yet exceptionally capable desktop 3D printer. The brand new 3D printer is equipped with the HEPA filter and a heated chamber. Moreover, the introduction of its proprietary cartridges with 3D printing materials marks a new stage of reliable and user-friendly 3D printing. The 3D printer is designed to make work effortless. As dual extrusion system allows to 3D print with support material simultaneously. Furthermore, its Z-SUPPORT material is dissolvable in water. So, no more manual support removal. What it also means is that models, which previously were unavailable due to their complex internal structure, can now be easily 3D printed in one part. Just flush away the water-soluble support material in the DSS Station and the model is ready to go.
Expanding Zortrax Ecosystem
The passing year was especially rich in the premieres of 3D printing materials. Firstly, Z-ESD – a fruit of our cooperation with the BOSCH Mondeville plant in France. The material offers an exceptional set of features. It is protected from harmful effects of salts, acids and alkalis, all the most common chemical substances used in the industrial sector. Furthermore, it's an excellent material for prototyping, final parts and tooling applications operating with electronics. Z-ESD provides models with electrostatic discharge protection, making them nonconductive and safekeeping the surrounding sensitive components.
During Zortrax Experience conference, we have presented two brand new 3D printing materials – the long awaited by the community Z-PLA and Z-ASA Pro. Z-PLA material is dedicated for Zortrax Inventure, but we have also introduced version for the M series 3D printers. Thus, Z-PLA Pro material is compatible with both, Zortrax M200 and Zortrax M300 3D printers. Z-PLA and Z-PLA Pro are our take on biodegradable materials suited for the highly detailed architectural models and other ones requiring excellent surface. On the other hand, Z-ASA Pro provides models with remarkable resistance to external factors, like water, wind and UV light. Thus, the material is perfect for outdoor testing.
Later this year, we have announced three more newcomers to Zortrax Inventure's material palette – Z-SEMIFLEX, Z-ULTRAT Plus and Z-SUPPORT Plus. The first one is a TPU-based material offering both elasticity and durability. Z-SEMIFLEX's composition makes it resistant to tearing, abrasion and allows it to sustain its shape even after applying an excessive force. On the other hand, Z-ULTRAT Plus and Z-SUPPORT Plus work in pair. For the first time, we are presenting the material based on ABS, which can be 3D printed with water-soluble support structures.
Intuitive Z-SUITE 2 Beta
Announced during Zortrax Experience, Z-SUITE 2 Beta, has set a new standard for slicing software. We have taken everything good from the previous versions and we made it more intuitive and more user-friendly. At the same time, we wouldn't content, if we didn't add some extras. Thus, Z-SUITE 2 Beta provides users with a set of new functionalities and tools. First of all, we have introduced editable support. From now on, users can freely add, edit and remove all support structures. Additionally, Z-SUITE 2 Beta was enhanced with two automatic tools: auto mesh repair and thin wall analysis. Auto mesh repair takes care of model's faulty mesh, repairing it and ensuring a failure-free 3D print. The second one, analyzes model's walls. Upon finding surfaces too thin to be 3D printed properly, it will pinpoint them. Both tools allow users to gain more control over the 3D printing process and ensure the highest quality. User interface was also refreshed and made more intuitive to navigate. The Beta testing, currently in progress, allowed us to develop Z-SUITE 2 even further. We have already added two new infills: honeycomb and octagonal. With every iteration, Z-SUITE 2 Beta is becoming even more proficient at its tasks. We would like to thank all the beta testers. We wouldn't be able to do it without your help.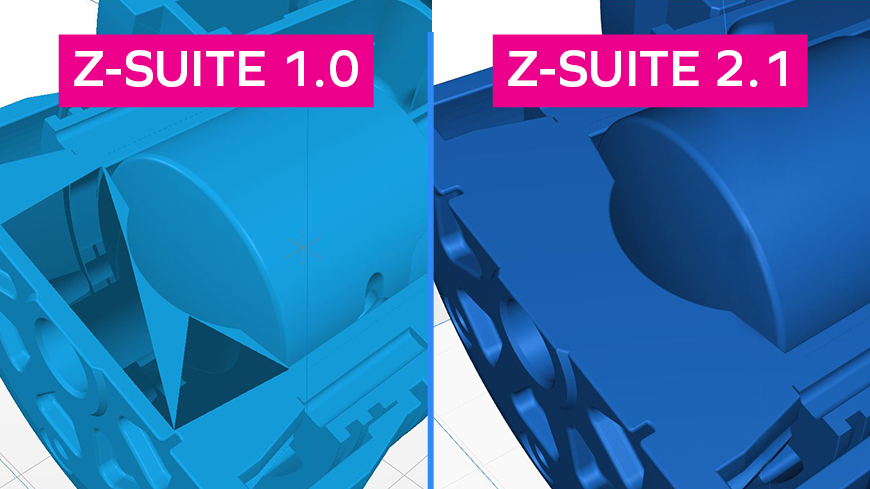 Z-SUITE 2 auto mesh repair
Global Recognition
Even though, Zortrax Experience was the place to go to in 2017, you didn't have to come all the way to Olsztyn, Poland to experience the new Zortrax products. We were present at three big 3D printing events. In April, we were honored to represent our country at the Polish National Stand at Frankfurt Messe trade show. We were more than ready to fulfill the convention's theme of smart technologies attuned to the concepts of Industry 4.0. Later, our team flew all the way to Pittsburgh in Pennsylvania, USA for Rapid + TCT 2017 conference and trade show. Visitors could discover the unique features of the newly announced Z-ESD material.
Without a doubt, Formnext 2017 was the most important conference of the year. Organized in Frankfurt am Main, Germany, the trade show gathered the most prominent figures of the 3D printing community. The event has started with a speech of Terry Wohlers, president of Wohlers Associates, followed by presentations delivered by various industrial and business leaders. At Zortrax's stand, visitors from all around the globe, could discover the new additions to Zortrax Ecosystem. Three new 3D printing materials were presented during the trade show – Z-SEMIFLEX, Z-ULTRAT Plus and Z-SUPPORT Plus. Furthermore, an interactive touch wall allowed people to test all the features of Z-SUITE 2 Beta.
Community Highlights
2017 was rich in great models and 3D printing applications. For the full list, please go to our stories section, but now we would like to highlight some of the most interesting ones. Starting with the industrial sector, we have PMC Harvesters and DICSA. Both companies, although operating in different fields, are using Zortrax 3D printers in their engineering and production departments. PMC Harvesters designs and constructs heavy-duty machinery for agriculture. Parts 3D printed with Z-ULTRAT proved to be sturdy enough to be included in the final product. This move allowed the company to considerably cut costs and the time of their production cycles. DICSA specializes in suppling pneumatic components. Their engineers incorporated Zortrax M200 in their workshop. The 3D printer serves them as a reliable solution for prototyping and durability testing.
Moving to lighter subjects, we have the Photon robot project. This programmable toy helps kids to understand programming by merging education with playtime. 3D printers were invaluable during the prototype phase of the project. Tests with 3D printed models made Photons more durable and secure. The next case, which is connected to the previous one by way of the designer, is the reinforcement of music equipment for Red Hot Chili Peppers. The new casing for the guitar effect 3D printed on Zortrax M200 and Z-ULTRAT turned out to be more reliable than the original. Moreover, Zortrax 3D printers were used by a Spanish design firm to create a scale model of the ALICE device for CERN. Once again, additive manufacturing turned out to be a perfect tool for prototyping. Moving from science to science-fiction, Zortrax M200 was also present during conceptual stages of designing of ships for the newest Star Wars movie.
Finally, we have also launched two educational series meant for beginning users. The first Post-processing Workshops lead the viewers through the 3D printing, preparation, post-processing and assembly of headphones. Step by step, we have shown how easy it is to make remarkable quality products in the home environment. The continuation of the Workshops, on the other hand, was focused on more advanced techniques, like molding, hardening or soldering.
Thank you for all the passion and feedback. 2017 was amazing, but we have more exciting announcements coming next year. Stay tuned and, as always, stay creative!