A Brief Guide to the Latest Z-SUITE 2.5 Slicer Software
Z-SUITE goes wireless with its latest 2.5 version. Added support for our recently premiered Zortrax M200 Plus 3D printer with its extended connectivity is what makes the 2.5 one of our most important software releases this year.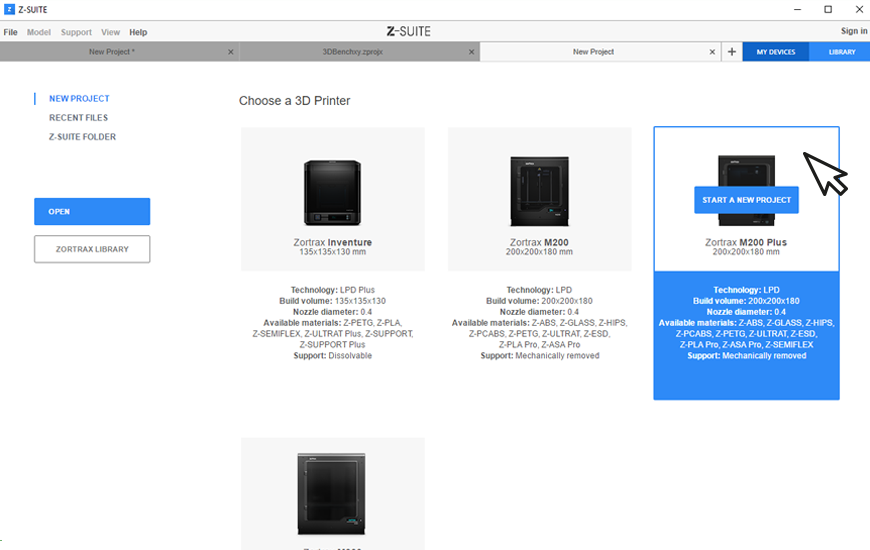 Moreover, we have introduced an option to see a cross section view of your models, and included Z-SEMIFLEX in printing materials available for the M200 Plus. Here's a brief guide to all the changes made in the latest Z-SUITE.
Connectivity Plus
With Zortrax M200 Plus we placed our bets on 3D printing farms and Z-SUITE 2.5 introduces software functionalities necessary to efficiently run such farms. The first, most apparent change is that the M200 Plus 3D printer is now available to choose once you click the "New Project" button. What's more, you can see all Zortrax 3D printers connected to your network via LAN or WiFi when you open a newly added panel called "My Devices".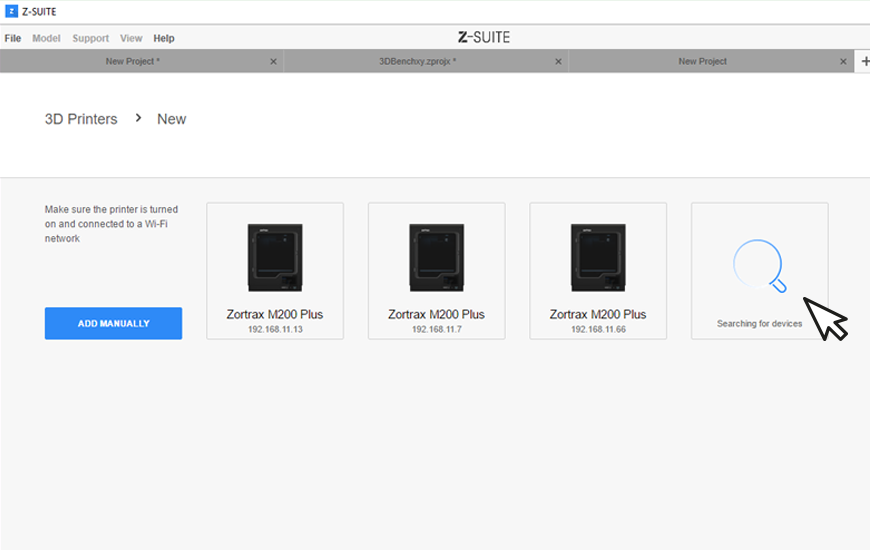 Z-SUITE will automatically search for available M200 Plus 3D printers, but you can also add your printer manually. To do this, you need to click the "Add Manually" button and type in the IP address of your 3D printer. The IP is displayed on the printer's home screen once it gets connected to the network.
Remote Control
"My Devices" panel is also where you can remotely control all connected 3D printers. When you click on the chosen printer, you will see basic information like whether the machine is currently printing or not, its last used material, and firmware version. It is possible to either send a file to the Zortrax M200 Plus through the network, or remotely choose one of the files written on a USB storage device connected to the printer.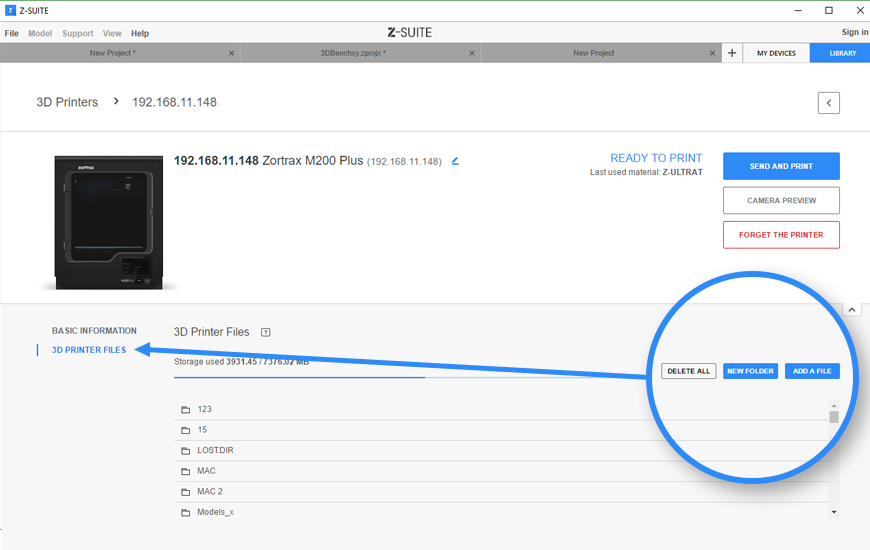 This way, you can easily start your print on a chosen 3D printer. Moreover, by clicking a "camera preview" button you can monitor the printing progress through the M200 Plus' built-in camera.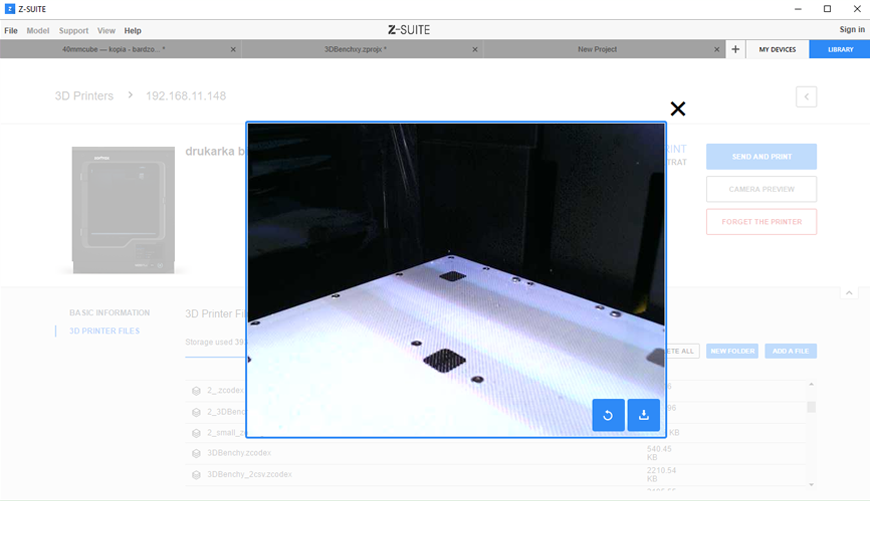 The printing process can be remotely aborted. Z-SUITE 2.5 will also notify you when the M200 Plus has paused the print for whatever reason.
Cross Section & More
But there's more to the latest Z-SUITE than just the M200 Plus support. We have added a cross section view option which is now available at Model, Analysis, and Support steps.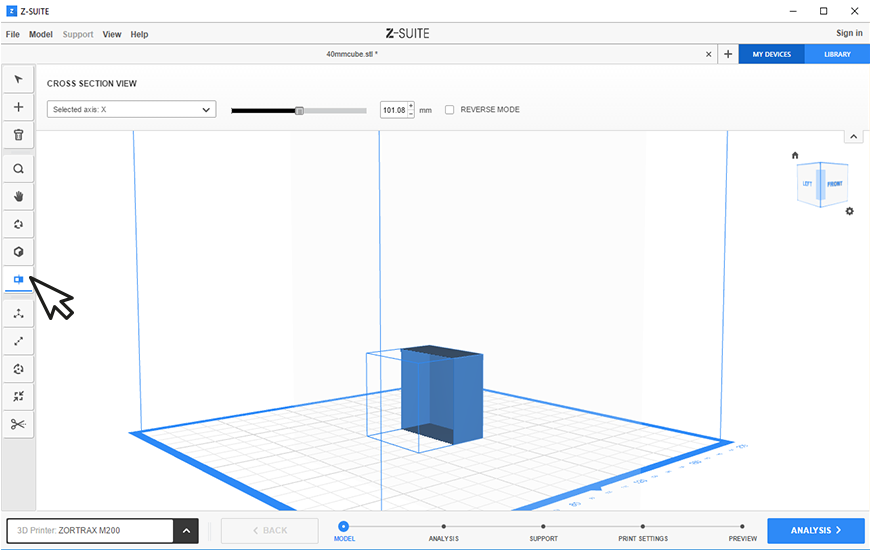 You can easily adjust the position of your cross-sectional plane by moving it along the x, y, or z axes. Additional changes include selecting all support structures with a CTRL+A shortcut and more pronounced color of a splitting plane in the Split tool.
Z-SUITE 2.5 is stable on Windows PC platforms. The Mac OSX version, however, is still in beta, so we count on your feedback and suggestions on how we could make it even better.