Did You Know That Using a 3D Printer Is Super Easy?
3D printing and 3D modeling with the use of a computer have an aura of high-tech difficulty. In fact, it's a phenomenal technology which was quickly transplanted from huge corporations to small companies and hobbyists. It has become much cheaper and more accessible. Above all, it's easy to use and doesn't require any specialized abilities or knowledge.
Modern technology should be accessible and intuitive, and that's the way it is with most consumer devices. 3D printers are among these, though they also find much use in industry. 3D Printers such as the Zortrax M200 and Zortrax M300 are devices which are ready to be used out of the box. Let's start here to show how easy it is.
No Tinkering
Yesterday you ordered a Zortrax M200 3D printer and today you receive the delivery. You open the box, remove the protective elements and take out your 3D printer and additional boxes. One of these contains the spool of dedicated material for printing. You can start 3D printing without having to specifically buy the filament. The other box contains tools needed for work on 3D printing, such as protective gloves, a cutting knife, as well as an SD card to transfer your files from the computer to the 3D printer. There will also be an assembly manual, because some elements are not integrated with the 3D printer in order to facilitate transport. One of the things you need to do is connect the platform on which printing will be conducted. It's quicker and easier than assembling IKEA furniture. The last step is inserting the filament. Now you can turn the 3D printer on.
The SD card contains demo projects. I recommend 3D printing the bearing, as this will demonstrate how complex the models can be. But before you start printing you have to conduct calibration. Fear not: all the information you can need will be shown on the 3D printer's display. Calibration mainly involves leveling the platform. After a few minutes, once the calibration is successfully completed and the head is heated, model will commence. Once it's done, you can turn the printer off and remove you model  from the platform. The 3D printing process, depending on how large and complex the project is, will take anywhere between an hour and upwards of ten hours.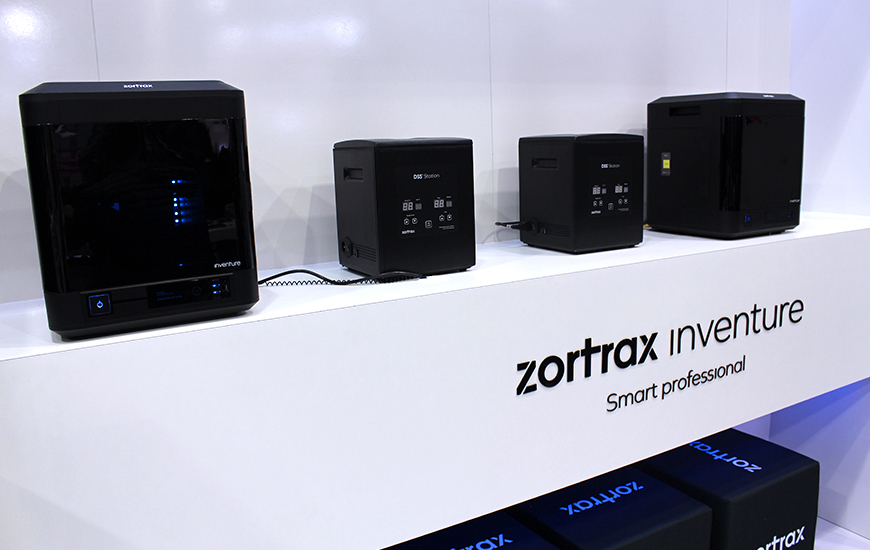 Z-SUITE Software
As you can see, operating the Zortrax 3D printer is easy from the very start. Everything you need is either in the short user's manual or in the manufacturer's support web pages. But what about the 3D models? First of all, you don't need to know anything about 3D modeling, if you use ready-made projects which you can fid on many websites as well as in the Zortrax Library available within Z-SUITE. It's dedicated software for the Zortrax M200 and Zortrax M300 3D printers for Windows, MacOS. Z-SUITE can be downloaded from the manufacturer's website after inputting the serial number of your 3D printer. Z-SUITE contains a vast library of user-made models in various categories. New projects are constantly introduced.
The software also lets you prepare your models for 3D printing. If you have models from other sources, you will find adjusting them to the Zortrax 3D printer very easy. The process is simple, if you've ever tried editing photos on a computer you'll manage here as well. If your company need 3D models for printing, you can commission local 3D graphic artists to prepare them or order them online. Such a project can be quickly uploaded to the SD card and transferred to the 3D printer.
3D printing with plug & play 3D printers, such as the Zortrax M200 and Zortrax M300, is almost autonomous. You just have to commence the printing process and it will continue on its own. A lack of talent in graphics and coding will not make operating your printer any harder. The vast base of 3D models will always let you enjoy whatever you want. If that's not enough, you can take advantage of available tutorials or join a graphic design course. Or you can simply commission a model. The 3D printer itself is user friendly and will pose no problems to users who know how to handle a phone or PC.