The Latest Models from Zortrax Library – Samuel Bernier's Jonction-P
Those who have already tried out our Zortrax Library (now available online) know that you don't really have to dig deep to find some interesting pieces that are not only good- looking but also highly functional. As we don't tend to pay lip service to our models, we've prepared a brief overview of one of our latest model – Samuel Bernier's Jonction.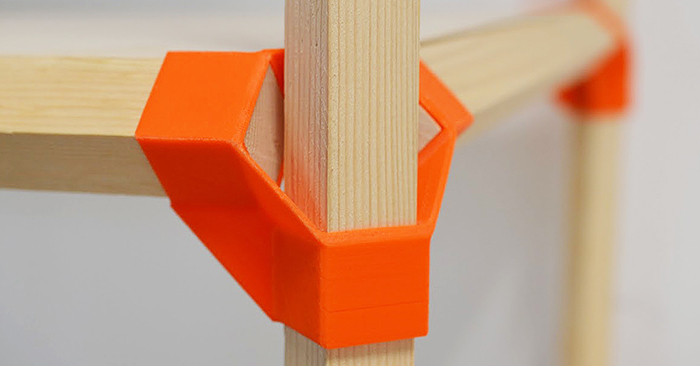 Smart & Simple
We believe that as most of the people who know even a little about trends in design you have probably noticed – minimalism is taking over the interior design. The furniture presented in this blog is in fact a nice example that shows how you can create your own simple, yet smartly designed furniture that will add some style to your space. However, this rough wooden construction would be rather boring without adding some colorful accents to it. As you can see the square timbers of each furniture item are combined with each other using small pieces that were 3D printed on Zortrax M200 3D printer using one f our bright material from the Z-ULTRAT Neons. The 3D printing device is in fact a necessary tool that gives you much freedom of creating without involving high cost of producing parts, that would cost several dozens more if you decided to make them in the traditional way.
Made of Modules
Custom made furniture is apparently among the things that many of us desire. Designer, fun and creative furniture is not only the luxury of the richest, but rather of those who want to take the work in their hands and start making. If you belong to the second group, you can surely find the files available in the library a thing for you. Apparently, applying 3D printing into the furniture design helps you develop the flexibility as the elements can be easily created and adapted to the changing needs of the user. With such furniture you can easily manage the space in your office, home or studio just by 3D printing new well-suited pieces to fit your place.
Say "Hi" to D.I.Y
If you are interested in these little pieces that apparently "make a difference" feel free to take a closer look on this particular junction model. The element was created by the French designer from LeFab studio – Samuel Bernier and is available to download on the Zortrax Library website. Samuel Bernier may be familiar to some of you as we have already presented a few of his designs like Zuzanna Lamp, Mighty Cube or Retractable Claws on our blog. What's really good about this smart piece is that it is really multifunctional. Having even a small set of these junctions gives you an opportunity to create various furniture furniture items or even architectural constructions "if only you have enough motivation" – as the author of the project wittily adds. The first ting to do in this case is not, as usual, preparing the .stl files but measuring precisely the diameter of the elements you want to connect with the junction. They could be either pieces of square timber or metal – that's truly up to you and your imagination, taste or interior style. If it appears that your pieces are too big or small for the presented junctions – don't worry – the designer prepared them in such a way that it is possible for every user to adjust the size to the dimensions of his elements. To do this you have to update the dimension of the junction sketch in programs likeFusion360 or SolidWorks and make thee reference valid. The models used by the designer are 3D printed on Zortrax M200 3D printer with Z-ULTRAT printing material in the flashy shade of Neon Orange.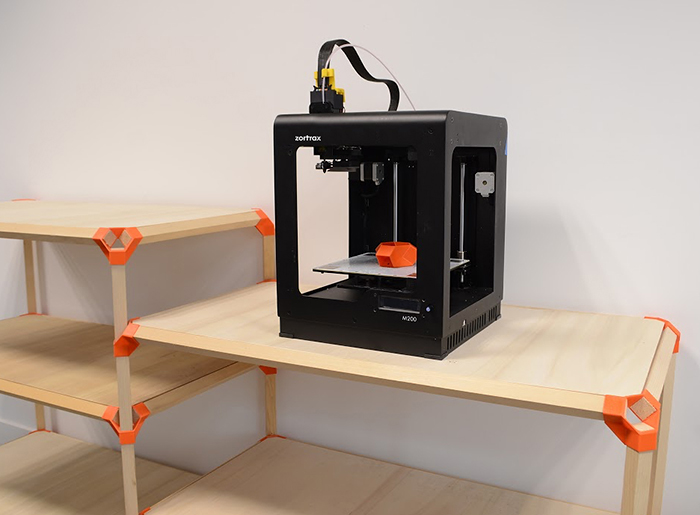 The Future Furniture
As we've just mentioned, thanks to the cooperation with various famous designers like Craig Barr, Samuel L. Bernier, guys from Nixa or Joe Bowers, our library is packed with diverse models that differ from themselves regarding their shape, purpose and level of complexity. Because of that both beginners and 3D printing pros will be able to find suitable models adjusted to their needs and skills. That's not all – in the Zortrax Library you can always have the possibility to recreate, redesign and to share your concepts with the members of the community. So if you find a particular model attractive, feel free to make it your own customized piece that fits not only to your place but also your individual taste.