The Latest Models from the Zortrax Library – Samuel Bernier's Coffee Capsules Dispenser
Ever wondered how to make the lives of coffeeholics easier? If you are among those who cannot imagine starting their day without a nice cup of latte, cappuccino or espresso the article below is a must read.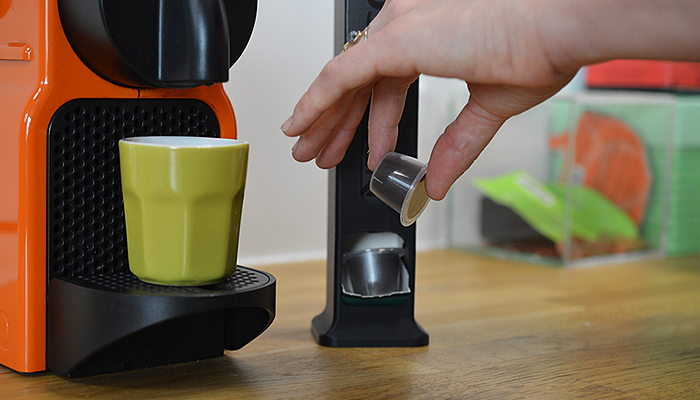 When a Coffee Maker is not Enough
Addicts of the brown liquid obviously know that there are multiple ways of preparing the world's most popular beverage. One of them is by using a special coffee maker where instead of ground coffee you just insert special capsules that come in various shapes and flavors. But how are these related to the 3D printing? Apparently, one of the famous designers and a contributor to the Zortrax Library found a link.
Cool Gadgets for Coffee Addicts
It was Samuel Bernier's idea to make using the capsules easier and mess in the kitchen lesser. The French industrial designer who likes to materialize his smart ideas thanks to the Zortrax M200 reliable 3D printer, designed and 3D printed a simple yet smart dispenser for the coffee capsules. The model itself looks really simple and unobtrusive, but in our opinion it's one of these pieces that you don't really consider necessary until you start using them. This little gadget will definitely help you keep your capsules in a nice and tidy way, avoid wasting time on looking for them in the kitchen drawers or cupboards. And if you also have a problem with nasty brown marks that are sometimes left after putting cups with coffee on your desk, you should check out the Z-Cube Coasters made by the Canadian designer Craig Barr.
Design the Dispenser
The model was designed in Fusion 360 a modeling program that is a free software that allows creating CAD objects. The finished project was exported to the Z-SUITE slicing software which is a dedicated tool that belongs to the Zortrax Ecosystem. The file was then prepared for the 3D printing process. The designer decided to go classic and used one of the most economical material Z-ABS in the Pure Black color. However, if you want to come up with your own model with a shade that matches your kitchen interior you've got a variety of colors and textures to choose. Especially those who are into fashy gadgets in the hottest pastel or neon shades should definitely check out the Z-ULTRAT color palette.
Discover the Possibilities
We believe that models and gadgets presented in the Zortrax Library would become a sort of inspiration and good material for testing your 3D printing skills. Those of you who are beginners in the 3D printing field, as well as the more advanced users can use the ready to print files or make their own alterations by adding e.g. mounting elements or places for magnets to create their own customized version of the dispenser. As Zortrax Library is a free tool available for everyone who has got the access to the Internet, you can freely share your own projects and download models created by engineers, designers and Zortrax users.