To some, 3D printing is mere method of creating trinkets. Low durability of models is their recurring complaint. Other prefer to look at the matter in more practical fashion, using the technology to their advantage. Apparently, there are also some who didn't listen to the lamenting individuals and focused on honing their skills.
Transcending
To prove skeptics wrong, we are presenting the story of Damian Traczyk. You might remember him from Photon robot project. Although, he studied building construction, he quickly got interested in 3D printing. The scale got smaller, but precision remained high. Soon 3D printing became not only a passion, but also a mean to earn money. Began as everyone else, recreating broken parts, cogs, occasionally making gadgets for family and friends. Later came paid jobs: architectural mock-ups, prototypes of mechanisms, casings. Scale models made for one of the Polish museum were his first big project. Then, he got involved with a short-series production of musical instrument's components and items for museum's gift shop.
Higher Ground
His company – Make it3, operating in Białystok, Poland specializes in designing, scanning and 3D printing for private and business customers. Its beginnings were tough, mostly because of technological disadvantages. To list some of the past issues: clogging extruders, problems with print adhesion, proper leveling and constant dilemma of choosing the right material. Not to mention constant tinkering with printing settings and spare parts to maintain a proper quality. Moreover, models had to be carefully designed and prepared to ensure failure-free 3D printing.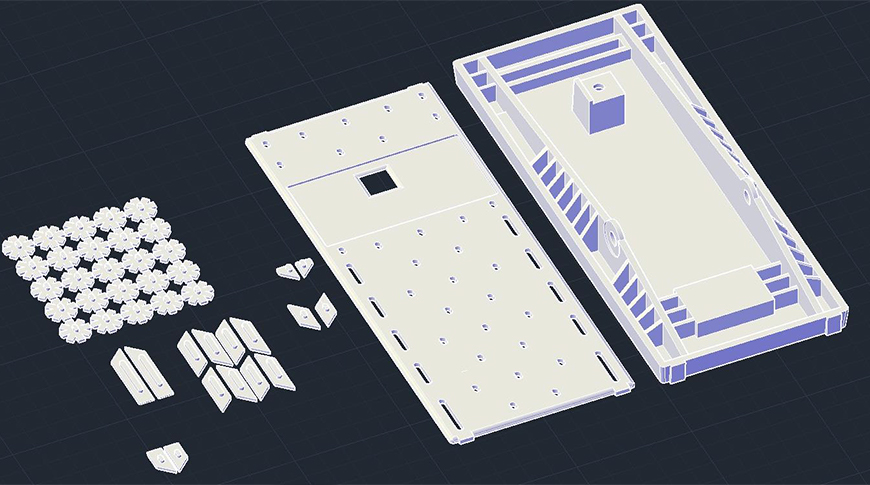 3D model of the customized effect
Damian started when desktop additive manufacturing was still in its early stages. Hooked up on the idea, he tested numerous 3D printers from China, Netherlands and Poland. Although their basic performances offered a chance to polish skills, he was eager to take the step further. His first Zortrax M200 quickly changed how things worked in the studio. What used to be tedious task, became intuitive and effortless. As he says "using Zortrax makes the process of 3D printing a pure formality". After all, it's hard to compete with Zortrax in terms of ease of work, dimensional precision and the amount of maintenance needed.
The Gateway
Fortune favors the bold. And so, coincidence led Damian to one of the most exciting of his projects. He was approached by technical staff of Red Hot Chili Peppers with a task of designing and creating a new casing of Ibanez WH10 pedal. Onstage emotions got no limits, alas Josh Klinghoffer's favorite wah-wah effect has. Original model from the '80 simply couldn't withstand the guitarist's vigor. Thus, it had to be reinforced to provide confidence and smooth performance. The casing wasn't meant for mass production, it was rather a unique and highly customized project.
Therefore, stated requirements were clear: it had to be durable, time-lasting, but familiar in form and functionality. The new pedal had to be sturdy, yet not too stiff under the artist's foot. Since the formal and functional conditions were strict, designer decided to approach the task using reverse engineering. Its concepts were introduced in the Zortrax motorcycle's case study. After measuring dimensions and creating a detailed 3D model, Damian began to alter the base shape. The casing has undergone heavy personalization, including reinforcement of the frame. Subtle visual changes were also applied, all according to the artist's wishes and tech staff guidance.
To achieve the goal, Damian has used two Zortrax materials. Properties of Z-ABS and Z-ULTRAT made them ideal for such rigorous project, because both provided unparalleled endurance to pressure. Furthermore, they are similar in facture to the pedal's casing. After some rather funny stress-tests, Damian found the proper balance between durability and the "feeling" of the pedal. And that's the beauty of rapid redesign – you can create and test your concept as many times as you need. Each casing was 3D printed in about 22 hours, but time was not as important as the precision. The end effect surprised the RHCP's technical staff, as it was sturdier than the original.
By The Way
Damian's recipe for the success? Be patient, be precise. Sure, years of practice makes all the difference, but learning from the best is also helpful. Luckily, 3D prints are easy to work with, so with little effort you can achieve results comparable to the products made with industrial mold injection. The trick is to be smart about the process and try to minimalize the work needed.
The first question you should ask during the design process: what's the purpose of the printed object? Would it be a functional working mechanism, or maybe an impressive showcase model? Keeping that in mind is crucial, for it defines the process, selected 3D printing properties and methods of post-processing. In case of the latter, application of putty, primer and varnish are welcome, but if you are looking for endurance, limit yourself to classic sandpapering. Using sandpapers with increasing gradation provides the best results. What's important, no matter the purpose, is utmost care when using chemicals. Certain substances will react to each other, causing sometimes irreversible damage to the model. So, do your homework and minimalize the work needed afterwards.
Can't Stop
Taking all the above into account, theory of low durability seems invalid. In fact, Damian has proved it wrong in every aspect. Furthermore, additive manufacturing cuts the time, cost of prototyping and it's more flexible to changes compared to past methods. As for Damian, "it was simply amazing to see your work under the foot of Red Hot Chili Peppers' artist during the Prague concert", sums it perfectly.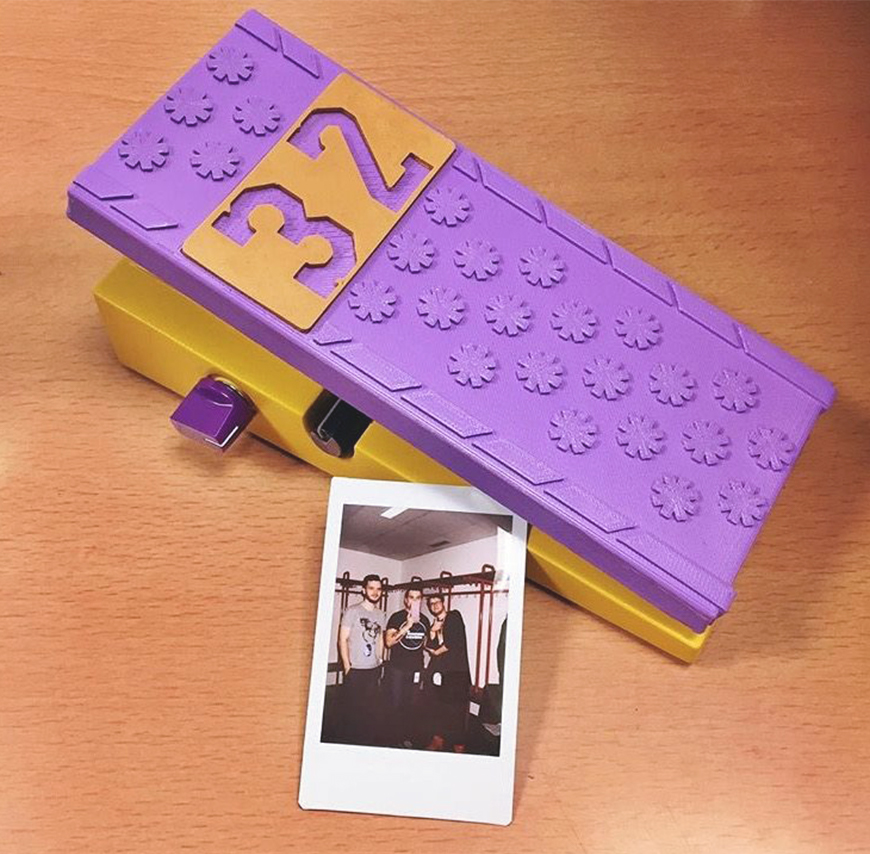 Final version of a new wah-wah effect plus photo of the designers
Damian Traczyk is focused and determined to work exclusively in 3D printing market. Not only it pays off now, but as he predicts, it's just the beginning of the manufacturing revolution. 3D printing will go big in coming years, so he wants to be part of it. Understating the technology through constant learning and years of experience made him well equipped to do so.
Encore
As prices of 3D printers drop, the client group grows. More and more companies decide to switch to the smart manufacturing solution allowing them to keep up with user's demands. Consequently, 3D printing is making its way to all of industries. Damian begun in private sector, now most of his jobs come from business clients. As he hinted, he is currently engaged in customization of car's interior.
But does it mean he stopped to look for more? Certainly not, recent introduction of external materials feature to Z-SUITE opened a possibility of testing previously unavailable applications. To further develop the studio's capabilities, Damian is planning to buy Zortrax M300 3D printer. It's a natural answer to the demand of corporate clients looking for bigger prints. He is sure it will deliver the same high performance as Zortrax M200.
As a side note, cooperation with the band is far from over, for the technical staff demanded a next upgrade! This time for the MIDI station, because its controls were too small to be used comfortably on stage… But that's a story for another day. Meanwhile, you can read about PICO – a 3D printed musical instrument.
All photos courtesy of Damian Traczyk.