Metal 3D Printing Comes to Your Desktop with Zortrax M300 Dual
Zortrax M300 Dual is one of the most versatile 3D printers in Zortrax range. The combination of large workspace, dual extrusion technology, and a very wide selection of supported materials has made this machine an amazing value for money. Now, we're taking this all to a whole new level with a capability to make parts out of either 316L or 17-4 PH stainless steel and new, updated Z-SUITE software. Here's how we made an already great M300 Dual even better.

Metal Printing Capability Available on Zortrax M300 Dual
Working with BASF, one of the world's leading chemical companies, we have added BASF Ultrafuse® 316L and BASF Ultrafuse® 17-4 PH metallic powder 3D printing filaments to the range of materials factory calibrated on the Zortrax M300 Dual. This means that the metal printing capability has finally trickled down from the industrial Zortrax Endureal 3D printer to the most advanced machine in the more budget-friendly M-Series. Manufacturing of the 3D metal parts on the Zortrax M300 Dual is a simple and straightforward process.

It all starts with Zortrax Full Metal Package, a kit containing necessary components and accessories to make either 316L or 17-4 PH steel parts on the M300 Dual. Working with Zortrax Full Metal Packages boils down to following those simple steps:
First, the hotend module in the Zortrax M300 Dual 3D printer has to be switched to the one provided in the kit.
Second, a PTFE tube with adapter has to be installed following this manual to prevent breaking of the metallic filament.
Third, a spool of either BASF Ultrafuse® 316L or BASF Ultrafuse® 17-4 PH metallic powder 3D printing filament has to be installed as the model material and the BASF Ultrafuse® Support Layer has to be installed as the support material in the M300 Dual 3D printer.
Fourth, the parts that are to be 3D printed need to be checked for compliance with our design guidelines explained in this Metal 3D Printing Manual.
Fifth, the glass build platform in the M300 Dual has to be covered with Magigoo Pro Metal glue to facilitate proper build platform adhesion.
Sixth, the 3D printing process has to be started using the default settings available in Z-SUITE software for BASF metallic powder filaments.
Seventh, the 3D printed models have to be packed and sent to post-processing which is free with the included post-processing voucher.
Eighth, post-processed, fully functional metal parts arrive are delivered to your door.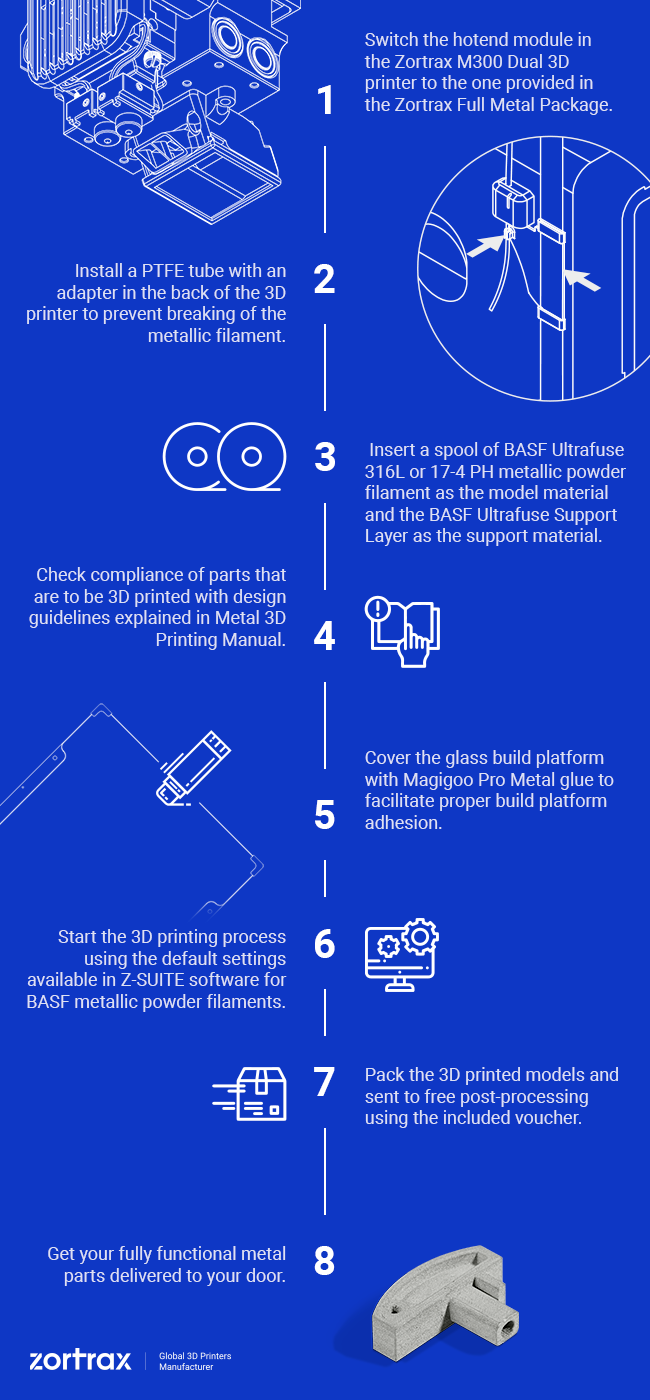 At a technical level, a 3D print made on the M300 Dual with a BASF metallic powder filament is not yet a steel part. It is called a "green" part comprising roughly 80% of metallic powder and 20% of polymer filler. To turn into fully functional steel, it must undergo a two stage post-processing developed by BASF. Remember that the voucher for a professional post-processing procedure is included in each Zortrax Full Metal Package so that you can obtain fully-functional steel parts. In the first stage of the process, the polymer filler is separated from the metallic powder through thermal and chemical treatment. Once the polymer filler is gone, the remaining metallic powder is sintered into solid steel. Of course, this means that the model shrinks 20% – a phenomenon that is automatically accounted for in Z-SUITE software which rescales the models appropriately. Here's how it works: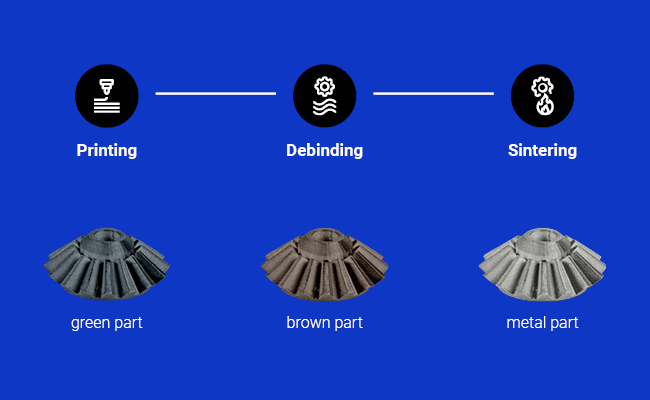 Overall, the process works the same way as in the industrial Endureal 3D printer which received the metal printing capability a couple months earlier. The steel parts made this way have all the properties of standard steel. They can be polished and welded at will. More details on how to handle metal 3D printing on the M300 Dual can be found on Zortrax Support Center.
What Makes Zortrax M300 Dual a Great Desktop Metal 3D Printer
Adding the BASF metallic powder filaments to the range of materials supported on the M300 Dual has made this 3D printer a truly do-it-all solution that is extremely price-competitive. The printer relies on the tried and true design that won countless awards for the Zortrax M-Series machines. This means the printer is very easy to operate and maintain, ensuring consistent high-quality prints each time. Outstanding reliability is particularly important when it comes to printing metals because all flaws and imperfections introduced during the printing itself get magnified and aggravated at the post-processing stage. The large glass build platform used in the M300 Dual for printing metals makes it possible to print multiple metal parts in one printing session.
But the M300 Dual offers way more than just printing with metals. It supports quality filaments starting from standard ABS and PLA-based materials through advanced composites for 3D printing reinforced with either glass or carbon fiber like BASF Ultrafuse® PPGF 30 or BASF Ultrafuse® PAHT CF15 to engineering classics like Z-NYLON or NYLON-based materials. The catalogue of printing profiles available in Z-SUITE software for the M300 Dual includes filaments made by market-leading brands like BASF Forward AM, KIMYA, Nanovia, or 3DxTech. This means the Zortrax M300 Dual 3D printer can deal with a vast majority of applications in nearly all industries.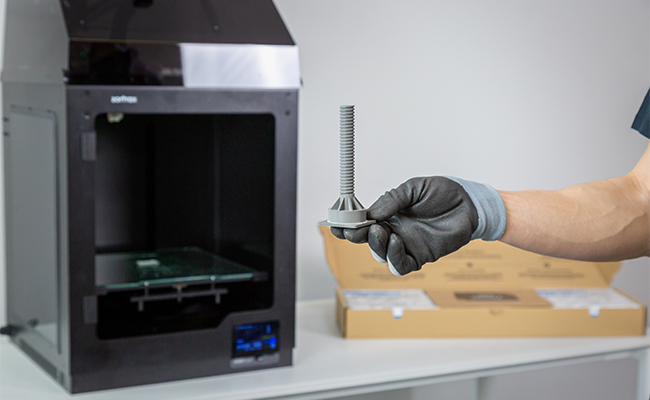 Steel Parts 3D Printing and More in Z-SUITE 3.2.0 BETA
The greatest highlight of the latest Zortrax software beta version is definitely a set of improvements in printing with metallic powder filaments. Z-SUITE BETA became even more aligned with the needs of the 3D printers user base and the nature of the two-stage post-processing that turns "green" parts into steel. The most important features in this area include a new gyroid infill which enables printing metal models with 60% to 90% infill. This is a handy feature in industries like aerospace or automotive where weight of the part has to be kept as low as possible.
Another change improves the way support structures are 3D printed while printing with BASF Ultrafuse® Support Layer, a support material dedicated for metal printing. In Z-SUITE 3.2.0 BETA supports are separated along the Z axis and divided down into small blocks along the XY plane to make their removal easier after post-processing. For the same reason, support structures are also narrowed down towards the bottom which additionally reduces the supports' footprint on the model. All this especially applies to getting rid of supports placed in small crevices or other areas in the parts that are difficult to access. Support structures' deformation caused by shrinkage of the part is further reduced due to switching the direction of printing from one layer to another. Z-SUITE 3.2.0 BETA changes the way the shrinkage plates are printed to maximize dimensional accuracy of parts that rest on such plates. The trick relies on intertwining the paths of material deposited by the printing head.
The most important features for metal 3D printing in the Z-SUITE 3.2.0 BETA are highlighted below: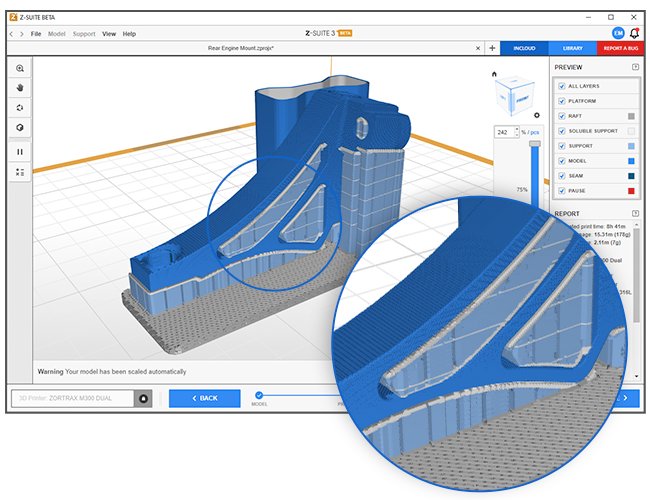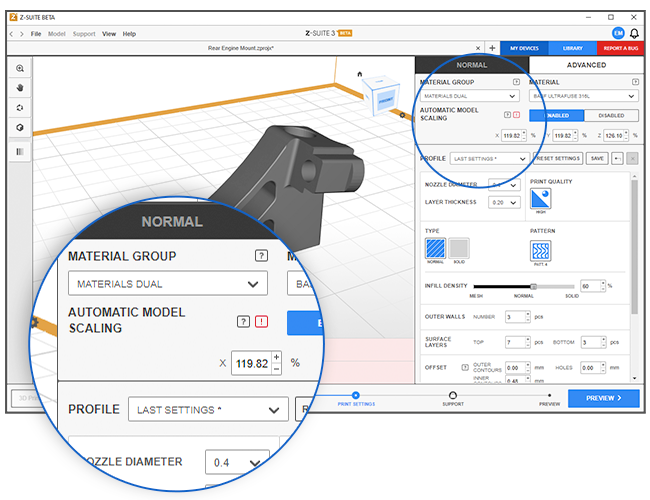 Last but not least, Z-SUITE 3.2.0 BETA brings lots of new materials and performance improvements for all Zortrax 3D printers. For more details, feel free to read the full changelog of the Z-SUITE 3.2.0 BETA, and learn what makes it groundbreaking software appreciated by thousands of users and world-leading manufacturers of 3D printing materials.
---
"Z-SUITE software is intuitive, flexible, and easy to use. It comes with a lot of ready-to-use profiles and clear guidelines. I recommend using it and consider it to be the best 3D printing software available on the market." – Sam de Jong / International Sales Manager & Distributor Manager, BASF FORWARD AM
---
To wrap it up, the M300 Dual working with the Z-SUITE 3.2.0 BETA is a powerful tool for prototyping and on-demand manufacturing. Go ahead, order your own Zortrax M300 Dual, and take your 3D printing operations to a whole new level today.