FIXAS: Making Special Effects with Help of 3D Printing
Summary
Swedish special effect studio FIXAS is using two Zortrax M200 to produce animatronics and movie props.
For the ease of post-processing and because of its exceptional durability, most of the props are 3D printed with Z-ULTRAT filament.
The reliable 3D printers are working unsupervised, allowing the team to concentrate on other tasks.
One could be easily mistaken that modern special effects are mostly done on the computer screen. However, the market for practical effects and prop making is still alive and very much well and 3D printing is progressively a bigger part of it. More and more effects companies turn to additive manufacturing to start rapid prototyping and mold making. One of them is the Sweden-based FIXAS, who decided to use Zortrax M200 printers to help them in the development of complex and original designs for various films, TV shows and commercials.
BACKGROUND
The magic of movies has always been based on trickery, much like a good magic show. Legend has it that one of the first short motion pictures, "Arrival of a Train at La Ciotat Station" by the famous Lumière brothers, caused massive panic and hysteria when it was first screened and that was just a shot of a moving train. With time the techniques of visual effects have moved past clever camera angles and have become far more advanced and complex. From Georges Méliès' miniature photography, to Ray Harryhausen's stop-motion animation, industrial prop making, finishing with modern Computer Generated Images (CGI), movie makers have applied many techniques throughout the years, all of them still being in use till today, but fresh and innovative ideas like 3D printing are still more than welcome.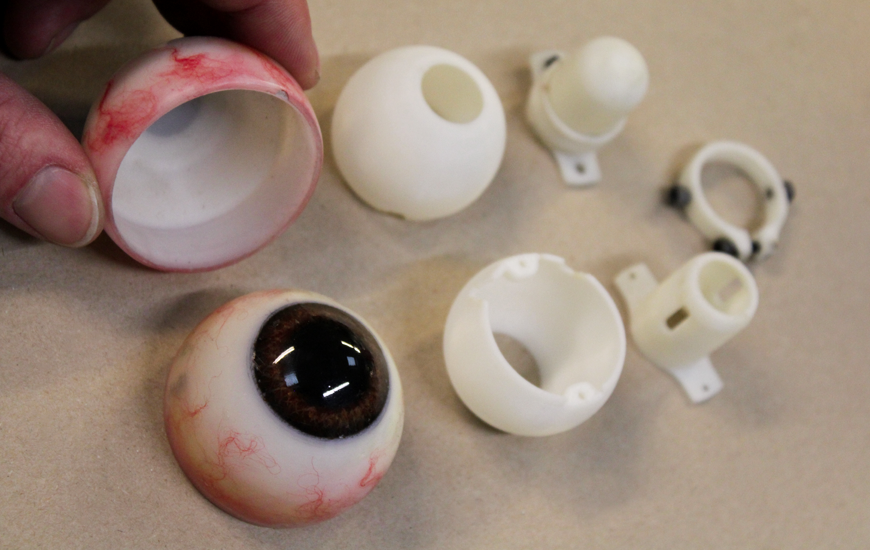 For Niklas Hermannson, one of the founders and workshop supervisor of FIXAS, it was the time when he saw Jurassic Park that he finally learned that he wanted to be a visual artist and prop maker. That Steven Spielberg classic has been a revolutionary film when it comes to advancement of photorealistic CGI but it was also the peak of practical visual effects. The amount of trickery being done digitally and on set was surprisingly about even. That sort of mix of both is what inspired Niklas to attend a prop making school when he was older and in 2005 he did just that. Two years later he registered his own company with his life partner, Fia Reisek.
GOALS
Niklas' initial idea was to create robotic puppets that then could be easily mixed with CGI just like in the Spielberg classic. To create these puppets, he used the old-fashioned techniques of molding and casting. Fia was responsible for fabrication, hair and sculptural work, as well as make-up. Both of them, developed quite a few new skills along the way and they expanded their practices to include serial production, CNC routing, 3Dmilling, vinylplotting, lasercutting. Thanks to it they were able to develop some of their services as well. They moved onto custom made props and stunt replicas, museum dioramas, construction work, animatronics, miniatures and showcase models.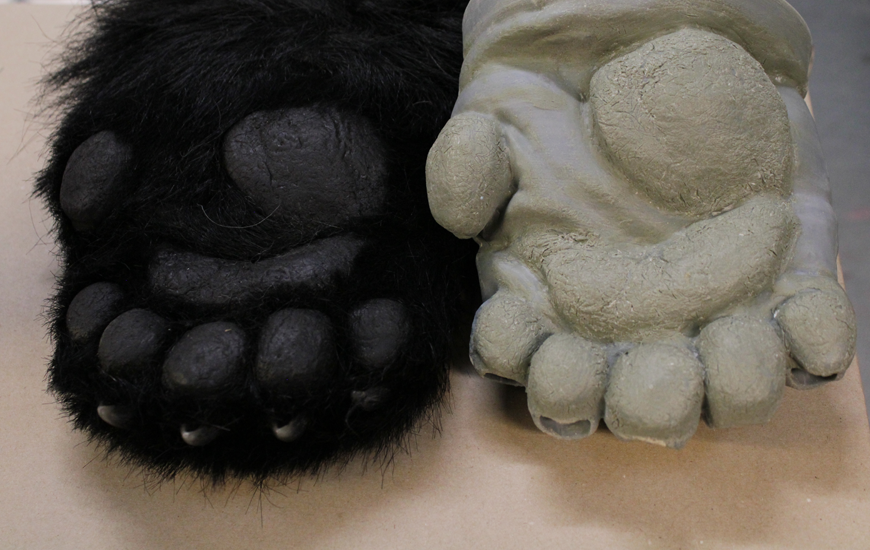 They've also expanded their clientele in a relatively short amount of time. Soon they were making all kinds of visual work on movies and various TV productions, most notably, they worked on the Scandinavian horror classic, Let the Right One In. In order to keep up with the growing demands to create "characters" and props at a faster pace, they needed a new tool to speed up prototyping and even help with the creation of multiple substitute models. In 2012 FIXAS bought their first 3D printer and it was a RepRap type of machine. He got to know all the ins and outs of it within the year and he even built his own 3D Printer in the process, which he tried to use in his workflow. However, he decided he needed a reliable model that could perform all the prints without the necessity of constant checkups. After trying different printers he finally decided on two Zortrax M200 printers.
PROCESS
The first Zortrax-printed visual effect was a prop – a headset for a virtual reality short film that served as a unique experience of feeling like a hunted animal. The headset was supposed to encompass the VR gear and look like the head of a deer so that the users could better immerse themselves in the film. The elastic part of the head was made of foam but to keep the prolonged mouth and the horns steady, they needed a rigid and yet lightweight structure to be able to comfortably be supported by the foam mask. They printed the mouth and horns with Z-ULTRAT so that they wouldn't lose any durability with a smaller weight. The components were quite large so they needed to be printed in sections and then put together with the foam mask. Later they needed to be primed and painted.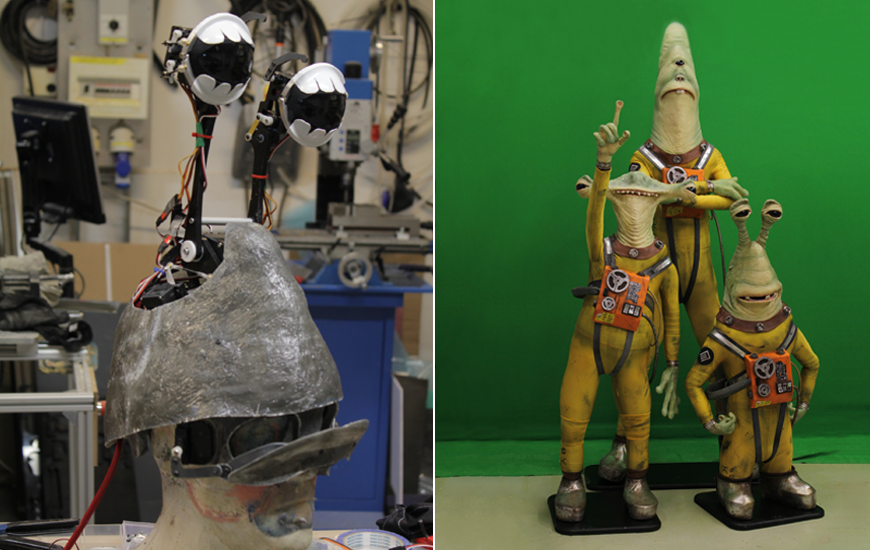 Their most complicated production till this day is a Panda mascot for a German TV commercial. The entire costume has been made in house with a good chunk of the work done with 3D printing. The head shape of the performer was scanned to model the inside of the Panda head. Later on the finished design was printed with Z-ULTRAT. The head was also designed to cover all animatronic components. The face had to move and emote with lifelike expressions. To make it feel real they also needed to get the eyes right and believable. They were also printed with Z-ULTRAT and then covered with transparent resin to give it that glossy feel of the lens of an eye. Finally, the Panda's hands were completely 3D printed and then painted and only slightly post-processed by simply glueing hair to achieve the final form.
RESULTS
When Niklas was watching Jurassic Park for the first time, this is what he envisioned doing in the future. A mix of animatronics and costume design that then can easily blend with computer generated images. These sort of complex visual effects need a lot of innovation and that's what can be achieved with additive manufacturing. "The amount of time that was saved doing prep work and designing is the biggest advantage of 3D printing technology. Zortrax materials also work great as protective cover for animatronic components. Thanks to the covers 3D-printed with Z-ULTRAT, the components are safe from any sweat and moisture"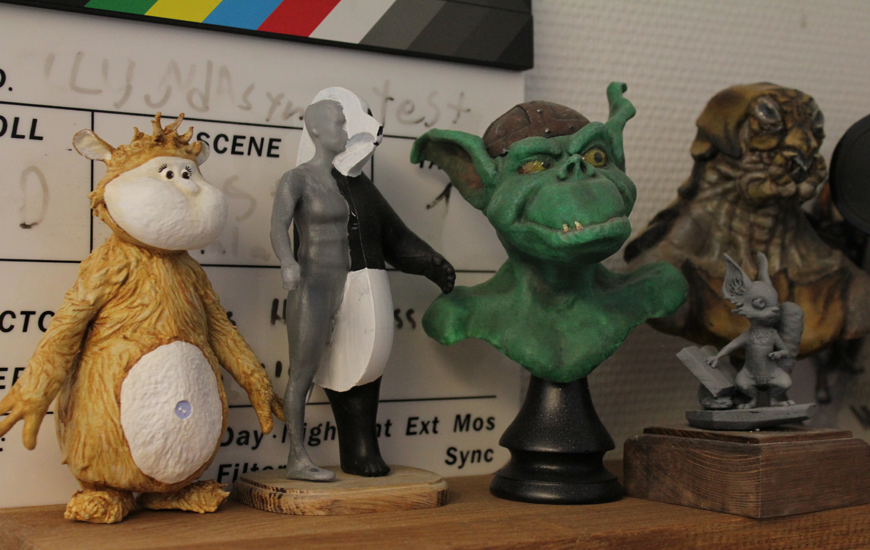 The simplicity of post-production also allows FIXAS to create props that can be used on film. A bit of varnish and paint is usually all they need to produce handles or arms props. "Sometimes we drill a hole in the model and fill it with plastic to make, if we need to make the prop heavier and more realistic on screen in terms of physics and how it is being used by the actors." says Niklas.
CONCLUSION
FIXAS is an example of how a small studio can produce extraordinary visual effects through the means of mixing different techniques. 3D printing comes in handy when it comes to prototyping and making finished props that can be used on film with little post-processing. Larger models can be printed in parts and smaller components can be used in unison with animatronic effects as well. Zortrax M200 allowed Niklas to have a reliable manufacturing tool that he didn't need to constantly supervise.
It's not the only time that Zortrax printers have helped filmmakers in fooling the audience. Read more on how the masters at Lucasarts have modeled their new space bomber for the biggest hit of last year, Star Wars – The Last Jedi.