On the Edge of 3D Printing and Industrial Design – the Zortrax Angle Grinder
Aided by constantly evolving technologies, the world moves forward at a truly impressing pace. To keep up, looking for solutions that will make work easier, faster and, most importantly, more efficient is inevitable. At Zortrax, we're convinced that for many industries 3D printing is a go-to technology to optimize production costs and simply save time. If you take a look at our other posts about Zortrax Ecosystem users' projects, you'll find out that applying 3D printing technology can easily be a game changer for your business.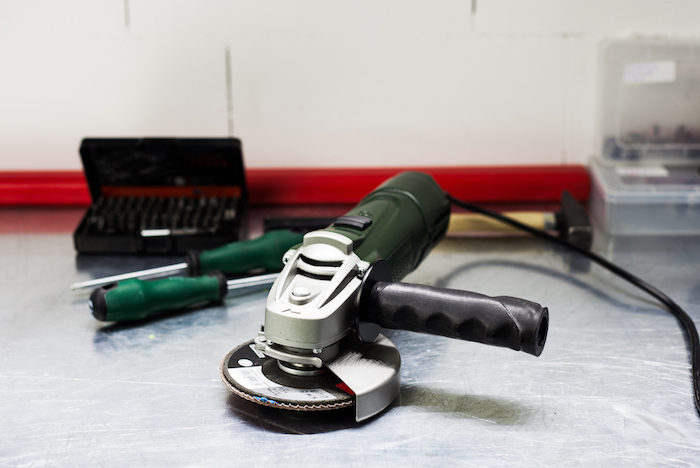 Angle Grinder 3D printed on Zortrax M200 with Z-HIPS and Z-PCABS materials
The Cutting Edge
As you've probably noticed, we're driven to deliver reliable 3D printing solutions so that you could focus on developing and improving your projects without worrying unnecessarily about adjusting parameters in just the right way to achieve satisfying effect. Since our 3D printers, software and materials operate within integrated Zortrax Ecosystem, the highest 3D print quality is a given. The default settings have been assigned to each of our materials, so most of the work has been already done for you and with just a few clicks your project is ready to go. We're also persistent in our quest for various ways of utilizing 3D printing to inspire and encourage you to apply this technology to your industry. This time around, we've decided to focus on industrial design as it involves usefulness and creativity equally, not to mention product customization possibilities.
Zortrax-way or the Highway
If you step into a workshop, a garage or a construction site, you'll see a variety of power tools and we bet there'll be an angle grinder among them. It's a highly popular and commonly used power tool in e.g. metalworking and construction, so, admittedly, there's a vast choice of grinders on the market. Lately, we've also needed to use it in one of our projects but having a knack for doing things our way, we just couldn't let it be. If you've been following our blog or social media, the fact that we've set out to redesign and customize the grinder shouldn't surprise you. And since we're constantly showing you the possibilities and advantages of 3D printing application, we've decided to make the angle grinder upgrade count and share with you the effect we've achieved with 3D printing and molding combo.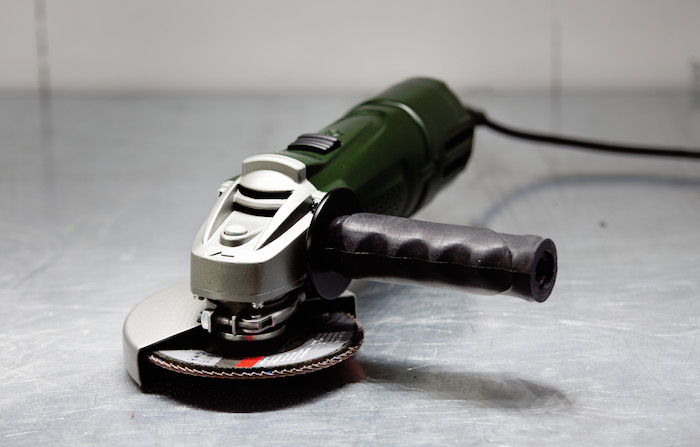 Front view of Zortrax Angle Grinder
Under Control
When it comes to giving shape to a design it's highly important to have the possibility of testing a tangible prototype to make sure all the parts work individually as well as altogether before production. Also, if you design a customized model it's generally easier for dedicated user to be able to see and touch the project to check if it suits his needs. 3D printing gives you these opportunities and more as the adjustments can be done both quickly and economically. What's more, you have control over each and every step in the overall designing and rapid prototyping process and that's often without the need to outsource. But that depends on your model. In case of our angle grinder, we completed the project from start to finish in-house, significantly shortening the time and lowering the costs usually involved with outsourcing. Let's cut to the chase.
Handle It
Industrial design is definitely one of those fields that combine appearance, usability and ergonomics equally. Having these features in mind, we've focused on redesigning the handle to eventually replace the basic one with an upgraded, more practical version that will make operating the angle grinder safer and easier. We're enthusiasts of user-friendly solutions after all. To show you how efficient altering the project with the use of 3D printing technology might be, we've divided the designing process into stages based on development of the idea.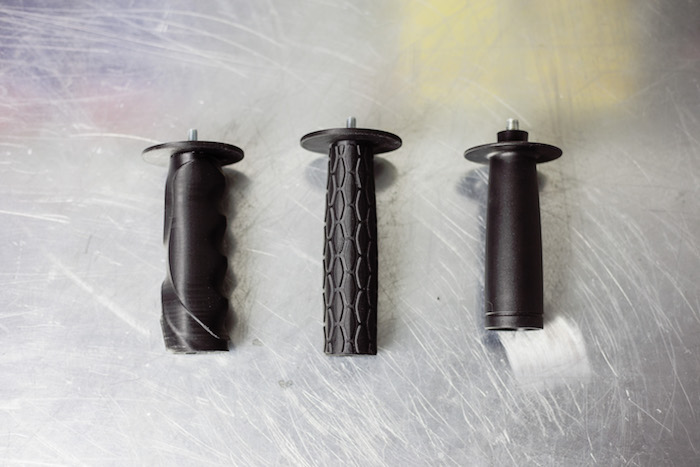 Various versions of handle
The original handle provided by the manufacturer was actually simple to the point of being unhandy. Both small size and smooth finish made operating the grinder more difficult. So our first step was to optimize the size, so that the span between the edges could easily accommodate a hand, and to add some ridges to prevent slipping. We 3D printed the handle on Zortrax M200 using black Z-HIPS to give it an end-use product finish without the need to post-process.
Don't Hold Back
Why settle for the slightly improved version when the tools to make a fully upgraded version are within reach? So, with ergonomics in mind and Zortrax Ecosystem at hand, we redesigned the handle yet again. We opted for finger grip handle due to the fact that indentations improve the grip and increase safety and user experience as a result. This one was also 3D printed with black Z-HIPS.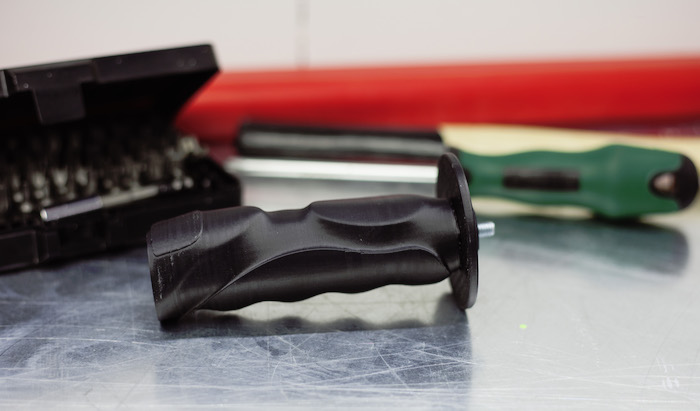 Handle of the grinder
Then, we took the project a step further and, to show you another application of 3D printing, decided to mold the handle. Since we tested the shape, size and functionality with the finger grip handle, we used it as the base for the mold. 3D printing it on Zortrax M200 significantly reduced the time of mold preparation and excluded the generally pricey outsourcing. We had the three-part pattern ready in hours.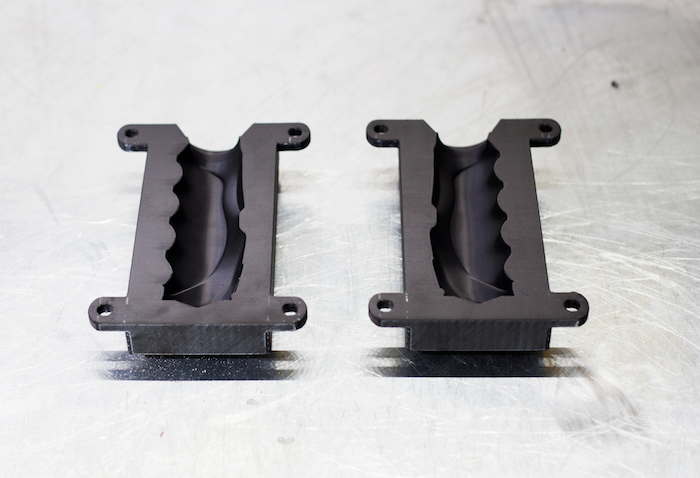 Molding patterns of the handle
We used black liquid polyurethane casting rubber for the handle to get the end-use product. Two parts of the mold were covered with silicone spray, then joined. Next, the fixed material was poured into the pattern. We also inserted Z-HIPS printed bar to ensure that the core of the handle would fit. In the span of hours, the final handle was ready and the whole project was efficiently done in-house. Voilà!
That's the Case
Focusing on the overall user experience, we also customized the casing, which doubles as the main handle. To ensure ease of use, we kept the design quite simple. Yet, regarding the safety, equipped the casing with anti-slip areas on left and right side. Additionally, we resized and reshaped the on and off switch. From our range of materials, we chose Z-PCABS due to its properties. This special blend of ABS and polycarbonate is highly durable and resistant to high and low temperatures. The fact that the casing was dedicated for a power tool made Z-PCABS the best choice.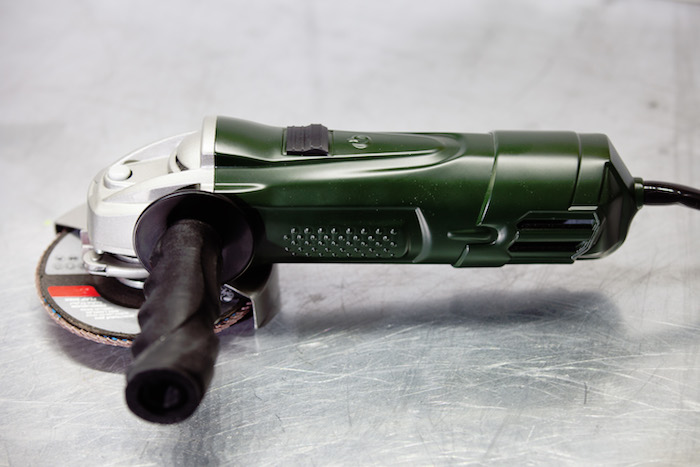 Side view of Zortrax Angle Grinder
Special Treatment
Rapid prototyping is one thing, but 3D printing gives you the possibility of manufacturing the end-use product as well. Achieving the desired effect, however, often depends on post-processing. We aimed for resemblance to mass-produced grinders, yet wanted ours to look even better. To ensure that eye-catching appearance, we divided post-processing into four steps. Firstly, we sanded the casing to be extra sure that there were no bumps on the surface and coated it with primer. After drying, the casing was wet sanded to even out the primer layer. Painting was the final step. We settled on dark moss green, which gave our angle grinder that final polished look.
Carefully sanding 3D printed part
Customized Yet Efficient
Here at Zortrax, we defy the 'custom-made equals expensive' mentality by providing you with efficient tools to customize at will. Zortrax Ecosystem gives you the possibility of developing your ideas and designs as well as starting small-quantity production of customized goods while eliminating the need to outsource. This basically means decreasing costs and shortening overall order-completion time as the whole process is done using your usual and available resources. So, the next time you're asked for customized product, don't make excuses, you have all the necessary means at hand.