Children's 3D Printed and Interactive Companion
There are certain situations in life that are undoubtedly difficult to cope with and leave us feeling not only vulnerable but also helpless. Watching someone you care about struggle with illness is one of them and it's heartbreaking. It's even more devastating when it comes to children but the strength the kids show while undergoing treatment is awe-inspiring. It's very important, however, to provide them with as much emotional support as possible. One of the less standard ways of adding to that support is a social agent. Meet SIMU, an interactive, 3D printed companion dedicated to children suffering from cancer.
Little Fighters
The statistics regarding cancer are overwhelming. In 2012 over fourteen million people were diagnosed with it and over 200 000 cases of pediatric cancer are reported each year. As distressing as the statistics are, it's vital to provide the means necessary to develop and improve available treatments as well as focus on research of new cures. Then, there's also the fact that patients, especially children, need lots of emotional support to fight the illness. The courage and strength so easily noticeable in kids combating cancer is astonishing and admirable. We're glad that thanks to our Reseller CREAR 4D we could contribute to the idea of providing kids with emotional support and giving them that little ray of sunshine.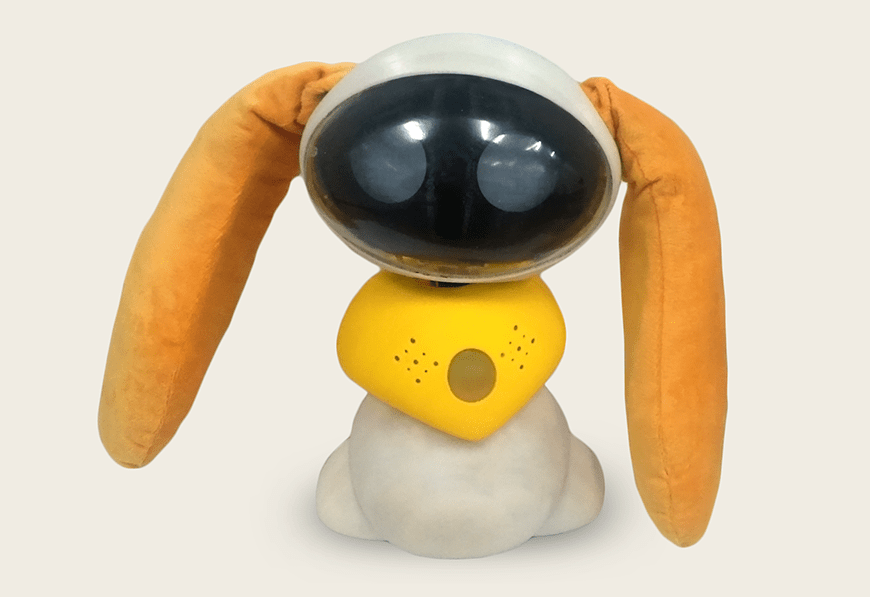 Meet SIMU – a 3D printed companion
Friend in Need
Providing a friendly environment for the little patients helps their mental state. That's why pediatric wards are usually brighter and more colorful compared to others. Bear in mind that hospital stay means that a child is taken out of familiar surroundings and faces not only the illness but also feels isolated or even abandoned, especially when parents or guardians cannot be with them. SIMU, an interactive companion, designed by Carlos Terranova, Kiomy Tamura, Akie Manrique and programmed by Anthony Bacilio, keeps a child company when his or hers loved ones can't.
Let Emotions Show
SIMU is also a tool used to help develop children's empathy. The device has four facial expressions: surprisal, happiness, tiredness and a neutral one. The last two also mean low battery level and that the device is switched on, accordingly. Each feeling is expressed by SIMU's eyes and ears. For example, happiness is shown by reversed, half moon shaped eyes and slightly upturned ears. The three distinct emotions can be easily read by a child. The device can also move and its way of walking is also endearing and funny, as it resembles that of a penguin. What's the most important, though, is the fact that SIMU reflects the emotions of its owner. The camera with facial recognition is inserted in the device's head and helps in identifying a child's mood when he or she uses SIMU. That, in turn, means that a psychologist involved in a kid's treatment has access to more in-depth observation of a patient through dedicated app. Also, the device provides the possibility of not only monitoring a child mental state outside of face to face meetings but also to adjust or improve the therapy if necessary.
Interactive Playmate
Extended hospitalization generally means that a child has less contact with peers, which may negatively affect the development of social skills. It may also cause feeling isolated, left-out and worsen overall mental state. SIMU, as an interactive companion, helps counteract these emotions. The device is programmed to play two games – telephone and zip, zap, zop. In the first one, SIMU is used as a medium between two or more children that are unable to move around freely. One child records a message dedicated to another and SIMU transfers it to the other device. SIMUs are assigned to children by their favorites colors and the hue is displayed by LED light mounted in its chest. So, to choose a specific receiver a kid needs to select his dedicated color. Then, the second child has to decipher the message and can send one back. The second game is based on mimicking the movements and help improve attention span and reflexes. SIMU can be used as a player or be a substitute for one.
3D Printed Social Agent
As 3D printing allows you to efficiently obtain and improve a prototype, SIMU's test version was 3D printed on Zortrax M200. The high quality of 3D prints caused the designers to 3D print the end-use parts as well. From our range of M-series dedicated materials, the designers chose Z-ABS in yellow and android green to print the casings for chest and inner casing for electronics. Due to its high durability, Z-ULTRAT in ivory was used for SIMU's head and base.
Heart-warming Initiative
Here at Zortrax, we try to contribute to different social initiatives. If you're following us, you've probably read about some of them at our blog. We're really glad that the tools we provide our users with are put to such good use. Initiatives such as developing devices that make the life of little patients that bit more comfortable tugs at our heartstrings and makes us really happy that due to our partners and user we become a part of them.