Zortrax Signed a Letter of Intent with Skriware to Build Innovative Solutions for Education
Zortrax, an industry-leading manufacturer of 3D printers, printing materials, and software, has singed a letter of intent with Skriware, an award winning innovation leader in education. Starting from Q3 of 2021, Zortrax M200 Plus 3D printers will become a part of Skriware range of solutions aimed at educators around the world. The first joint project of Zortrax and Skriware is going to be placing a public bid to deliver fully equipped SkriLab classrooms to over 4.5 thousand schools in Poland under the "Active Blackboard" program.
Strategic cooperation with Skriware enables us to achieve one of the key goals in our long-term development strategy which is supporting the education of a new generation of engineers, designers, or doctors starting from early on in their careers. It also lets us tap into a growing demand for innovative technologies in the education market. After the agreement between Zortrax and Skriware has come into force, at least one Zortrax M200 Plus 3D printer will be available at every SkriLab workshop in every school in the world. – says Rafał Tomasiak, the CEO of Zortrax S.A.
Zortrax M200 Plus 3D printers will become a standard equipment in SkriLabs, innovative educational classrooms which enable schools to use new technologies to revolutionize teaching of various subjects.  Interdisciplinary and immersive approach to teaching significantly improves learning outcomes for students. This is particularly important for students with physical or mental disabilities, or facing other difficulties like inability to focus. 
– The rapidly changing world is particularly challenging for the new generation of young people on the verge of adulthood. The way our education works needs to evolve to keep up with all these new developments. We can clearly see a global trend towards using innovative technologies to support teaching in STEAM subjects  (science, technology, engineering, arts, mathematics). Skriware solutions of which 3D  printers are a part of, have been developed in response to growing demand for innovative education. – says Karol Górnowicz, the CEO of Skriware.
Due to the unique inCloud service, Zortrax devices will soon become tightly integrated with the Skriware educational ecosystem. They will become an integral part of the SkriLab classroom experience delivered to schools in Poland and around the world. Skriware educational products are tailored to meet global standards in education and have already gained customers in Belgium, the United Kingdom, Russia, Australia, India, and many other countries. 
Global expansion is our ultimate goal, but we always remember where we came from. So, we care deeply to make our solutions widely available to students and teachers in as many schools in Poland as possible. That's why we have tailored our offer to the national, "Active Blackboard 2020-2024" program led by the Polish government. With this program it is possible to fund thousands of SkirLab classrooms in Polish schools.– Górnowicz adds.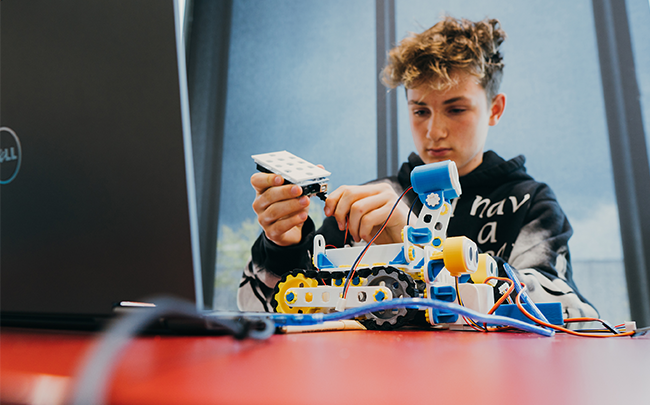 Today, Skriware has a network of 12 distributors covering multiple countries in the EU and beyond like the Republic of South Africa, Malaysia, Australia, India, or various Middle East countries. Strategic cooperation with Zortrax will open up new possibilities in reaching key customers in education around the world. Moreover, the global network of Zortrax distributors and partners will ensure expert service and technical support. 
Skriware products have been awarded for their innovativeness and out of the box approach to teaching. The startup reached the final eight of the international Global EdTech Awards 2020, beating thousands of other education startups on the way. Skriware has been a part of the mentoring InCreadibles program and reached the 9th place in the Rising Stars ranking published by Deloitte Technology Fast 50 CEE 2020. In the second half of the 2021 the company will take part in The Extreme Tech Challenge organized by Glovo, among others. Skrilab classrooms have been already acknowledged as an effective tool for integrated education by scientists working at the Lublin University in Poland.