Zortrax Among Top 10 Best 3D Printers by Make
Make Ultimate Guide to 3D Printing 2015 present Zortrax M200 as a machine that "can print large, precise and durable prints without requiring a lot of time to fiddle with settings or breaking the bank".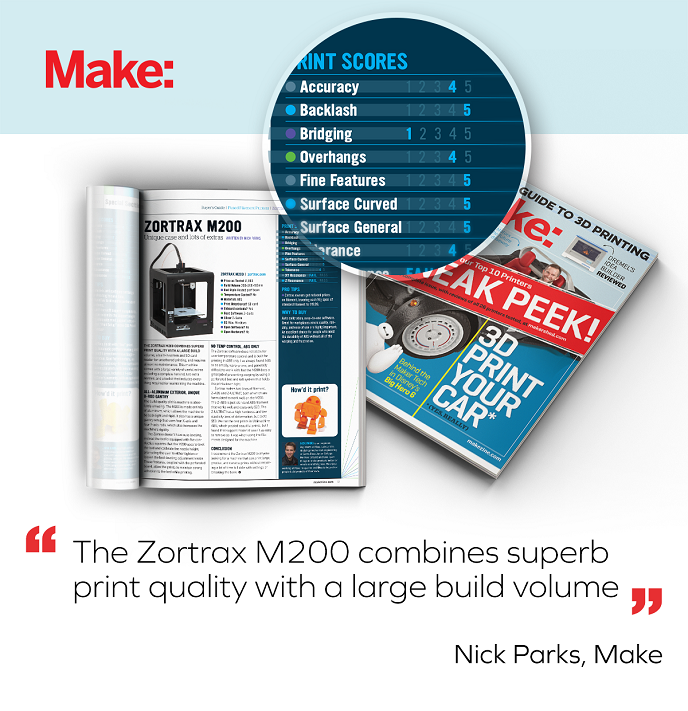 Make presented Ultimate Guide to 3D Printing 2015 and Top 10 3D Printers tested and rated out of 26. The review is based on two different types of data: the quantified print-quality scores and the qualitative evaluation of Make's team personal experience with each machine. Each printer was run by several different specialists, so the decision wasn't based on individual preferences, instead it was a common decision.
Nick Parks tested Zortrax M200. Features he highlighted were the price, build volume, bed style, material, software, slicer, if software and hardware are open sourced and more.
Nick concluded Zortrax machine as a combination of superb print quality with a large build volume. He also found Zortrax a machine that requires almost no maintenance, with a variety of extras.
He found Zortrax M200 weak spot in "no temp control and ABS only". So far, these were the only weaknesses he notified.
Nick recommend Zortrax machine for "Auto calibration, easy-to-use software. Great for workplaces where quality, reliably, and ease of use are highly important. An excellent choice for people who need the durability of ABS without all of the warping and frustration".
To download the Review go to Make's website.