What Happened at Zortrax's Stand at Formnext 2018
Summary
Zortrax Apoller, a smart post processing technology for FDM 3D printed models had its Formnext 2018 premiere at our stand in Frankfurt.
Visitors got a first-hand experience with Zortrax Inkspire, our revolutionary resin 3D printer, and our new FDM 3D printing devices in the M-series Plus class.
Zortrax has also unveiled its new line of resins and 3D printing filaments.
Formnext 2018 in Frankfurt am Main, Germany, has concluded on Friday and Zortrax was there throughout all four days of the expo. The event was dedicated to highlighting new developments in additive manufacturing and the next generation of intelligent industrial production. For this particular reason we have decided to showcase an entire assortment of our 2018 devices. This includes our revolutionary UV LCD resin 3D printer, M-series Plus 3D printers and the premiere of a Smart Vapor Smoothing device.
Smooth Premiere
As we do every year at Formnext, we have shown many of our new products, including 3D printers and 3D printing materials. This year, however, we have also premiered Zortrax Apoller, a new smart device that effectively removes visible layering from FDM 3D printed models. The device automates the entire smoothing process by managing temperature, pressure, and concentration of solvent's vapors inside the air-tight smoothing chamber. Vapor-smoothed models obtain the look of injection-molded parts with a glossy or matte finish depending on the filament that was used. What makes the Apoller even more special is that it is a truly stand-alone device. It can smooth models 3D printed on all FDM 3D printers and with different filaments, regardless of their manufacturer.
Revolutionary Technology
During the event, visitors also got the chance to see Zortrax Inkspire, another 2018 revolutionary device. This UV LCD resin 3D printer marks a new venture for Zortrax into 3D printing from photopolymers. It has been designed for highly detailed models and 3D prints them out of tiny cuboids, measuring 50x50x25 microns. Because of these microscopic dimensions, Zortrax Inkspire can be up to 9x more precise than leading SLA 3D printers. It also solidifies entire layers of the resin and thus maintains constant high speed of operation and accuracy regardless of how much of the workspace is used which makes it up to 8x faster than its SLA competition.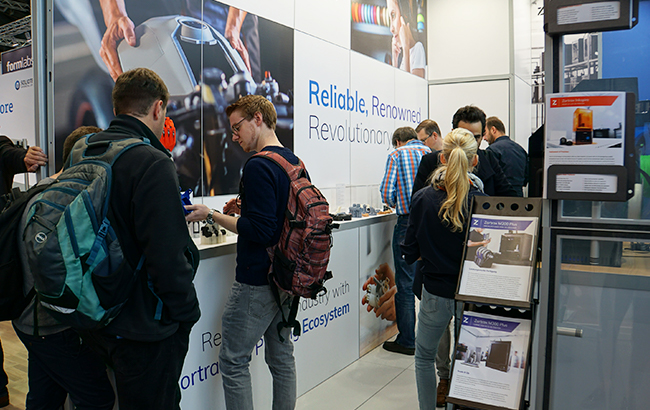 Not only did the attendees have a chance to get a first-hand experience with Zortrax Inkspire, they were also shown the abilities of our four new resins that are dedicated for the UV LCD 3D printer. Firstly, Zortrax Resin BASIC is a precise resin with low shrinkage which makes it perfect for highly-detailed exhibition models and artistic designs with a complicated structure. Zortrax Resin PRO has higher bending and impact resistance compared to Zortrax Resin BASIC and is ideal for functional and mechanical parts. 3D printing flexible parts from photopolymers is also possible thanks to Zortrax Resin FLEXIBLE, which is both elastic and impact resistant. Finally, Zortrax Resin DENTAL MODEL is a photopolymer meant for digital dentistry application and comes with a gypsum-like texture to cater to sensibilities of dentists around the world.

New Additions
If you were in Frankfurt at Formnext 2018, you also had the chance to see the new FDM 3D printers from our M-series Plus line. Zortrax M200 Plus is an advanced Plug & Play 3D printer, ready for high quality 3D printing right after unboxing. It is equipped with Wi-Fi capability and designed to work in large 3D printing farms as a powerhouse of rapid prototyping and production. In order to manage production more easily you can rely on the 3D printer's smart functionalities like material end detection, upgraded extruder, build platform and camera for the risk-free 3D printing. All of these functionalities are also present in Zortrax M300 Plus. It is another desktop 3D printer but with one of the largest build volumes among desktop class devices.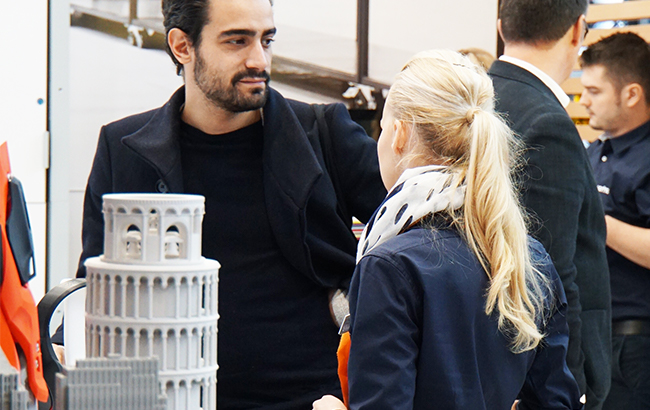 Technology enthusiasts also had the chance to see new filaments dedicated for Zortrax FDM 3D printers. Z-PHA is a 3D printing bioplastic produced by bacteria kept under specific conditions. The filament easily undergoes biodegradation which makes it one of the most eco-friendly 3D printing filaments on the market. The material is also able to retain high dimensional accuracy, which makes it perfect for models like architectural mock-ups. Z-NYLON is a strong 3D printing material which is hard to break and can be post-processed with tools for machining metals. It is perfect for producing mechanical parts and functional prototypes. Z-FLEX is an elastic 3D printing thermoplastic that is able to easily withstand bending. The material has a relatively fast extrusion time and possesses great layer adhesion and dimensional tolerance. It is also resistant to low temperatures and various chemicals. Its unique properties can be used in parts which need to bend frequently.
Conclusion
Additionally, Zortrax Inventure, our professional dual-extrusion 3D printer, was also at Formnext, this time with a new support filament, Z-SUPPORT Premium. It is a BVOH support material, which quickly dissolves in water and can be used in 3D printing in various temperatures. This makes it compatible with a wide range of 3D printing filaments (Z-PLA, Z-PETG, Z-SEMIFLEX and Z-ULTRAT Plus).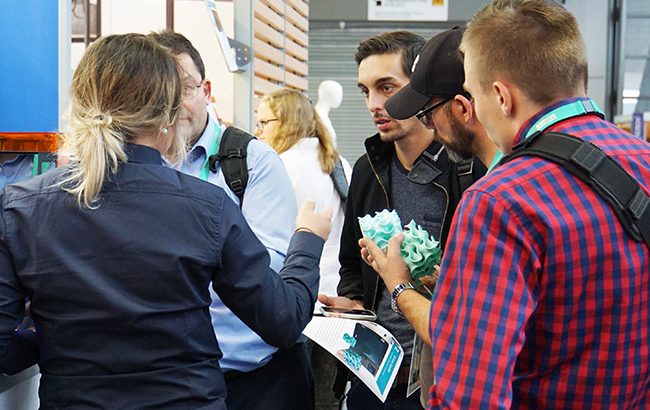 To all our visitors at Formnext 2018, we would like to extend a big thank you for sharing your time with us, passionately discussing new additive manufacturing technologies and their applications and sharing your thoughts and opinions. To all those who couldn't come this year to Frankfurt, we hope to see you there next year.