The Top 10 Zortrax Blog Posts from 2014
2014 was extremely important for Zortrax Company. We have opened 2 Stocks, released new materials, launched Zortrax Store and Resellers Program. Which of 2014 information gains the biggest interest?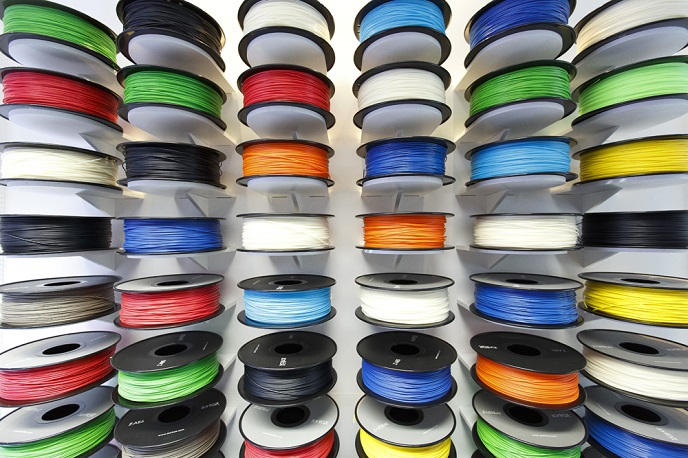 2014 was a year of changes, constant development, events and awards. We have increased the number of employees to 120+ and reached people in 24 countries with our products via Resellers network. We evolved from startup to a company with global reach. How did it happen? It is a result of work of dozens of people – a team of specialists who are constantly working on improving our machines with the help of Zortrax users. See which of blog news gain biggest interest:
10. Zortrax Awarded in Design Alive Awards for Best Strategist
The Design Alive Awards run by Design Alive Magazine is one of the most prestigious in design industry. Zortrax team was awarded for Best Strategist.
9. Zortrax Opens 2 Stocks for 2 Currencies
In January we've opened European Union and International Stores so users from outside of Poland could finally try the M200.
8. How Christopher Brändström, a Concept Artist for Games, Hollywood films & commercials, uses his Zortrax M200?
Christopher is one of the famous concept artists, working on projects like World War Z, Killzone 4, Need for Speed. He shows how to use a 3D printer to bring creative ideas into life.
7. Susanna Lamp by Samuel N. Bernier 3D Printed on Zortrax M200
Samuel N. Bernier, an industrial designer and a creative director in FabShop amazed you with a 3D printed Susanna Lamp in November.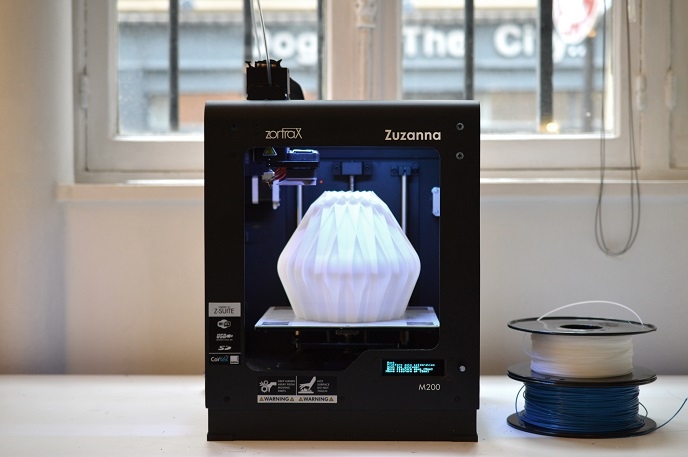 6. Mappingwall – 3D Printed on Zortrax M200 Multimedia Installation
Mappingwall show, the joint project of Zortrax and Piloci Studio Co., was presented on Zortrax Store Opening in front of the guests. Installation of 332 3D printed pyramids made of translucent filament and based on wide mapping and LED lightening impressed the audience with visual and auditory sensations.
5. Zortrax 3D Printed Industrial Prototypes
In October Zortrax engineers introduced industrial prototypes of KUKA robot, architectural mockup, MIDI controller and a 3D printed human skull in videos. The most popular KUKA robot gained interest of KUKA Robotics team.
Zortrax Store opening was one of the most important events to come in 2014. The first in Poland and one of the first in Europe stationary 3D printing store in Krakow is a 3D Hub, a showroom and a place for testing and meeting, also for workshops.
3. Zortrax Among Top 10 Best 3D Printer by MAKE
In November MAKE Magazine presented Ultimate Guide to 3D Printing 2015 and chose Top 10 3D Printers. Zortrax M200 is one of the rated machines. Nick Parks concluded Zortrax machine as a combination of superb print quality and a large build volume.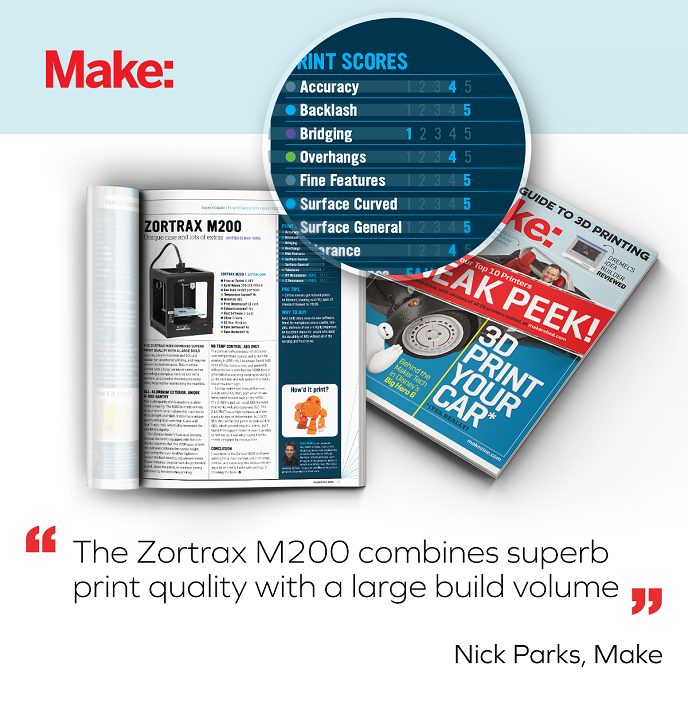 2. Z-GLASS and Z-HIPS – New Materials in Z-Filament Series
This year we engineered 2 brand new materials: translucent Z-GLASS and Z-HIPS with high impact resistance. Both materials brought new quality to FDM technology.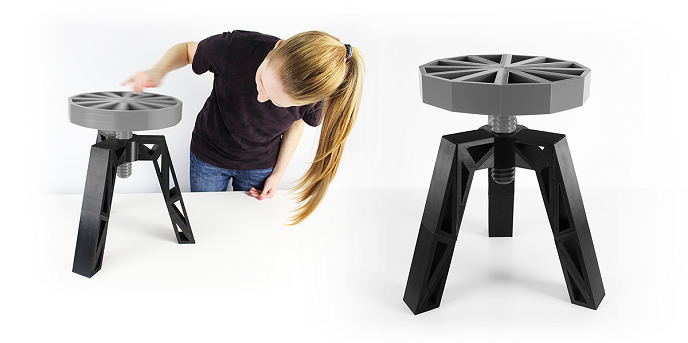 1. Zortrax Most Reliable and High Quality 3D Printer Among 3D Hubs Community
The 2015 3D Printer Guide based on 3D Hubs Community of 2,279 verified users rated Zortrax M200 as the most reliable and high quality 3D printer in Plug'n'Play category. That is probably the best recommendation the future M200 users can get.