The Superhero of 3D Printing. How Veterinary Medicine Can Benefit from the AM Technology
Summary
Maciej Szczepański, a veterinary student from Poland, uses Zortrax Inventure to help injured dogs.
He 3D prints prostheses that allow the animals to fully enjoy their freedom of movement again.
Before 3D printing, the geometry of the dog's stump is transferred to the modeling program with the use of a 3D scanner.
3D printing technologies are constantly reaching new, niche areas, where there's a need for custom-built objects. We find out about those remarkable applications on a regular basis. Today, we have a story about Maciej Szczepański, a student from Wrocław, Poland, who has successfully brought a modern technology to the animal world with an incredible mission in mind. With the use of a Zortrax Inventure, he designs and builds 3D printed prostheses for injured dogs.
From Idea to Reality: 3D Printing Functional Prostheses for Animals
Maciej is a last year veterinary student at the Wroclaw University of Environmental and Life Sciences, where he has had a chance to explore the field of animal orthopedics. Apart from taking part in orthopedic surgeries, he has enjoyed reading specialized literature, in which he has learned about the methods of helping injured animals. One of those methods is fitting the animal with a prosthesis. However, he has noticed that the usage of animal prostheses in Poland is not as equally promoted as, for example, in the United States. At this point his idea to help animals has been brought to life.
"I wanted to create prostheses that would improve the quality of life of an animal that will be using it." – says Maciej, who kicked his project off by helping two dogs – Sonia and Leto – the victims of traffic accidents. After outsourcing a portion of the project at first, Maciej opted for 3D printing the prostheses on his own to gain more autonomy, as he decided to engage in this project full-time.
Maciej starts the work on an artificial limb with getting to know the dog he's going to help. He uses alginate to make an impression of the dog's stump. The imprint is then filled with special ceramic plaster. Next, the future vet 3D scans the obtained cast of a residual limb so that the 3D designer can prepare a digital 3D model. "All I have to do later is 3D print the prototype on my Zortrax Inventure, which makes my work significantly easier, as I can print on the spot and check if my assumptions are correct. I don't have to outsource this work anymore." – Maciej points out. What's more, having a 3D printer allows the student to test various levels of infill and evaluate the printed part's durability.
Producing Customized 3D Models Tailored to Special Veterinary Needs
Each prosthesis is almost entirely 3D printed on Maciej's Zortrax Inventure. The printed components include a socket which holds the dog's stump and an element which comes in contact with the ground. As Maciej explains: "For the socket, I choose the solid infill option, whereas the "foot" has slightly above normal infill density. I leave the rest of the settings assigned in Z-SUITE by default." He also uses the Hybrid Support option, which allows him to save on the support material while printing in the dual-extrusion mode.
The filaments Maciej uses in his project are Z-PETG, Z-ULTRAT, and Z-SUPPORT Premium. "I believe Z-PETG is particularly useful for the production of the prostheses because of its high wear and tear resistance." – Maciej adds.
After 3D printing, Maciej puts his model in the Zortrax DSS Station to dissolve the support structures and this is basically the only post-processing step he applies in this project. Finally, Maciej uses screws to assemble the three components of the prosthesis together, and puts a layer of cloth inside the 3D printed socket to increase the dog's comfort. At this point, the object is ready to be worn by the dog. The student has no doubt about the role of 3D printing in his project and as he says: "Thanks to 3D printing, I was able to create the tailored prostheses that suited the pet's special needs."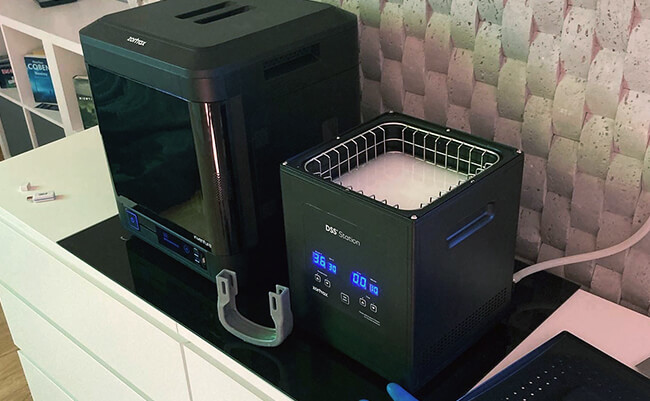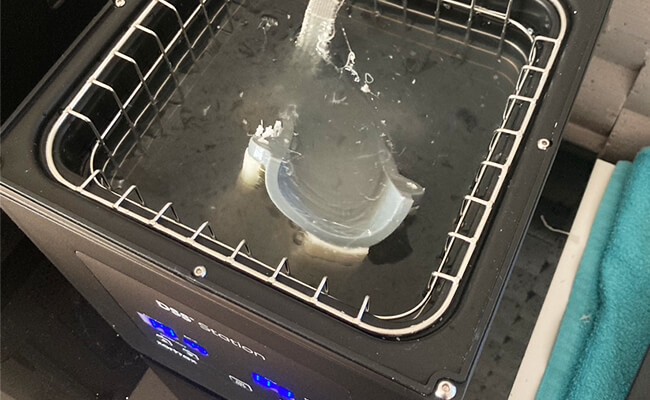 And Maciej's work brings the desired effects in helping dogs fully enjoy their freedom of movement again. An interesting fact is that Leto – one of the dogs Maciej is looking after – got used to its prosthesis, accepted it, and started to move in it almost like a healthy dog within 15 minutes after having it fit.
The Advantages of a Desktop 3D Printer in a Vet's office
Despite little technical experience in the field of 3D printing, Maciej considers working with Zortrax Inventure an easy and convenient task. Among the printer's advantages, he enumerates its compact size and ease of use: "The Inventure is a desktop printer with an accessible and intuitive interface. It was my first contact with a 3D printer and I handled it without any problems." A huge merit for Maciej is also the short time in which he can obtain the ready prosthesis and pass it on to the animal in need, which takes no more than 3 days.
On top of that, Maciej sees 3D printing as a tool which allows him to create highly customized items with minimized costs incurred along the process. Not only has he filled a niche by delivering artificial limbs to injured dogs, but he's also planning to expand his activity: "In the future, I would like to use the 3D printer to create other prostheses or repair the ones I have already produced." In fact, Maciej is in the process of establishing a start-up company which will provide long-lasting support to animals with orthopedic problems.
There is a massive 60% discount for Zortrax Inventure and DSS Station now. Get to know the device's features at the Zortrax Inventure product page.