The Role of Zortrax Ecosystem in Creating Art by a Young Industrial Designer
Summary
In July 2021, the Museum of Gdańsk in Poland is going to reopen the Museum of Amber. For that occasion, a special exhibition around the motive of amber is being prepared,
A part of the exhibition will be prepared by a young industrial designer - Jakub Pastuszak,
The designer uses Zortrax devices in the process of creating 4 installations.
On July 24, 2021, the Museum of Gdańsk in Poland opens the Museum of Amber in the building of the newly restored Grand Mill from the 14th century. For this occasion, the Museum's authorities have planned an exhibition with art pieces created around the motive of amber. The person approved by the Museum to design and create some of the installations is Jakub Pastuszak, an industrial designer whose most projects are developed with the use of Zortrax machines in his studio in Gdańsk. In this article, we want to present Jakub as an artist who incorporates 3D printing in contemporary products' design processes as well as his work for the Museum of Gdańsk.
3D Printing's Potential in Industrial Design
Jakub Pastuszak has been working as a designer for 3 years, and next year, he will graduate from the Academy of Fine Arts in Gdańsk, Poland, majoring in industrial design. As a student, he cooperated with a furniture company and this job gave him a lot of insight into the work of an industrial designer. What he realized was that he didn't want to design just for a spectacular virtual project. His biggest inspiration became human beings, therefore, he decided to focus his designs on people's interactions with objects.
For his vision to come into life, Jakub saw potential in 3D printing. He assumed that it could allow him to keep the balance between a project in a 3D modeling program and the reality: "The lack of contact with living matter creates a cognitive dissonance, which is not good for the implementation of the design. 3D printing can help avoid the risk of the projects remaining only in the sphere of three-dimensional concepts." – he remarks.
Using additive manufacturing in his work allows him to mass-produce functional objects much faster and at reduced costs. Most importantly, the entire process generates much less production waste, as making adjustments in 3D projects lets him significantly minimize the risks of errors in the final product's shape. Pastuszak claims that in most cases distribution of poorly designed items must be stopped due to safety reasons, and as a result, increases waste: "Thanks to 3D printing, we are able to reduce the costs of prototyping to the necessary minimum, which on the scale of industrial production has a huge impact on the environment."
Additive Technologies in Creating Art Pieces
Once Pastuszak received the commission from the Museum of Gdańsk, he knew that the possibilities of 3D printing would both give him the chance to successfully create art pieces and simultaneously follow his philosophy of sustainable production. He was convinced that something that used to be reserved only to skilled craftsmen could be done with additive manufacturing much faster and with less waste.
Even though Pastuszak claims that there are very few things that can replace manual work, he sees 3D printing as a particularly effective tool for artists: "Considering the entire 3D printing market and the possibilities it opens up, I am sure that this technology is changing our reality." As he claims, the Museum would have to wait several years for professional miniaturists to even begin their work on such a commission. It is a forgotten art, very niche. There is a narrow group of people working in that field, therefore, they offer very expensive services. By contrast, 3D printing of the pieces can begin immediately once modeling is complete.
With the help from the Museum's employees and 3D designers, he's currently putting together 4 installations that will include the reproduction pieces of:
Amber Craftsman's House from the 17th century,
Cabinet of Curiosities from the 17th century,
An amber cabinet from 1724 imitating a Baroque wardrobe,
A lizard embedded in amber dated back to 40 milion years.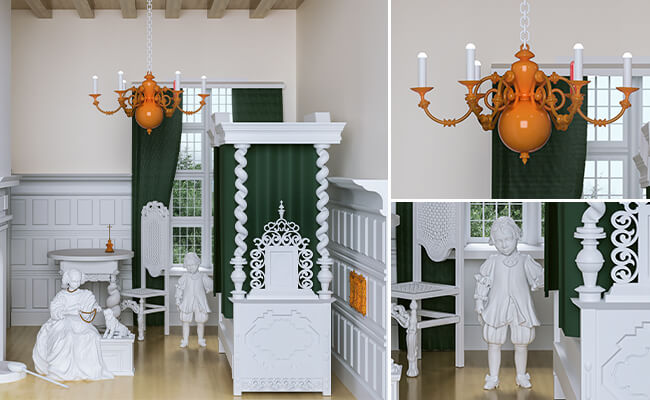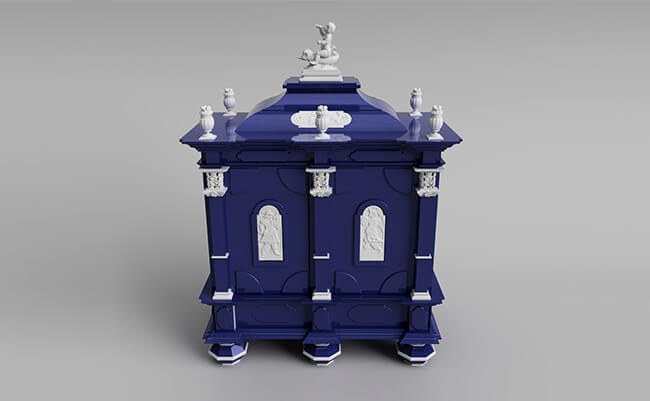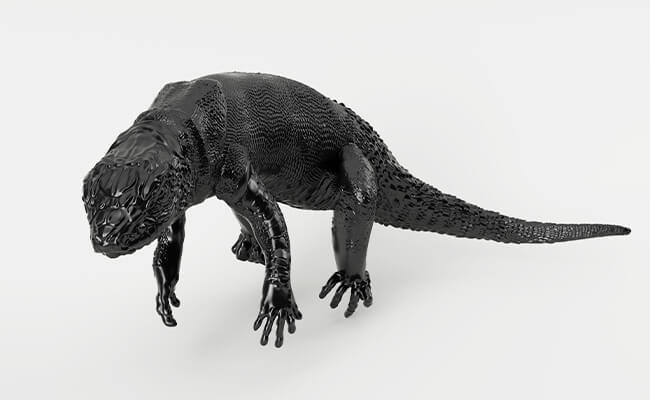 These multi-component pieces required an individual approach and meticulous care for every detail from Pastuszak's team. Before designing and 3D printing work began, they had spent hours on debating and evaluating original fashion, architecture, and furniture based on drawings and paintings from the 17th and 18th centuries. In the 3D printing and post-processing parts of the project, Pastuszak is using his studio's equipment which includes:
Recreating 17th Century's Reality with Modern Technology
The first two installations in the exhibition are devoted to reproducing objects characteristic for the 17th century. Both of them have been designed to incorporate 3D printed items, some of which would resemble amber.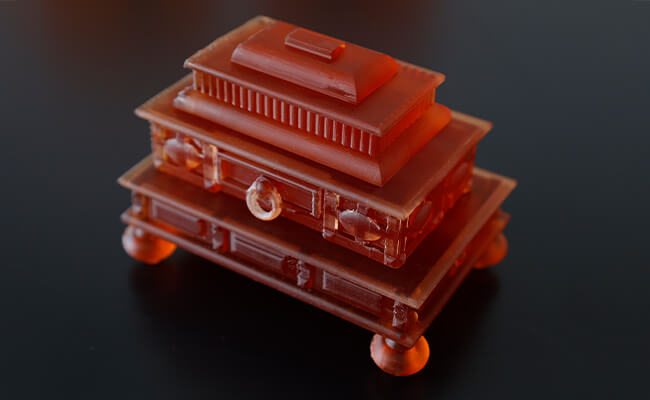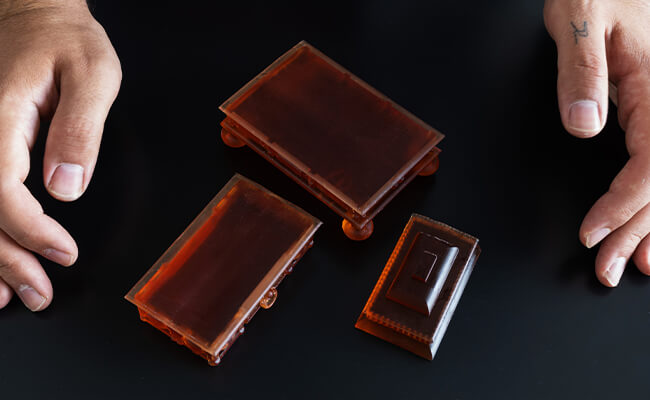 Amber Craftsman's House, which is in fact a dollhouse, will be the first art piece in the world, manufactured in the 1:6 scale with figures and elements of the interior entirely 3D printed out of 200 separate models. Each room will tell its own story thanks to the sets frozen in motion. Facts Jakub Pastuszak is preparing 4 installations for the Museum of Gdańsk, Poland Amber Craftsman's House will be the first art piece in the world, manufactured in the 1:6 scale, entirely 3D printed out of 200 separate models Cabinet of Curiosities will consist of 50 separate 3D models and objects produced using traditional methods.
Cabinet of Curiosities (German: Kunstkammer), a small set of works of art and objects arranged to represent selected motives and themes, will be based on numerous museum collections from the 17th century. Ultimately, it will display the features common for that period in different parts of the world, but modernized and adapted to the present times. The Cabinet of Curiosities will consist of 50 separate 3D printed models as well as items manufactured using traditional methods.
Building both pieces for the exhibition is planned in several steps:
3D modeling based on source materials such as paintings, drawings, vivid examples of furniture and buildings,
3D printing using LPD, LPD Plus, and UV LCD machines,
Gluing smaller parts into bigger objects, and covering visible joints with the use of a 3D pen,
Polishing objects' surface if it's necessary,
Smoothing prints in the Zortrax Apoller device.
Pastuszak will use three lines of Zortrax printers during the entire project for the Museum. The LPD and LPD Plus machines are intended for bigger models of furniture and figures, whereas the UV LCD printers are meant for rendering the smallest details, such as sculptures, carvings in wooden elements, faces, hands, and chandeliers with amber mirrors.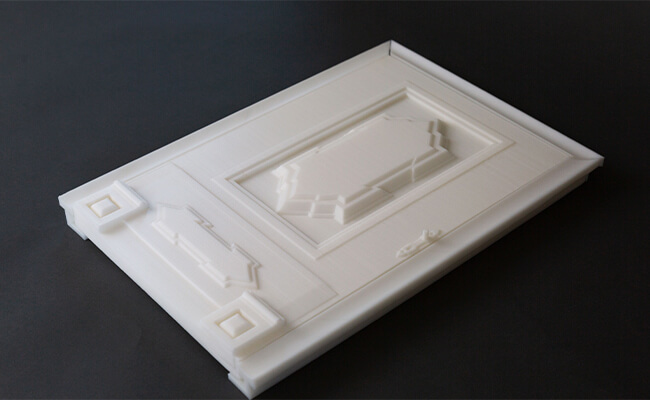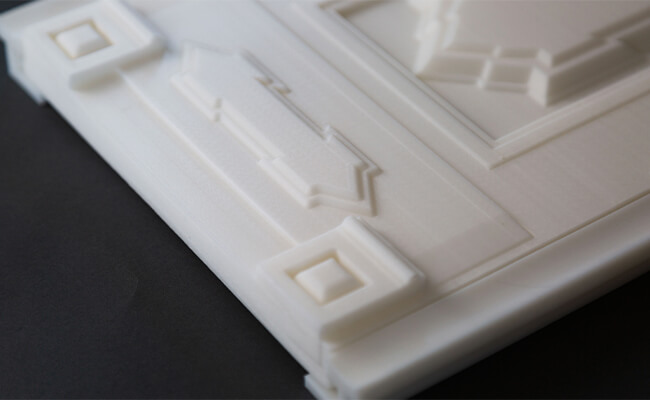 The designer opts for Z-ULTRAT Plus, Resin Basic White, and a transparent third-party resin with orange and brown pigments that reflect the color of amber as the project's materials. "ABS-based materials like Z-ULTRAT Plus can be chemically post-processed in Zortrax Apoller, which makes 3D prints smooth and ready to be inserted in the installations." – emphasizes Pastuszak. The choice of colors is also intentional here, as the monochromatic Z-ULTRAT Plus Ivory contrasts with amber-like elements and refers to the sculptures from 300 years ago.
Designing Art with a Purpose
Currently, Pastuszak is collecting all 3D printed items for his installations in the Museum of Amber. Once the exhibition opens up to the public, we will present all of Pastuszak's work in a separate article. Since his interests include humans' interactions with objects, we will focus a little bit more on the amber cabinet and a lizard embedded in amber – two pieces that will be directed towards the visually impaired. Follow the Blog section on our website.
Find out how the Zortrax M300 Plus, Zortrax Inkspire, and Zortrax Apoller devices can be used in projects from other industries.