Printing Without Rafts and Redesigned Interface in Z-SUITE 2.8.0
Summary
Z-SUITE 2.8.0 is available for download.
Raft-free 3D printing is now possible.
Overhangs in need of support are highlighted in red.
Zortrax M300 3D printer can now print with Z-ULTRAT.
New 0.3 mm and 0.6 mm nozzles for M Plus Series 3D printers are supported.
The latest Z-SUITE release introduces an option to print without a raft, a redesigned user interface, and highlighting surfaces that need to be supported on the model. Here's a brief overview of the Z-SUITE 2.8.0 most important features.
Printing Without Rafts
3D printing with a raft is no longer necessary with Zortrax LPD 3D printers. To dispense with a raft, a user has to uncheck the Raft Enable checkbox at the print settings step. In such case, Z-SUITE will generate a brim to build up pressure inside a nozzle.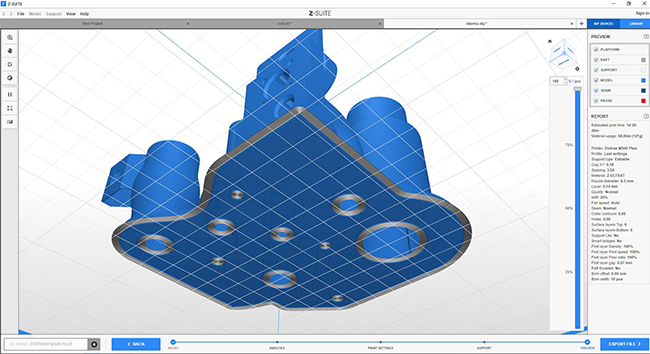 It's possible to choose how far from the model the brim should be placed and how wide it should be. The brim can be also set to overlap with model to increase the model's stability.
Raft and First Layer Customization
Printing with a raft however remains an option. Z-SUITE 2.8.0 allows to customize both the raft and the first layer of the model.
Here are the parameters possible to set for the raft: 
Flow ratio sets how much of the filament flows through the nozzle in a given time and can fall in between 50% and 150%
How many layers it should consist of (at least 3)
Print speed of the raft or the first layer can be set at anywhere between 50% and 150%
Their density can be chosen to be from 50% to 150%
Gap between the raft and the build platform set in millimeters
The first layer of the model can be customized in a similar manner. A user can choose: 
Flow ratio from 50% to 150%
Print speed between 50% and 150%
Their density from 50% to 150%
Gap between the first layer and the raft or a build platform when the print is raft-free
Support Placement Suggestions
Models' surfaces in need of support are now highlighted in red at both Model and Support steps. Z-SUITE automatically calculates which overhangs need to be supported for the support angle measuring 30 degrees.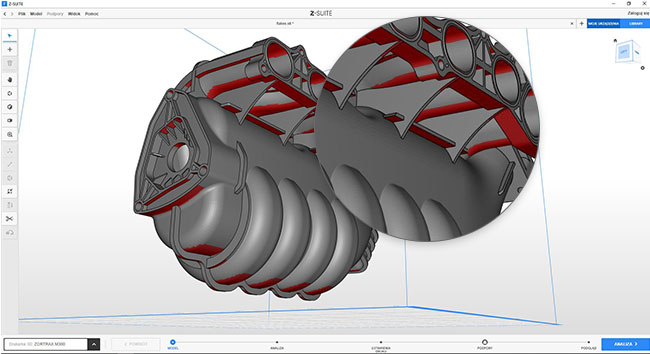 More advanced users can turn this feature off in preferences under the Preview and Performance section.
Modern User Interface
Z-SUITE 2.8.0 comes with a new user interface. Tool bars has been moved from the top of the screen to its left side to make more room for working with the model. There is also a more engineering-oriented view that makes edges of the model more visible that can be turned on or off in preferences.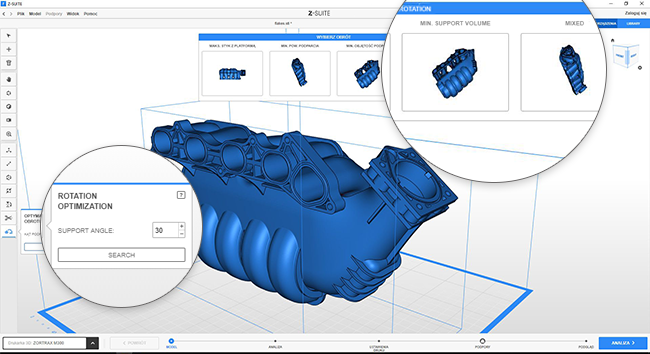 Further changes to the interface include an ability to turn off the Move, Scale, and Rotate controls. It is now possible to change the model's dimensions just by clicking on it directly, just as it was in Z-SUITE 1.
New Nozzles for M Series Plus
There are two types of nozzles that can be used for printing on M Series Plus 3D printers. The smaller one measures 0.3 mm in diameter and is meant for the most precise prints. For really fast 3D printing there is another nozzle with slightly larger diameter measuring 0.6 mm.  Z-SUITE 2.8.0 comes with predefined settings for printing Z-HIPS and Z-ULTRAT filaments  on each of the nozzles. The software will display a notification when working with a model that has been pre-processed for printing with a nozzle diameter that differs from the one currently installed on the printer. New nozzles are available at Zortrax Resellers and on Zortrax Online Store.
Other Improvements
Z-ULTRAT filament profile has been added for Zortrax M300. For Zortrax Inkspire resin UV LCD 3D printer the split tool has been made available and exposure times of Zortrax Resin BASIC Grey, White, and Resin PRO Black have been improved. Other changes include improved Rotation Optimization Tool, better printing quality for Z-ABS at 0.19 mm layer height, and better thin walls infill for Z-PCABS filament.
This is the first major Z-SUITE release in 2019. We will continue to develop our software to improve speed and efficiency of solutions dedicated for our next gen products.
Future Z-SUITE releases won't include updates to the profiles of the newest dedicated filaments for Zortrax M200 and M300 3D printers. But we will continue to provide bug fixes and stability improvements along with changes in both External and Dedicated Materials sections to ensure seamless user experience for the M200 and M300.
Here's the full changelog: 
Raft-free 3D printing
Raft customization
First layer customization
0.3 mm and 0.6 mm nozzles support for M Series Plus
Z-ULTRAT profile for Zortrax M300
Redesigned user interface
Move, Scale, and Rotate controls can be turned off
Split function for Zortrax Inkspire
Reset Settings button added to Print Settings
Reset Rotation button added to Model step
Improved exposure times Zortrax Resins Basic Grey, Basic White and Pro Black for Zortrax Inkspire
Improved printing quality for Z-ABS on 0.19 mm layer height
Improved thin walls infill for Z-PCABS
Mixed option replaced Min Z-Height option in Rotation Optimization Tool
Model Lift option removed from Rotation Optimization Tool for Zortrax Inkspire