Print Complex Models on Your Desk with Zortrax Inventure 3D Printer
Summary
Zortrax Inventure is a professional device available in the line of Zortrax dual extruder 3D printers, which offers new manufacturing possibilities in a compact size right on your desk.
The printer's design includes advanced technological solutions, such as a double hotend or an enclosed chamber.
In this article, we discuss the most important features of Zortrax Inventure.
Zortrax Inventure is a compact, dual-extrusion 3D printer that fits any desk and workspace. The versatility it provides makes it the right tool for many types of 3D printing projects, but especially the ones with complex geometry that require easy-to-remove supports. Read on to find out what makes Zortrax Inventure a robust dual extruder machine that can help you realize your ideas right next to you.
3D Printing Made Convenient
Zortrax Inventure works in the Layer Plastic Deposition Plus (LPD Plus) technology, which opens up a variety of printing possibilities in terms of models' designs. It allows you to 3D print in both the single-extrusion mode and the dual-extrusion mode with a water-soluble support filament. Whichever mode you choose, the printer offers the same high precision you know from the rest of Zortrax LPD and LPD Plus machines.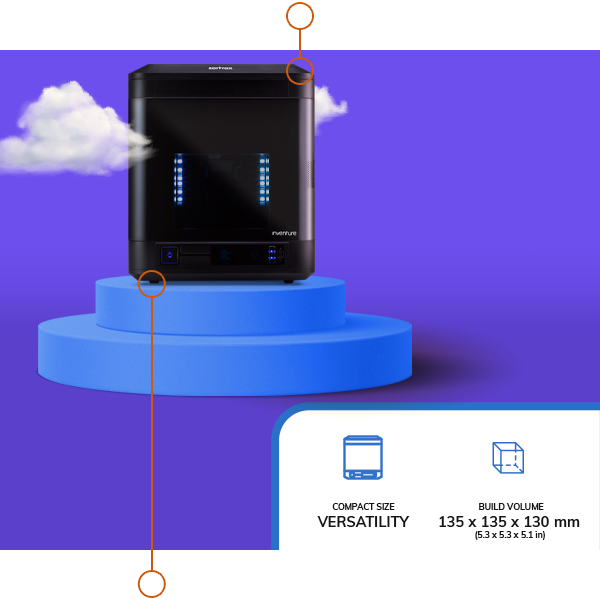 The printer stands out with its technological solutions, such as a double hotend, an enclosed chamber, a HEPA filter, and a dissolvable support system which all boost the comfort of use. What's more, the Inventure gives you a build volume measuring 135 x 135 x 130 mm (5.3 x 5.3 x 5.1 in). 3D prints are created on easily replaceable, convenient trays installed inside the chamber. That's why, the printer becomes the best choice if you're looking for a professional machine to 3D print with where workspace is limited.
Versatile and Safe 3D Printer
The Inventure is equipped with two hotends and two nozzles which are adapted to print with different types of materials. This makes the printer suitable for a broad application range. Therefore, you can print high quality models with various levels of complexity, while maintaining a reduced risk of shrinkage.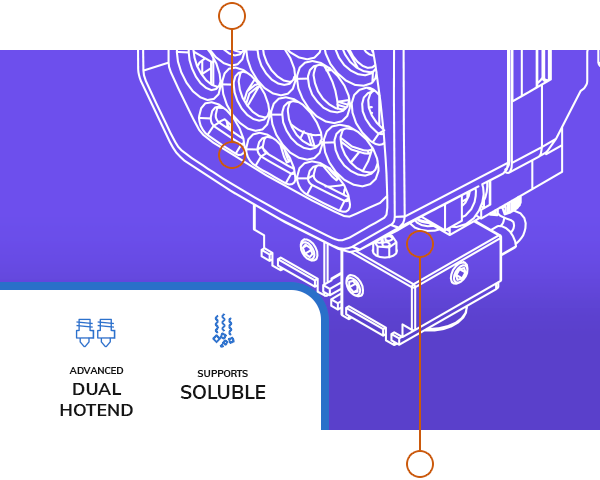 Since the support material used in the dual-extrusion mode can easily be removed just by rinsing the model in water, the printer is perfect for precise and intricate objects with complicated internal structures or overhangs, as well as mechanisms printed in one piece.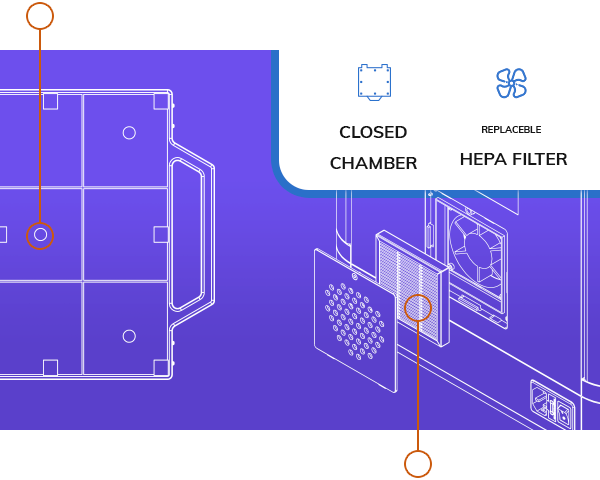 The printing process takes place in a chamber that is sealed off from the external conditions to create a controlled 3D printing environment. Thanks to that the Inventure is safe to use in any office or space, as it has a replaceable HEPA filter which eliminates unpleasant smells and intercepts most of the 3D printing emission.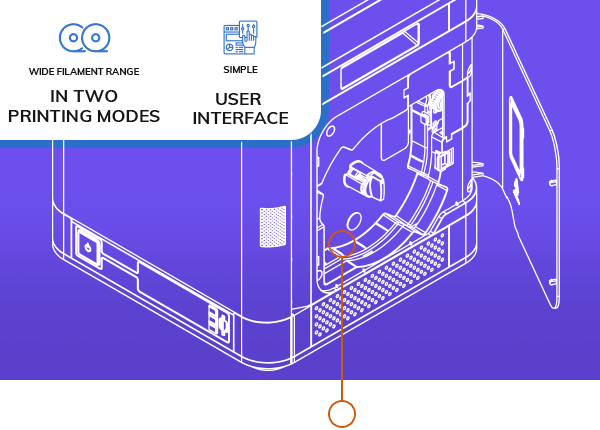 The printer's versatility can be highlighted with the fact that a wide range of Zortrax-certified as well as third-party filaments is fully applicable in both single- and dual-extrusion modes. Thanks to the ready-made printing profiles, repeatable, high quality of prints is ensured at all times.
Here's an example of an impressive project made with Inventure. Check out this project of a multi-piece car's engine created by Martin Falk-Hansen, a 3D printing passionate.

Dual Extrusion Tailored to Your Needs
To sum up, the Inventure is a powerful printer for both beginners and 3D printing professionals. Despite its beginner-friendliness, it can successfully support your work, no matter if you're an engineer, designer, doctor, or hobbyist, allowing you to achieve models which are out of reach with standard, single-hotend 3D printers. And that can happen in an easy and convenient way on any desk.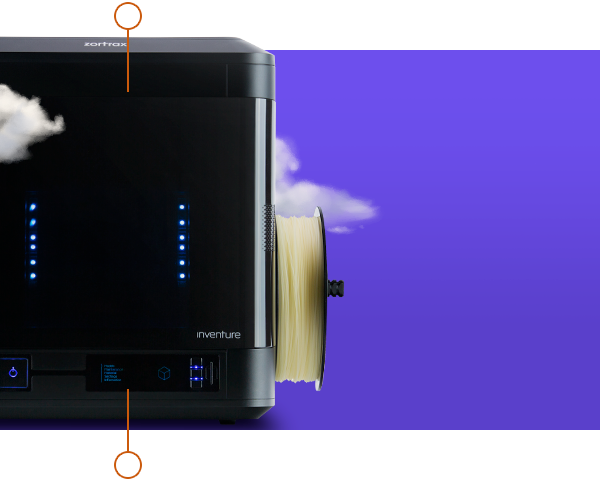 The printer is Plug&Play ready as you can set it up in a few simple steps in less than 10 minutes. The whole printing process boils down to preparing a 3D model in Z-SUITE, loading filaments and starting the print job. The final step involves convenient post-processing in Zortrax DSS Station.
You're only 1 step away from getting Zortrax Inventure with a 60% discount and free shipping. Place an order on this webpage and enjoy effortless 3D printing in just a few days. But hurry up, the machine is available in limited quantities!