New Z-SUITE Enters the Open Beta Testing Phase
Summary
Z-SUITE BETA 2.13.0 has been released is available for download for everyone willing to become a beta-tester.
Notable new features, among others, include hybrid support option available for all LPD Plus 3D printers and improved automatic support generation for the Inkspire.
All bugs discovered in the beta-testing phase can be reported by using the "Report bug" functionality in Z-SUITE.
The newly launched Z-SUITE beta testing program is a key part of our ongoing effort to make the new Z-SUITE the best slicer we've ever released. All 3D printing enthusiasts are welcome to test drive new features and contribute their feedback to help us do an even better job with all future releases. Downloading the latest Z-SUITE BETA is all that's needed to become our beta tester and take part in shaping the unique Z-SUITE experience. Seeing all new functionalities and features ahead of everyone else comes as an extra.
Hybrid Supports
Z-SUITE 2.13.0 is the first release that goes through the open beta testing phase and comes with a number of exciting features. Let's begin with changes made in the way supports are 3D printed in dual-extrusion. So far, the M300 Dual and the Inventure could either print supports with model material or with separate soluble support filament. Now, there is a third option that falls somewhat in between.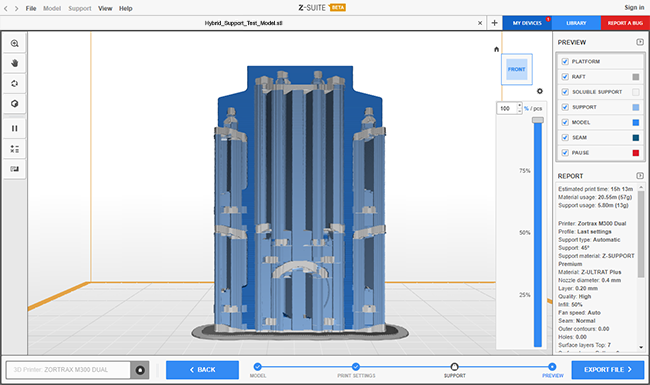 By choosing the "Hybrid Support" option in dual-extrusion mode, it is possible to retain both the capability to chemically remove support structures and cost savings that come with using standard, non-soluble supports.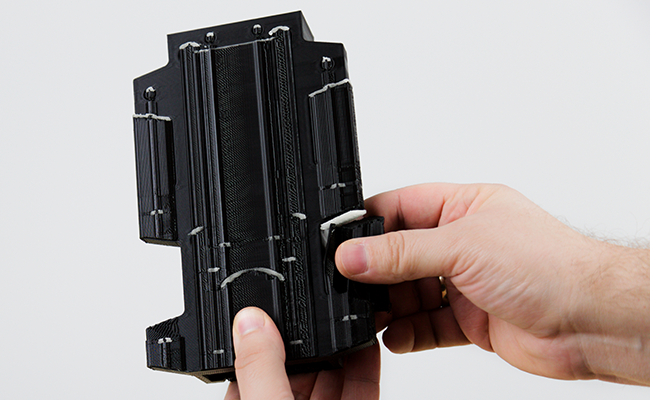 With this functionality most of the support structure is printed with the base material except the layers that adhere to the model's surface which are printed with soluble support filament. This way, rinsing the model in water simply detaches supports from the model instead of dissolving them completely.
Printing Faster
Significant effort has been made to speed up dual-extrusion 3D printing on M300 Dual. By carefully optimizing flow rates and path-finding algorithms for the printing head, Z-SUITE 2.13.0 BETA offers a noticeable increase in speed while printing Z-ULTRAT Plus, Z-ESD, and Z-PLA, and Z-PETG with Z-SUPPORT Premium. Same kind of fine-tuning has been applied to increasing the surface quality in printing with Z-ULTRAT Plus. The main disadvantage of the dual-extrusion technology is that it is usually slower than having the model printed with just one material. Those changes are made to mitigate this problem and get the dual-extrusion printing speed closer to the levels achievable in the single-extrusion mode. Another way to improve models' surfaces is grounding the supports solely in the raft, rather than in the model itself. By checking the "Only from raft" option it is possible to remove all supports stemming from the model while retaining the capability to print it successfully.
Improved Inkspire Experience
The latest Z-SUITE brings a variety of improvements to Zortrax Inkspire. Algorithms responsible for automatic support generation have been optimized to better detect little overhangs on the model. This way, automatically generated support structures guarantee even more stability and ensure fail-safe prints.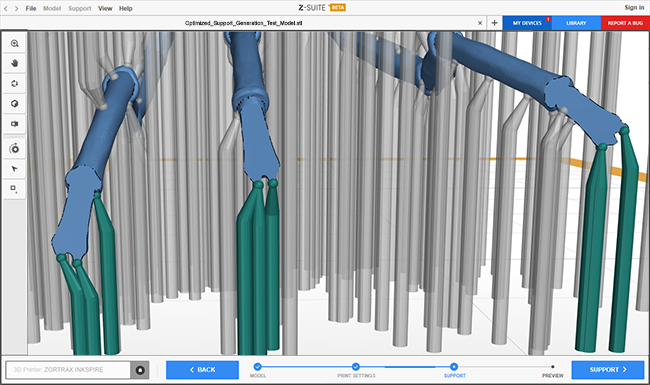 Still, supports can be edited manually either for just one of the models placed on the build platform or for all of them at once. Chosen support settings are also saved even when switching between different steps of preparing the model. Last but not least, the "Overgrowth correction tool" has been renamed to "Size correction tool" and it now allows both reducing and increasing the model's dimensions by one or more pixels in the X or Y axes.
Please bear in mind that Z-SUITE BETA is a work in progress. Bugs can happen and if they do, there is a built-in "report a bug" button that allows for letting us know about them. Also, remember that Z-SUITE 2.13.0 requires installing the 2.2.0 firmware on M300 Dual and M Series Plus 3D printers.
Below you can read the full changelog:
M300 Dual & Inventure: Faster printing in dual-extrusion mode
New printing profiles available: Z-ULTRAT Plus: single-extrusion mode, Z-PLA Pro: single- and dual-extrusion mode, Z-ESD: dual-extrusion mode
M300 Dual & Inventure: Added hybrid support option for printing support in dual-extrusion
M300 Dual & Inventure: Added Replicate zcodex option for dual-extrusion mode
Inkspire: Optimized way of generating automatic support
Inkspire: Support only for a selected model
Inkspire: Overgrowth correction tool changed to Size correction tool
Inkspire: Saved support settings when switching steps
FDM devices: Added Only from raft option
FDM devices: Smaller .zcodex files size
All devices: Added Cancel button when sending files to printers via Wi-Fi
All devices: Fixed problems with loading some .3mf files
Inkspire: Fixed raft getting through models
Fixed problems with opening Z-SUITE by several user accounts at the same time (Windows)
Other bug fixes and stability improvements