New Support Type and Smart Bridges Option in Z-SUITE 2.14.0 BETA
We have just released the 2.14.0 update as the next phase of the Z-SUITE BETA testing program. Here's another opportunity for you to get early access and test out new features before the official release of the software. This time, the update includes improvements related to support structures, the upgraded Smart Bridges option, new printing profiles and several bug fixes. Read on to learn more about what this update has to offer.
Tree-type Support Structures
The first feature has been prepared for UV LCD printers. The new tree-type support is now available along with the standard pillar-type support in the Add Support menu in the Support step.
Apart from the automatic Generate editable support option, you can now manually add tree-like structures to your model. To do that, select two or more points on your model and the program will display a preview of the support. Next, you can easily adjust the necessary parameters related to branch and pillar size as well as tip/ball. While adding the tree support, follow the instructions displayed in the window on the left. Next, click Generate tree support to add the structure you've just prepared.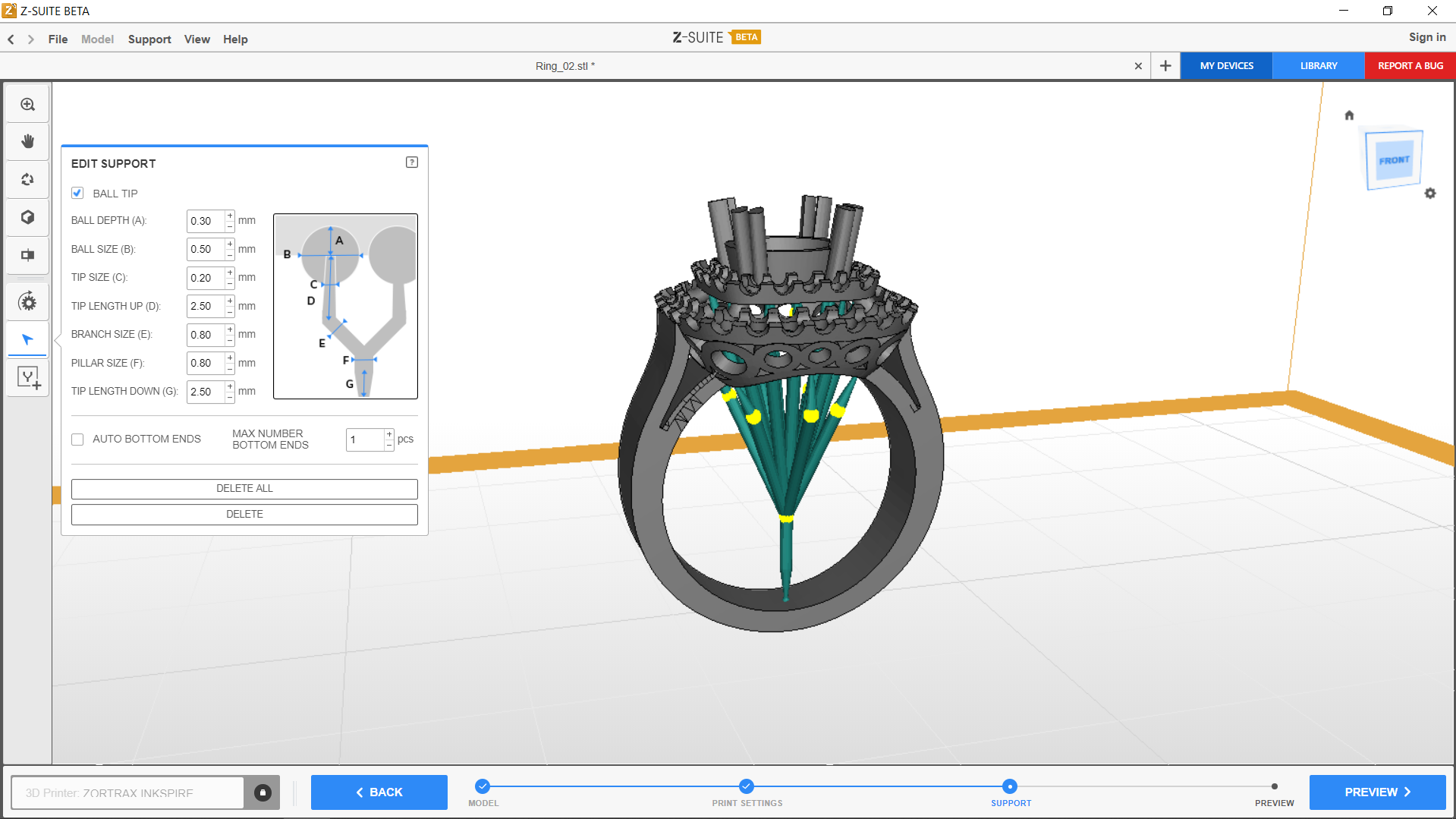 In general, using tree structures is an optimized way of supporting models that are rich in details, but you can still use them for any model as it can enable you to save the resin. Instead of many single pillars supporting one area in your model, you can have one pillar with many branches that can provide even more stability during 3D printing. In addition, each pillar with branches will also have yellow joints which can help you rearrange the support when it comes in contact with your model. Simply drag and move the joint using the mouse whenever you notice that the support collides with the model. This way, you can prevent surface marks that can be visible on the model after support removal.
If you're not so sure about adding supports manually, use the Automatic Support option as we've improved the way automatic supports (standard pillars) are generated and their default parameters. These changes make them adhere better to the model during 3D printing.
Upgraded Smart Bridges Option
The next improvement of the update is also connected with supports, but in the FDM technology. We've upgraded the Smart Bridges option which allows you to decide whether you want to generate support for short bridge-like structures in your model or not. Choose Editable support in the Print Settings step and move on to the Support step. Next, select the icon with a bridge on the bar on the left and the program will highlight all short bridge-like structures in your model.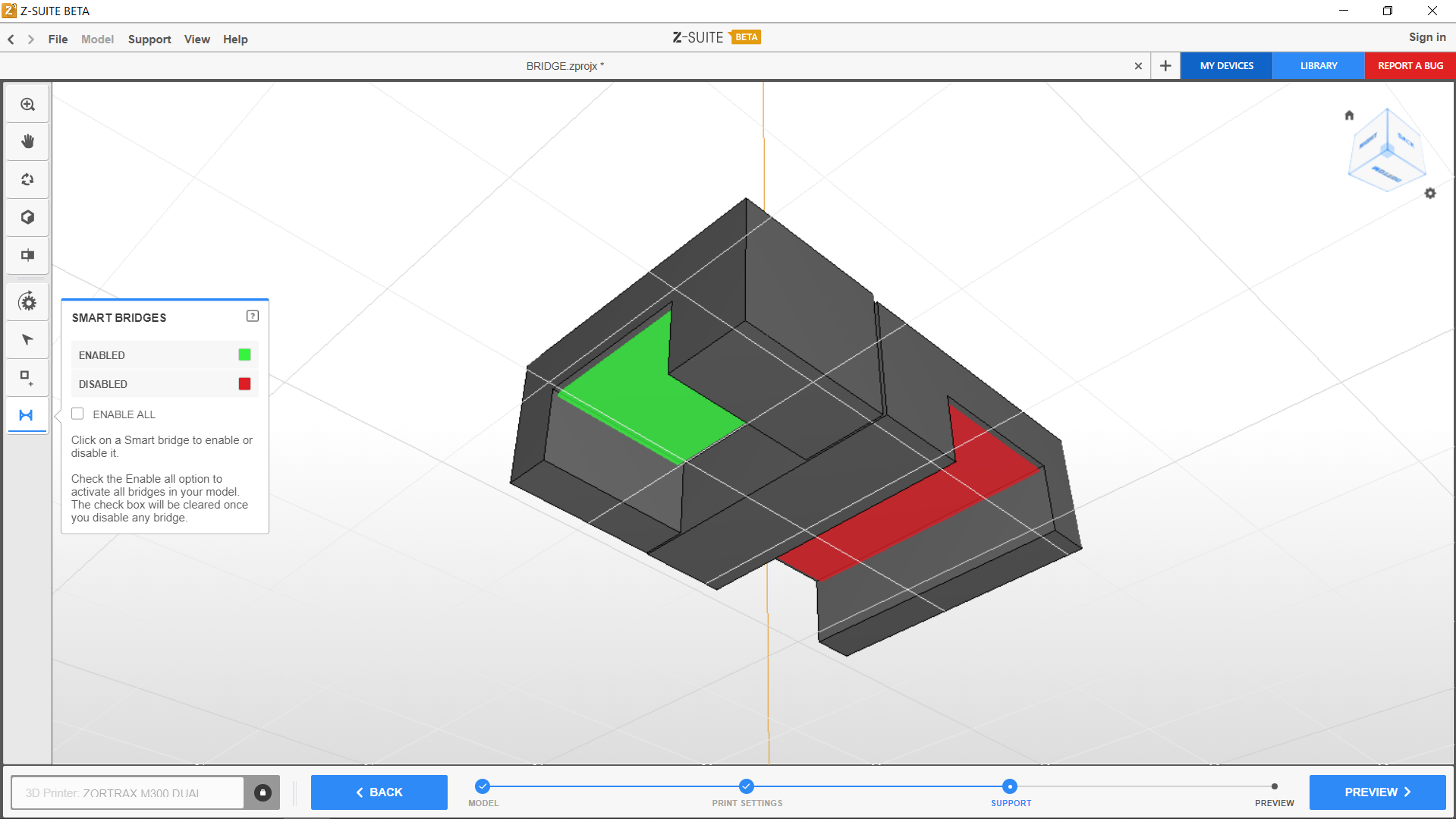 By default, bridges can be either enabled or disabled, depending on the printer model and extrusion mode you're going to print with. If a bridge is enabled, it will be printed with a little bit different parameters so that there is no need to use support for it. However, if a bridge is disabled, you can support it using standard editable structures. At this point, you can decide whether a bridge should be enabled or disabled by simply clicking on it. You can also use the Enable all option to activate all bridges. The Smart Bridges option allows you to generate less support in spots that are difficult to access and save material. On the other hand, if you think that a given enabled bridge is too long to be printed without support, disable it and support it with standard editable support. All in all, this option helps you control the location of necessary support.
New Printing Profiles & More
Another feature worth mentioning is the Contour-infill gap tool available in the Print settings step in the Advanced menu. It allows you to change the space between outer contours of a model and outer contours of infill (in millimeters), and thus, make bonding between outer walls and infill stronger. This can considerably help you resolve quality and durability issues with your prints.
Lastly, we've expanded the list of printing profiles for the single-extrusion mode with the M300 Dual and Inventure. With the 2.14.0 update, you can try out new layer thickness values for: Z-FLEX (0.15; 0.20; 0,30 mm), Z-PLA Pro (0.15 mm), Z-ULTRAT Plus (0.15 mm), Z-ULTRAT (0.30 mm), Z-PETG (0.30 mm) and Z-GLASS (0.30 mm).
As always, the update is available in the Downloads section at the Support Center. However, remember that this version can be unstable and the program will send data on its performance to our servers. You can also give your feedback or report a bug on our online forum. Let us know what you think, and help improve the features available in the final version.
See the complete changelog below:
New printing profiles for M300 Dual and Inventure,
Improved quality of overhanging walls for M300 Dual and Inventure,
Introduced new tree-type supports for Inkspire,
Improved the overall efficiency of generating supports for Inkspire,
Introduced the upgraded tool Smart bridges for FDM devices,
Introduced a new option – Contour-infill gap for FDM devices,
Added support for Z-ABS v2 (M200, M200 Plus and M300 Plus),
Fixed an issue where using the Replicate .zcodex option would improperly replicate models that have been generated without the raft,
Fixed an issue with slicing models prepared for the single-extrusion mode with Z-PLA Pro,
Fixed an issue where the program would crash when sending files directly to the printer,
Fixed an issue where the program would become unresponsive when sending files that have been prepared for a different material than the loaded one.