Support for Zortrax Inkspire and M300 Plus 3D Printers Added in Z-SUITE 2.7.0
Summary
Z-SUITE 2.7.0 has added Zortrax Inkspire to our 3D printer range and modified the options to better match resin 3D printing.
Zortrax M300 Plus 3D printer is also supported with the new version of the software and it can 3D print with Z-ULTRAT and Z-SEMIFLEX filaments.
Further changes include improving 3D printing quality and stability as well as working in tabs on MacOSX and the addition of the Preferences option.
Support for Zortrax Inkspire and Zortrax M300 Plus 3D printers has been introduced in the latest version of Z-SUITE along with a number of new features and performance improvements. Moreover it is no longer a beta version for Mac users. Here's a quick overview of all the features that make Z-SUITE 2.7.0 the best Z-SUITE ever. 
Z-SUITE for Zortrax Inkspire
Zortrax Inkspire is the first resin 3D printer in our range, so there are a lot of changes we have made in the Z-SUITE software to make it work with this new technology. Once the Inkspire is connected to the Wi-Fi network, it appears in the control panel beside other Zortrax 3D printers. To begin working with this printer, the user has to click on the icon and choose a model he or she would like to 3D print. Because the UV LCD technology powering Zortrax Inkspire is inherently more precise than FDM, there is no need to analyze the model looking for walls too thin to be 3D printed properly. That's why Z-SUITE takes the user straight to print settings.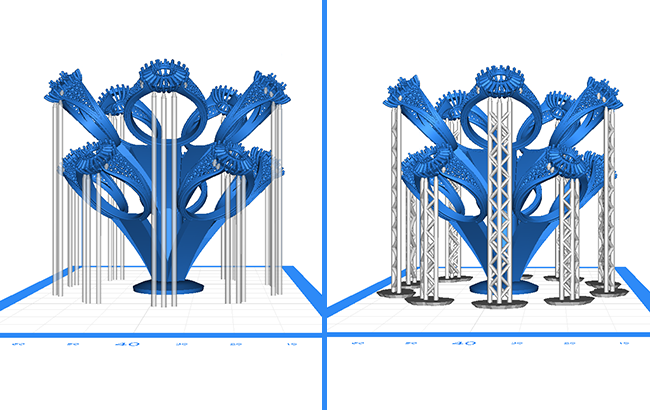 The print setting are also a little bit different compared to other Zortrax 3D printers. The user can set exposure time for a single layer. The longer the exposure, the harder the model will become after printing. It's also possible to set exposure time for bottom layers. This one is usually longer, because in the Inkspire the build platform is arranged upside down, so the bottom layers have to support the weight of the model. The user can also choose how many layers the printer should treat as bottom layers. Exposure OFF Time allows to choose for how long the printer should let the model rest after each layer has been solidified.
Zortrax Inkspire is made for precision 3D printing, so the entire support section in Z-SUITE has been designed to reduce the supports' footprint on the model and therefore the amount of post-processing required to obtain flawless surfaces. Supports for Zortrax Inkspire can be generated automatically, but more advanced users may wish to edit them by hand.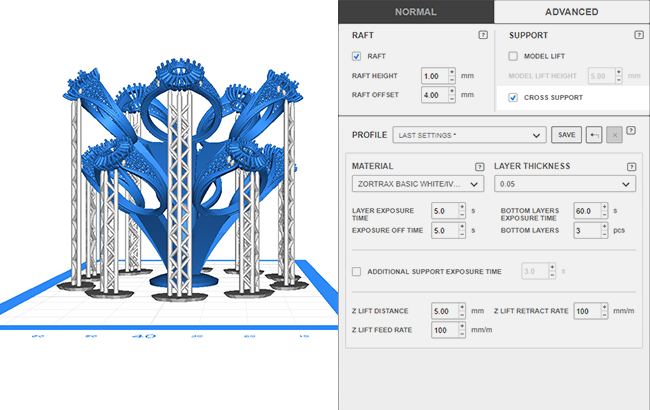 All supports have a shape of a pillar. SPACING option allows to choose how much space Z-SUITE should leave between them. In PILLAR SIZE, the user can set their diameter and TIP SIZE is there to set the diameter of a tip of each pillar. In some models supports may be grounded in the model which increases stability but results in two points where the support structure touches the model's surface. This can be changed by clicking the ONLY FROM RAFT option. This way Z-SUITE can work solely with supports grounded in the raft. Individual pillars can be added manually with the Add Pillar Support tool. Supports can be added by clicking on the exact spot where the user wish to place them. It's also possible to remove individual pillars. Just mark them and push the delete button to do this. Bear in mind that in the Support editing view, all pillars are displayed without cross supports making them stronger. Cross supports become visible in the Preview mode. The user can choose not to add diagonal supports by turning the Cross Support option off.
To reduce the supports footprint even further, Z-SUITE can set an additional exposure time specifically for support structures. This way they become harder than the rest of the model and therefore thinner.
We have also introduced an entirely new engine generating visualizations of 3D models and print previews. Models are now displayed with beautiful shading and can be moved around smoothly. This makes manual supports' editing easier and improves the overall navigation experience.
Z-SUITE for Zortrax M300 Plus
Z-SUITE 2.7.0 also comes with the support for Zortrax M300 Plus FDM 3D printer. All M300 Plus machines can now be managed remotely from the control panel. Additional features include monitoring the ongoing prints through a camera installed inside the M300 Plus printing chamber. Printing profiles for Z-ULTRAT and Z-SEMIFLEX filaments have been added, as the printer can support them unlike the original M300. Settings optimized for third-party flex-type filaments have been added to External Materials section.
Other Improvements
Improvements in the latest Z-SUITE don't end at new supported 3D printers. To make the software more intuitive, choosing Print Settings now precede the Support step. This way the Support step can be omitted when it is not necessary for example when supports are generated automatically or when the Shell infill is chosen for the model. 
Slicing speed for Zortrax Inventure has been improved by 30% on average. Because the Inventure always prints with soluble support structures we have achieved this performance boost by refining support generation algorithms. Working with Zortrax Inventure is now faster than ever. 
Further changes include working in tabs on MacOSX and adding the Preferences option. This option contains different setting preferences for the software, such as language settings, choosing the default printer or the Z-SUITE folder location and enabling or disabling notifications. The update also improves overall printing quality for the following materials: Z-ABS: 0,29, Z-PCABS, Z-ASA Pro (Zortrax M200); Z-ASA Pro (Zortrax M300); Z-ABS: 0,29, Z-PCABS, Z-ASA Pro (Zortrax M200 Plus), and adds a Flex-based filament profile in the External materials settings menu for Zortrax M200 Plus and M300 Plus.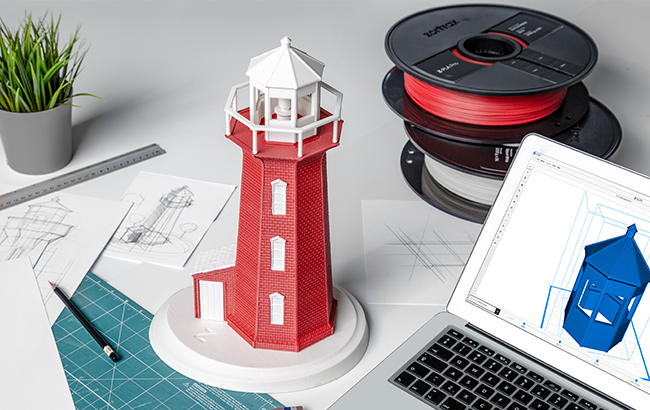 Last but not least, we have improved the quality of printing with ABS filaments on 0,29 mm layer height. This is a game-changing improvement especially for our production-focused customers who use this particular layer height for manufacturing operations. Models 3D printed with those specific settings now have way sharper edges, smoother surfaces, and more precise details. Support removal has become easier and it doesn't leave marks on the models anymore.
You can see the full changelog and download the latest Z-SUITE here.