How Christopher Brändström, a concept artist for games, Hollywood films & commercials, uses his Zortrax M200?
Christopher Brändström is a concept artist with experience of working with such brands as Framestore and Hollywood feature films & commercials like Wrath of the Titans or World War Z. He also created characters for games like Killzone 4 and The Drowning. He prints his models on Zortrax M200.
Christopher is a concept artist, working on projects like World War Z, Killzone 4, Battlefield Bad Company, Need for Speed and many more. He creates dozens of models, posters, beauty renders.. Recently he decided to use a Zortrax M200 3D printer to bring his projects to life and gain opportunity to show his creations in a physical form. Read an interview with Christopher to learn more!
Zortrax: Hi Christopher, I hope you enjoy your work with M200. Could you start from telling a few words about yourself?
Christopher Brändström: At the moment I work as a freelancer. I have years of experience working as a concept artist on games, movies and commercials. I absolutely love my job. What I do for a living is also what I do during my spare time. I have been working with games for over 12 years and that was an adventure to me. I truly loved that. Moving over to film was a really big step and something I wanted since I was a kid. Meeting those people, who I admired for so long, was a really humbling experience.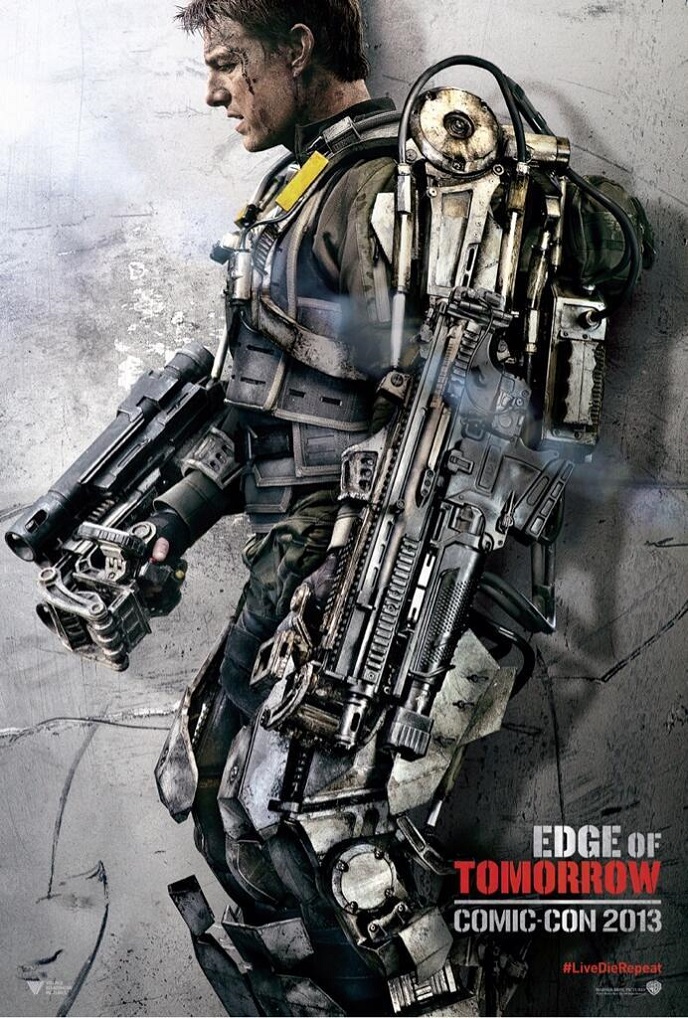 Z: Speaking of movies, you worked on projects like World War Z and Wrath of Titans – spectacular productions..
ChB: When it comes to those projects I've actually done concepting, character modeling and texturing. So over the years I've managed to cover most parts of the art production which is also what I like best. So being a concept artist as well as a character modeler and texture artist really gives me the variety that I'm looking for. At the moment, I'm doing concepts for Industrial Light and Magic and Walking Dead sculptures for McFarlane Toys
Z: What inspires you?
ChB: The amazing director JJ Abrams, who has a very distinct fascination of how cardboard boxes are built. I find that really interesting too. When it comes to certain projects you might have to focus on one particular thing that's relevant to the project you're working on. On World War Z for example we had to focus mainly on the human anatomy and what might happen during a certain point of the "zombiefication". One thing the audience has never got to see was what happened to the body after being exposed for a long period of time. For that part in the design process we looked at one particular site. That site contained photos that women uploaded of themselves, showing how extremely low body fat they had and how much they could push their veins, looking as vascular as possible.
Z: So in what moment of career are you?
ChB: I'd say that I'm currently at the level where I've always wanted to be since I was 7 and wanted to work in the entertainment industry.
I've worked with amazingly talented people and on some projects I would never imagine I'd work on. But I usually say: "The grass isn't greener on the other side. It's equally brown". To me it means that success is what you make it.
At this time I feel like I am where I should be. I do have plans for the future, and it might be cliché but it isn't something I can talk about I'm afraid.
I'm also planning to start cooperation with a really talented painter named Tim Gore. He's been working for Spectral Motion for years on films like Jurassic Park, Blade, Hellboy, Pacific Rim to name a few. He is ne of those extremely talented people you rarely meet. The plan is to print models we both decide we want to work on, so I make and ship the models to him so he can do what he does best and amazingly well. I loved that when I was assembling my Zortrax M200 printer, the filament hanger and holder for the filament spool were 3D printed as well.
Z: Chris, can you explain why 3D printing is important in your work?
ChB: For me as a 3D artist who always works in 3D on a 2D surface, it's unbeatable and amazing that now you can hold a physical product of your creation in your hands. No matter what industry your clients represent – they will always prefer something they can hold in their own hands than a digital project.
I'm currently doing models for McFarlane Toys which is a leading toy and collectible industry and which I have been a fan of for a decade and a half. So for that job having a 3D printer really helps to show your models before they're shipped to the factory. There are a lot of technical bits that need to be fixed before printing, so it's a great tool to shorten the development process and easily find faults in the model that might not work before manufacturing.
Z: And why did you choose Zortrax M200?
ChB: Actually, I chose Zotrax M200 because of a really great artist at ILM who's name is Marco Di Lucca. He's doing the exact same thing I intended to do with the printer which is to print more organic shaped sculptures with complex geometry and that needs to be able to print very detailed models. So the quality of the printer was what I was looking for as well as the great price. So far the printer has been running non-stop ever since I got it and love that when I wake up in the morning I'm able to see either a finished model or just how much it's been printed overnight. I've actually found myself staring at the working printer for 10-15 minutes, just watching it physically createing what I, until recently, could only show on my computer screen. It still amazes me.
For more information about Christopher's works go to his Official Website