Fluid Furniture Design and 3D Printing with Michael Sean Stolworthy
Furniture of Michael Sean Stolworthy captivates with sinuous, fluid-like shapes. Every stool, table or bench seems to capture a moment of perpetual motion. The passionate designer leaves nothing to chance though, as he puts intense caution to both form and functionality. Unique style, a peculiar mixture of organic and high-tech, is an effect of combining anatomical knowledge with a taste for unconventional structures.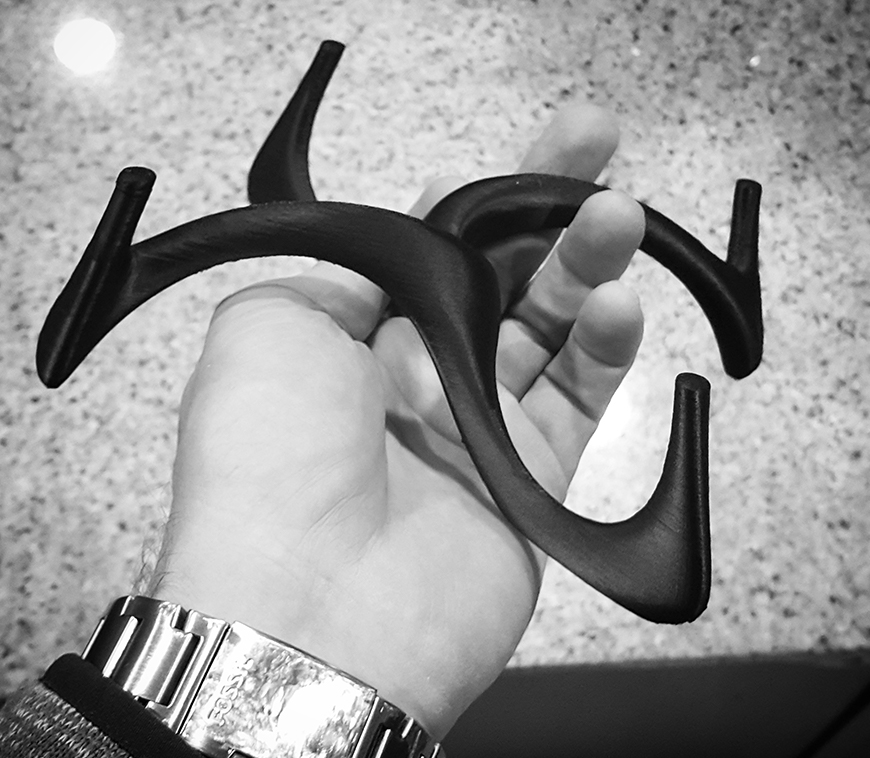 Furniture draft 3D printed with Z-HIPS material
His design studio is meant to break apart from everyday routine and to bring uncommon to well-known objects. Without a doubt, Michael's designs found their niche, as his furniture is present even in blockbusters, not to mention the global network of clients. However, the extraordinary form itself is not enough to make a well-designed object. Aware of that, the multidisciplinary designer from Las Vegas, NV USA, puts utmost care to prepare his works flawlessly. Driven by technology, Michael Sean Stolworthy uses 3D modeling software and Zortrax M300 3D printer as his primary designing tools.
Extraordinary Designs
Gross of the Michael's work, at least during conceptual stage, takes place on his computer screen. Proficient in 3D modeling software, he takes the full advantage of computer aided designing. Autodesk Maya and Rhino are the programs of his choice. It's safe to say that in his case, computer has replaced paper and hand drawings completely. And there are reasons for that. Freedom of rotation, zooming, scaling and on-the-fly alternations, all have proven to be invaluable tools. Furthermore, model created in the software can be easily converted to 3D printed compatible file. Combined with an equally capable 3D printer, Michael can quickly draft his designs. Small-scale models allow him to evaluate project's manufacturing feasibility and structural integrity. While onscreen overview is sufficient in some cases, a tangible object proves to be far more superior for closer examination. Thus, the 3D printer supplies Stolworthy with prototypes, ready for his critical judgement. The designer prefers to work on iterations, applying on-the-fly changes, until reaching the desired effect. 3D modeling software and Zortrax M300 3D printer make an excellent duo. Interestingly, the role of the 3D printer doesn't end on providing the true representation prototypes. Due to its excellent quality of 3D prints, Zortrax M300 is also 3D printing directly usable patterns for mold making.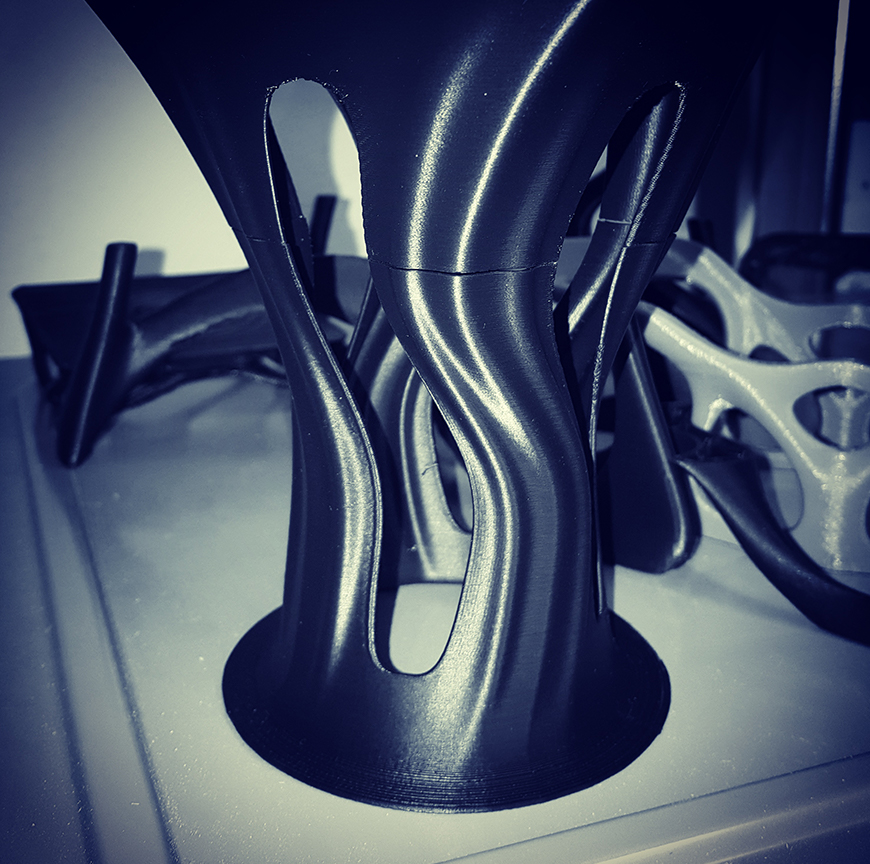 3D printed draft models of furniture
Exploring the Possibilities
Asked about his choice of 3D printer Michael says: "I choose Zortrax M300 for the solid reputation of Zortrax M200 model and obviously, the larger build volume". He also adds: "Not to mention it's probably the coolest looking 3D printer on the market". Construction of Zortrax M300 takes what's best from its smaller predecessor and adds significantly large workspace. And it really makes all the difference, especially for furniture. Zortrax M300 facilitate the freedom of creation, making it cheaper and faster. To prove the point, let's compare the 3D printed pattern of a small side table with traditionally milled piece. In the past, it would take roughly two weeks (including shipment) and about $1000. Now, the designer can do everything by himself, spending less than 24 hours and $120 worth of 3D printing material.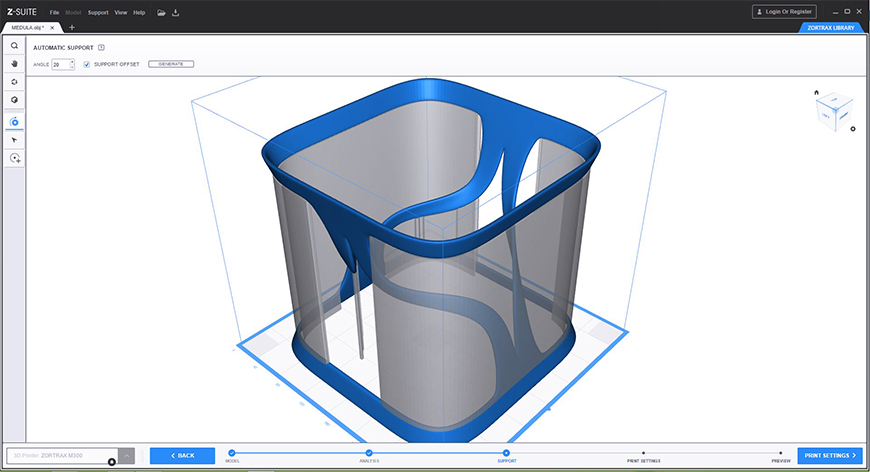 Furniture model with support structures in Z-SUITE 2 Beta
Pushing the Boundaries
Speaking of which, Z-HIPS and Z-GLASS are the 3D printing materials of his choice. Mostly because of their excellent surface and durability. Those characteristics make 3D printed models and patterns ready to use after 3D printing. Usually, Michael applies very little post-processing. If necessary, 3D printed objects are glued together and sanded. Still, the quality is consistent with every 3D print. Another factor, greatly supporting the work style of Michael, is Z-SUITE software. He is currently testing Z-SUITE 2 Beta. Its intuitive and user-friendly environment has been designed to eliminate variables and ensure repeated reliability. Often experimenting with unconventional approaches, the designer finds external materials features greatly beneficial.
Although, the effects are already remarkable, Michael consider himself getting started with 3D printing. Eager to push the boundaries of art and design, he is testing the potential of modern technology in creating beautiful and useful objects.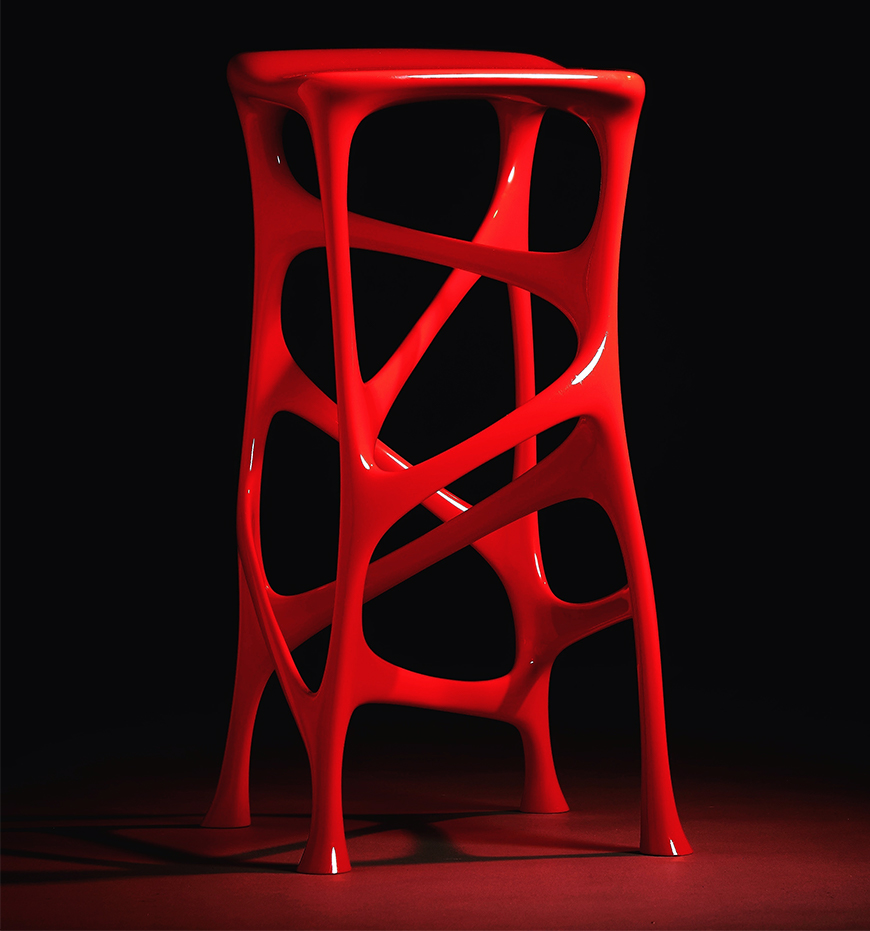 Serous Stool by Michael Sean Stolworthy
You can find more information about 3D printing and design in our blog section. Read about 3D printed furniture's model of Krystian Kowalski and 3D printed designs from Voood studio. All photos courtesy of Michael Sean Stolworthy.