Extruder Cover with Enhanced Functionalities
Delivering a tried and trusted product is not an excuse to sit around. We're constantly working on making our products even more reliable. So instead of taking some time off, we've decided to redesign the extruder top cover for both the M200 and the M300. This time, we're introducing the new cover and we encourage you to replace your cover V1 with the cover V2.

Apart from giving the extruder its finishing touch, the extruder printed cover V1 currently functions as a distance piece between the extruder PCB and the extruder aluminum cover. It secures the extruder PCB and all the cables plugged into it. But most importantly, the cover gives protection to the extruder cable.
However, every user of Zortrax printers has noticed that the cable is exposed to heavy wear and tear, and it needed even more protection against such frequent and long usage. Therefore, while designing the cover V2, we focused on the most important improvement which was achieving a longer lifespan of the extruder cable. The cover has been modernized and now its upper part has a fastener which holds the cable more tightly.

So far, the cover V1 placed over the extruder has been securing the extruder cable from excessive bending. Now, the updated version of the cover gives protection to the cable where it needs to withstand severe deformation, which is right next to its connector. From now on, the cable is fully supported within the cover. As a result, it is better positioned during the whole printing process.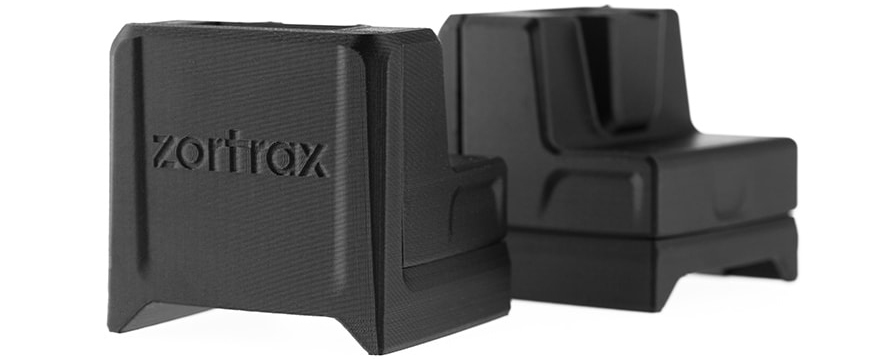 What's more, material feeding becomes easier. The hole for the material guide has been redesigned. Right now the guide is firmly secured and it doesn't fall out of the cover any more.
The extruder cover V2 serves all the functions of the cover V1. But with the enhanced functionalities of the cover V2 you can minimize failure frequency of the extruder cable in your M Series printer. Upgrade your highly reliable Zortrax printer by 3D printing the cover V2 and replacing the old one – the file is available here.