Three Jewelry Design Styles and Castable 3D Printing Resins to Match Them
Summary
Three new castable resins for jewelry applications are introduced for Zortrax Inkspire in partnership with BlueCast, a leading manufacturer of materials for jewelry casting.
The new resins are designed to replace wax in investment casting and work with the same toolset within the same process.
Each of the three new resins is fine-tuned to work in one of the three major styles in jewelry design: European, American, and Middle-Eastern respectively.
UV LCD resin 3D printers are particularly useful tools for investment casting of jewelry. Traditionally, jewelers carved or shaped investment patterns to of wax. A resin 3D printer working with a quality castable resin can streamline and automate this process by printing investment patterns out of castable resins designed to have properties nearly identical to wax. To address the needs of professional jewelers, Zortrax has introduced BlueCast Original, BlueCast X5, and BlueCast X10 – three castable resins optimized for Zortrax Inkspire UV LCD 3D printer.
New Technology in a Traditional Process
Jewelry making is a field with immense traditions. Investment casting is one of the earliest forms of shaping metals with over 5,000 years of history. That's why jewelers usually meet novelties with reluctance and are unwilling to change the way they worked through generations.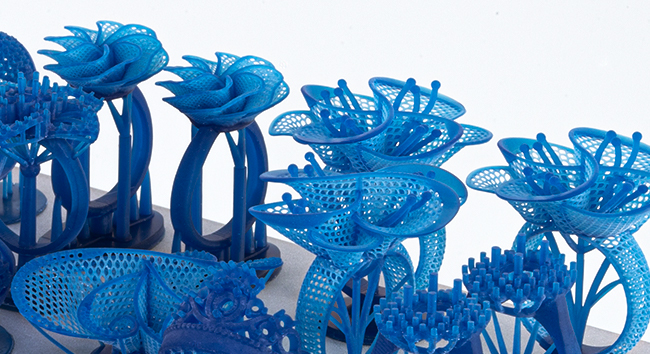 That's why all castable resins dedicated to Zortrax Inkspire can be used in the same kind of process, with the same tools and same investments as wax. The only change in jewelers' experience is that they no longer have to spend long ours on shaping wax investment patterns by hand. Everything else is just like it has always been. Apart form this though, each BlueCast resin has its unique properties to work in different styles of jewelry design. Jewelry is often highly customized and there is no such things as a resin that is good for everything.
Resin for European Style Jewelry
Engagement rings with settings for diamonds and other stones are most often made by jewelers in France, Italy, and other European countries. This kind of design is rich in details but at the same time incorporates shapers with certain volume. The BlueCast X5 has been designed to work best in those exact applications. It offers high dimensional accuracy and surface quality.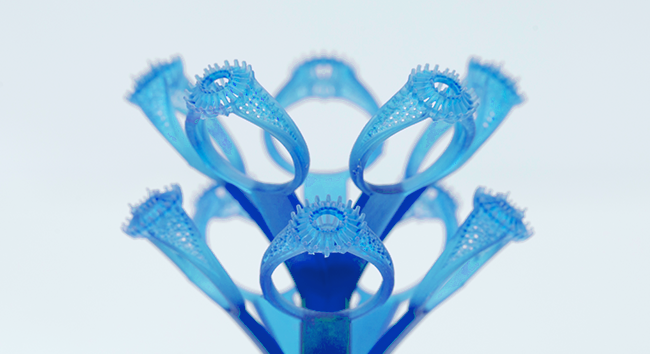 The resin leaves no ash residue during burnout. Its formula does not include any toxic components that could potentially contaminate the investment. Sublimation starts at 130 °C and fast burnout is possible at 850 °C. Moreover the jewelry casting process is made faster as the the BlueCast X5 does not need post-curing. Patterns can be covered with the investment right after getting cleaned with isopropyl alcohol (IPA) 90%/99% or ethyl alcohol 90%/90%. Apart from engagement rings, this resin is also recommended for medals and stone presetting tools.
Resin for American Style Jewelry
In the US there is a tradition of making various rings to commemorate certain events like graduation from the university or successful NBA finals. Such rings differ from jewelry typically made in Europe in that they are on average more bulky and casted with larger amounts of metal.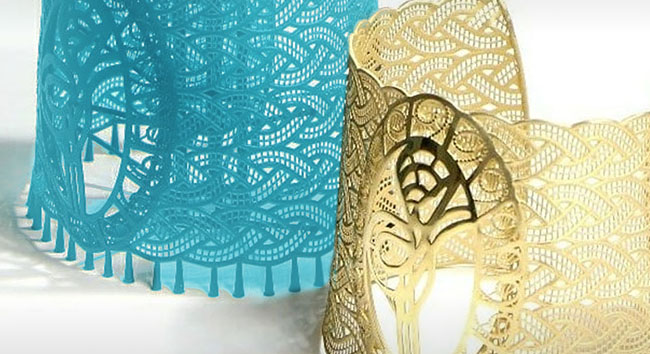 The BlueCast X10 has been made to work with jewelry style preferred on the American market. It offers excellent surface quality which makes it perfect for relatively large jewelry pieces. The level of detail and dimensional accuracy is comparable to the BlueCast X5. Also, it leaves no ash residue during burnout does not require post-curing. Fast burnouts are possible at 740 °C. Other applications the BlueCast X10 is recommended for include large designs like vases and casting with silver.
Resin for Middle-Eastern Style Jewelry
Middle-Eastern style jewelry differs form the European and American in that it is usually filigree and lightweight. The appearance of volume is achieved through building jewelry pieces with intricately designed meshes of meticulously intertwined strings of gold or other metals. The BlueCast Original has been made to work at the highest level of detail and precision necessary to effectively apply Middle-Eastern aesthetics. The resin offers exceptional dimensional accuracy and surface quality.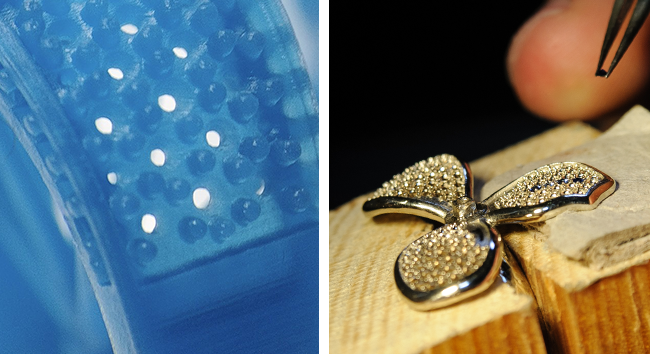 As opposed to the BlueCast X5 and X10, it needs post-curing but there is a good reason for that. Once the pattern is 3D printed, a jeweler can shape it by hand to incorporate meticulous micro reliefs or other artful features into the design. Once this is done, the pattern needs to be post-cured prior to covering with a chosen investment. Another feature of the BlueCast Original is that it does not expand during burnout. Other recommended applications of this resin include micro-pavé settings and jewelry pieces with precise engravings.
Of course, those three general styles can be merged, refined, and transformed to create unique, innovative designs. Combined with impeccable precision of the Zortrax Inkspire, all three BlueCast castable resins can work in all kinds of projects. They make jewelers' work easier, faster, and more cost-efficient without forcing them to leave proven casting processes and workflows that served them well for ages.