Additive Manufacturing in Applied Arts: 3D Printing Large Format Lamps
Summary
The possibilities offered by 3D printing have been recognized by designers specializing in applied arts. AM technologies allow them to walk through the design processes more effectively.
Alisha Phichitsingh, a young, Thai designer, used Zortrax M300 Plus and Z-GLASS filament to 3D print a collection of five lamps designed around the motif of water.
Back in May this year, she showcased the lamps at the 'OBJECT' design fairs - an international event in Rotterdam, the Netherlands.
Over the last few years, 3D printing has become a useful tool for artists and designers, allowing them to turn their visions into reality with almost no limits to their creativity. Additive manufacturing technologies leave plenty of room for understanding how ideas can develop into 3D forms as well as customizing designs whenever it is necessary.
Alisha Phichitsingh, an up-and-coming, Thai designer, who specializes in applied arts, makes full use of the opportunities offered by 3D printing. A few months ago, she showcased her fully functional 3D printed art pieces at the 'OBJECT' design fairs in Rotterdam, the Netherlands. It was an international event during the Design Week, allowing artists from around the world to present their works to a wide audience. Here's how Zortrax 3D printers enabled Alisha to finalize her vision for the exhibition.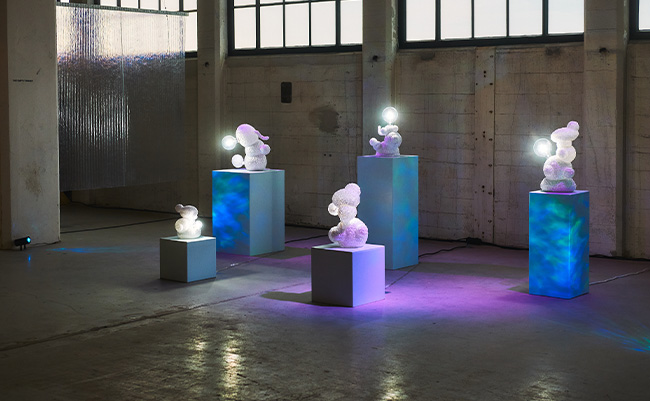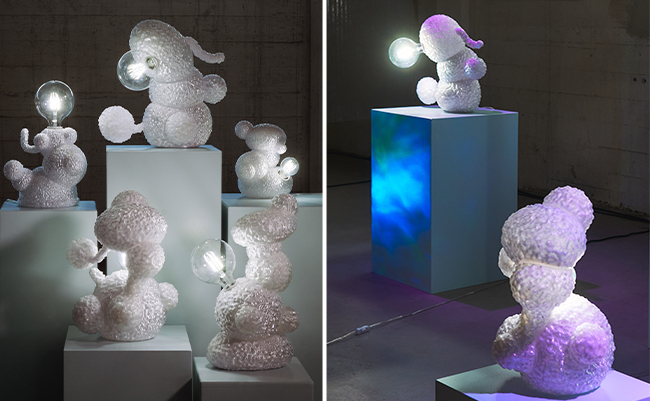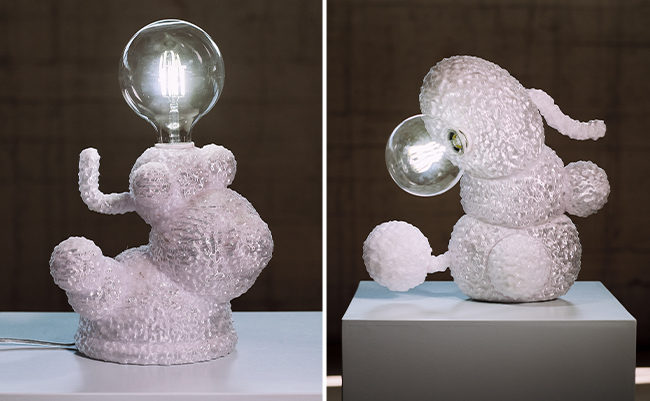 Making Use of a Semi-Transparent Filament in an Art Project
Alisha is the author and founder of 'THE EMPTY DINNER', a project which focuses on creating home objects that, despite being practical, can still evoke emotions. Alisha's works are strongly based on interactions she sees between an object and a user, and as she says: "Every piece tells a story." For the event in Rotterdam, the artist designed, 3D printed, and post-processed a collection of five lamps called 'Flavored Water'. The whole idea was focused on the unique connection humans have with water: "We use water to help us bring clarity, calmness, and purity back into our lives," Alisha says.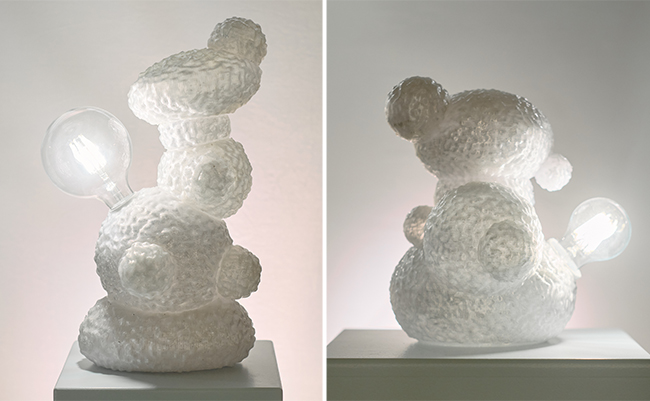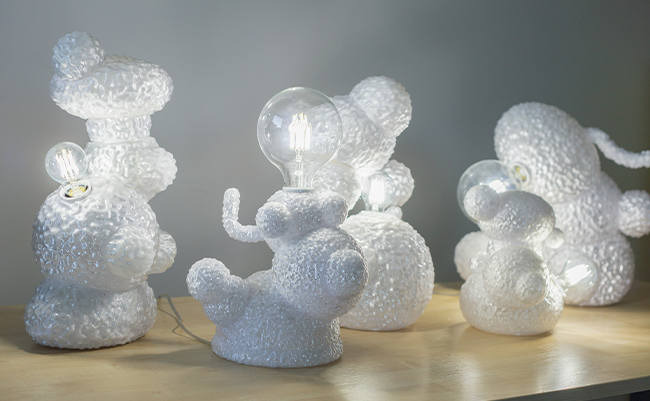 Because the concept for the 3D printed lamps revolved around water, Alisha was looking for the right material that would accurately fit her vision. Her obvious choice was a blend of PETG and glass fibers — Z-GLASS 3D printing filament which could imitate water. "I chose Z-GLASS because I am very drawn to transparency. It is something that has always been consistent in my work," Alisha emphasizes.
Creating Art Pieces Based on 3D Printed Prototypes
The designer was satisfied with the quality of 3D printed prototypes made with Z-GLASS and she went onto modeling final pieces in Solidworks. "I started using 3D printing as a form of prototyping my ideas and I was able to understand what was on my mind. This approach really benefited my work," Alisha explains.
After getting to know the semi-translucent nature of the filament, the artist experimented with different shapes and textures of the lamps until she came up with the final concept. The 'Flavored Water' exhibition presented different shapes and textures of water, such as waves and water droplets. Finally, the 3D files were ready to be printed.
Post-Processing Method Offering Desired Effects
Since Alisha planned the lamps to be between 20 and 30 cm (7.87 and 11.8 in) high, she chose to use Zortrax M300 Plus 3D printer. The workspace measuring 300 x 300 x 300 mm (11.8 x 11.8 x 11.8 in) made it possible to print big models without the need for splitting them into smaller parts. Alisha used Z-SUITE software to prepare the files for 3D printing and chose the following settings:
Layer height: 0.29 mm
Support type: Automatic with 30°
Infill: 30%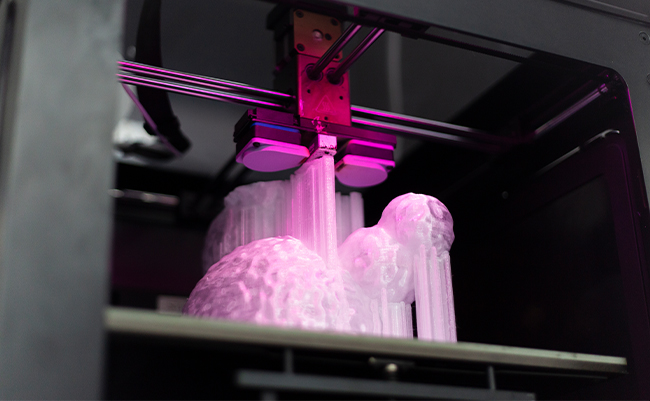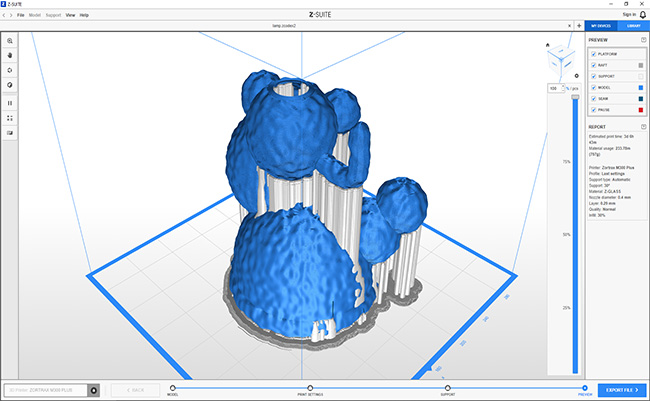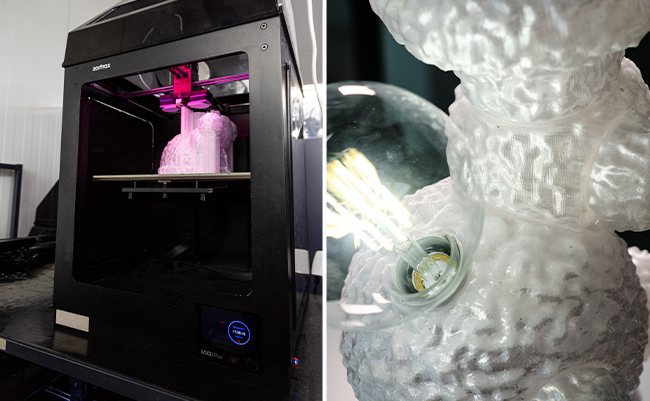 In the last stretch of the project, Alisha performed an interesting post-processing procedure, during which she coated the 3D prints with XTC-3D. It is a special coating substance which is used for sealing prints and making their surface glossy. This way she enhanced a water-like texture of the final 3D models. At that point, Alisha finished everything off by installing electronics, including wires and bulbs, in the lamps' structure. The collection 'Flavored Water' prepared in this way was presented at the 'OBJECT' design fairs in Rotterdam.
The possibility of working with Z-GLASS and Zortrax M300 Plus 3D printer greatly facilitated Alisha's work on this project. The artist was able to convey her vision through the features offered by the filament, as well as test the 3D forms in the prototyping stage. "I think 3D printing is a very quick way to understand what I am making. Most importantly, a 3D printed prototype can help me predict what issues I may have to face during production," Alisha summarizes the importance of 3D printing in applied arts.