A Polish Youtuber Uses 3D Printing to Make a YoloBox Pro Stand
Summary
Jarek Ostaszewski, a popular youtuber and DIYer from Poland, has recently produced fully functional, 3D printed accessories for his studio.
He used Zortrax Inventure 3D printer and Z-ULTRAT Plus filament to make a stand for his YoloBox Pro device.
A 3D printer proved to be an invaluable tool for the DIYer who wanted to make custom accessories that are not commercially available.
"3D printing is one of the most important inventions of recent years," says Jarek Ostaszewski, a popular youtuber from Poland who prepares online tutorials on woodworking and DIY projects. Jarek runs a workshop called DomiDrewno, in which, on a regular basis, he deals with house and furniture restoration, as well as 3D printing projects. In the videos, Jarek eagerly demonstrates how additive manufacturing streamlines the operation of his workshop and his work as a video maker. Recently, he has equipped his studio with a Zortrax Inventure dual-extrusion 3D printer and used it to produce some interesting accessories.
How 3D Printing Turns an Idea into a Customized Studio Item
As a professional youtuber and someone who used to watch online tutorials himself, Jarek knows how important it is to produce high-quality, enjoyable videos that present all the necessary details. That's why he pays great attention to a proper recording equipment setup that allows him to do his job as well as possible. The first project he decided to design, and then 3D print on his newly incorporated Zortrax Inventure, was a YoloBox Pro stand. The YoloBox Pro, manufactured by YoloLiv, is a portable multi-camera switcher that allows Jarek to record, monitor, and stream the videos. The device has a built-in LCD screen, so it needs solid support during the work.
Jarek had a clear vision for the stand from the very beginning of the project: "The YoloBox Pro stand was supposed to be a durable accessory that would allow the installation of further additions to the device. I also wanted the stand to make it possible to set the device in 2 positions: at 30 and 60 degrees." So, first up, the DIYer made a preliminary sketch of the stand on a graphics tablet.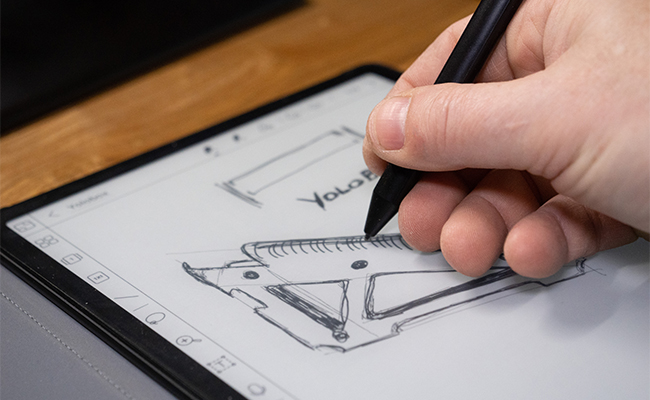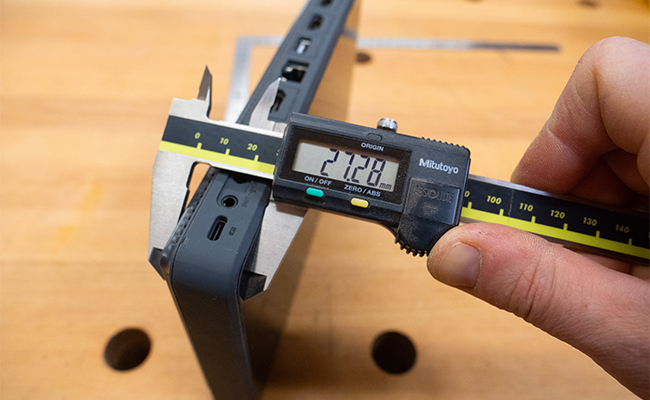 After taking all the measurements of his YoloBox Pro, Jarek began to design the stand in 3D modeling software. For the initial design, the creator used SketchUp, where he took into account the location of all the ports in the YoloBox and created a frame which supported each edge of the display in the device with special clips and connectors. The stand also has additional mounts for photographic accessories, such as transmitters or lighting.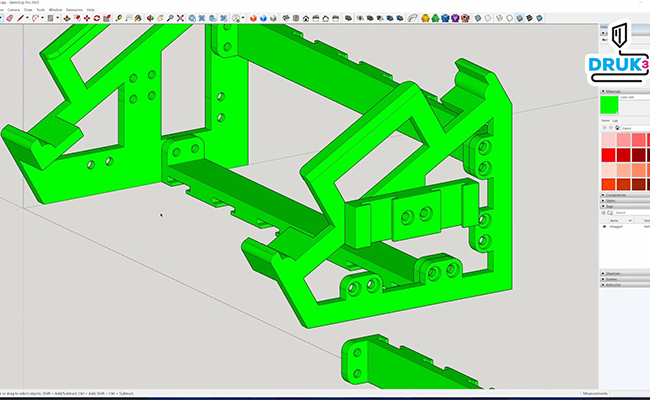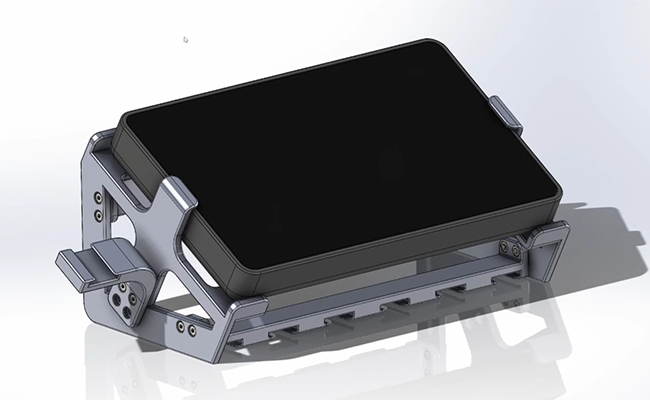 In Solidworks, the youtuber corrected the mounting holes and thickened the walls. "I really cared about the ergonomics of the stand. I wanted it to be stable as well as pleasant to the touch," Jarek explains. At this stage, he also smoothed and rounded all the edges in the structure.
3D Printing Durable Accessories for a Streamer Studio
The stand Jarek planned to make would measure around 220 x 130 x 30 mm (8.66 x 5.11 x 1.18 in). That's why, to facilitate the 3D printing process on Zortrax Inventure with build volume measuring 135 x 135 x 130 mm (5.3 x 5.3 x 5.1 in), the model was divided into 6 parts. After 3D printing a few prototypes and introducing a few corrections in the design, Jarek chose Z-ULTRAT Plus filament for the final version of the 3D printed YoloBox Pro stand. The material he selected is a highly resilient ABS-based 3D printing filament which is perfect for creating durable end-use parts. In Z-SUITE, he used the available settings for the selected filament with 0.2 mm layer thickness and 30% infill.
"3D printed parts made with Z-ULTRAT Plus are rigid and have perfect adhesion between layers. The prints simply look like items manufactured with injection mold technology," Jarek notices. Once he was done with 3D printing, all he had to do was assemble the stand and secure it with some screws. By the end of the work, the youtuber glued anti-slip foam on the edges of the assembled 3D printed YoloBox Pro stand to improve the comfort of use even more.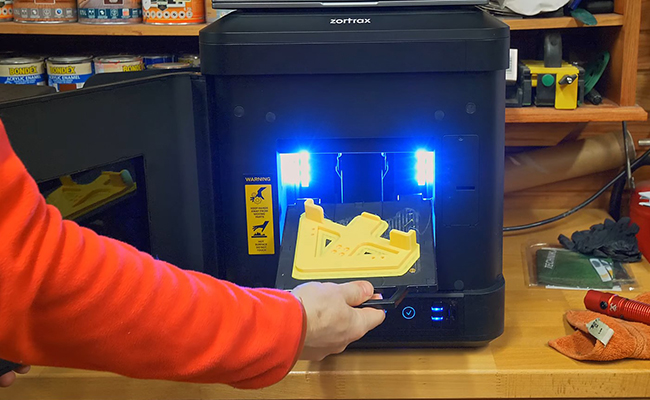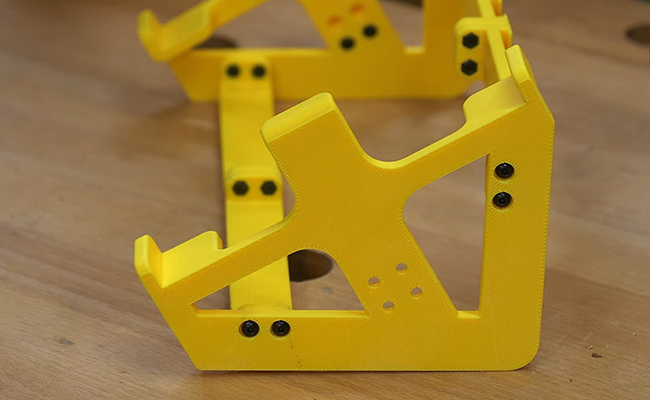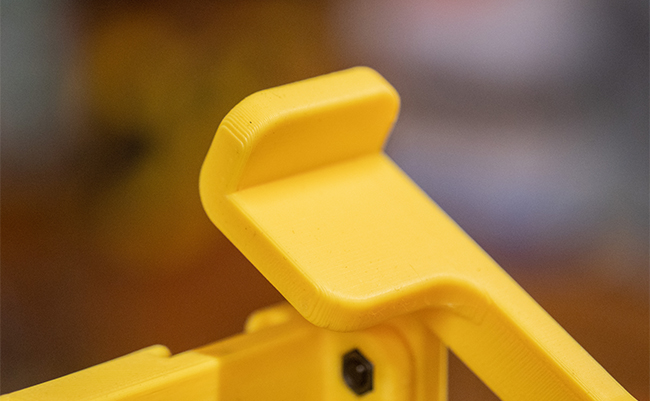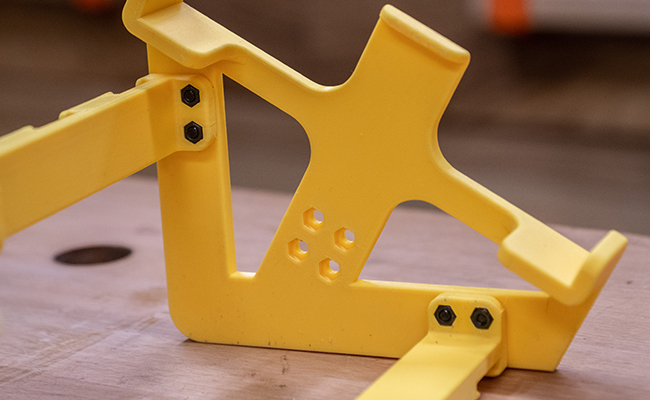 The Benefits of 3D Printing for DIYers
Jarek believes that a 3D printer is an invaluable tool for any DIYer who wants to make custom accessories that are not commercially available. Since the manufacturer of YoloBox Pro does not provide a compatible stand for the device, the youtuber can now tune his studio for livestreams more efficiently with additive manufacturing.
Even though self-production is not a 5 minute or a 1 day process, it is certainly very rewarding for the maker. Additionally, as Jarek sums up: "Starting with an idea, transferring it onto a piece of paper, then making a 3D model and using the slicer require some skills, but having a Zortrax Inventure made the job not only easier, but also cheaper compared to other methods." The printer is a Plug&Play device which has a heated chamber, preventing potential warping, and simple user interface. Jarek evaluates his project involving the printer: "I think that Zortax Inventure is the perfect equipment for the office or school, where a user just presses Print and waits for the printing results."
Zortrax Inventure is available for purchase with a massive 60% discount! Learn more about the device at: Zortrax Store.
Visit Zortrax Official Blog for more ideas on how to incorporate 3D printing in various projects: zortrax.com/blog/.