3D Printing Respirators and Medical Helmets on Zortrax Printers
3D Printing Lab at the Deptartment of Pediatric Cardiology and Congenital Heart Diseases, Medical University of Gdańsk (GUMed), Poland is currently working at full capacity to print currently much needed personal protective equipment like face shields and respirators (masks). "In the present crisis, additive manufacturing shows its major advantages like an ability to rapidly prototype and manufacture new designs", says dr Meyer-Szary, a pediatrician, pediatric cardiologist and a 3D printing specialist working at GUMed. 
Rapid Prototyping
"Face shields and respirators alike are wearable equipment. Comfort is therefore nearly as important as functionality. Moreover, there are many things that simply can't be foreseen at the digital design stage, hence the rapid prototyping capability Zortrax 3D printers give us is so crucial in this moment", says Meyer-Szary. According to him, his team at GUMed can quickly fabricate multiple different designs and put them through real-life tests to see what works and what doesn't.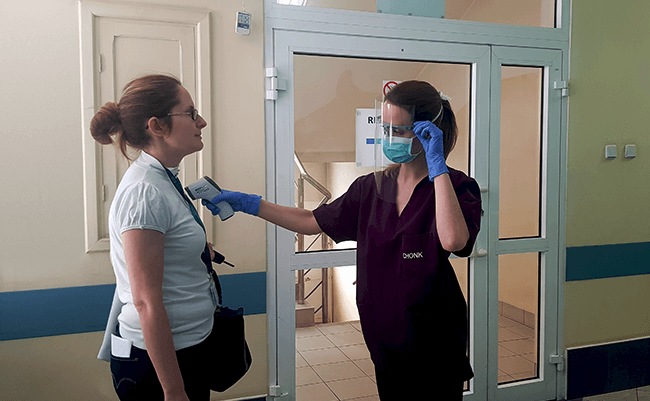 "There are multiple factors you need to consider in determining the right design. How fast you can print it, how many support structures would it need to print properly and how much post-processing the design would need" Meyer-Szary claims. 
According to him, standard surgical masks, are designed to protect the surrounding from the user and not the other way around. Respirators, on the other hand, are more complex devices, but from the ground up they are made to protect the wearer. They come with a casing and a filter. The SARS-COV-2 virus is only 120nm large. For personnel working with patients suffering from COVID-19 or being suspected of the infection the filter should meet at least E11 (preferably E12) HEPA class requirements so that the respirator can be classified FFP2 (FFP3) standard in Europe, or N95 (N99) standard in the United States. "Because there are huge shortages of such masks all over the world, we try to use HEPA filters, class E12 or higher, as a replacement", says Meyer-Szary.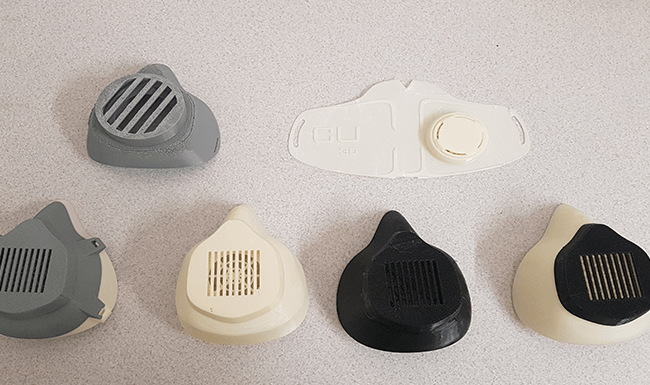 "Importantly, such masks should enable the user to breathe freely even during periods of intense physical exertion", explains the doctor. When they let through too little air, they may be comfortable in the rest state, but fail to work properly when oxygen consumption rises during physical effort like when taking care of the patient. "That's why rapid prototyping is so important. We can quickly print multiple different designs, print them reliably on Zortrax machines, put the filters in, and hand them to our personnel for real-life tests. This way we can immediately determine which design works best", says Meyer-Szary. 
Rapid Manufacturing
So far, the GUMed's 3D Printing Lab has had Zortrax M200, M200 Plus, and two Inventure and one Inkspire printers. Recently, the university received a large volume Zortrax M300 3D printer, as part of the Zortrax COVID-19 relief efforts. "With the equipment we had before the outbreak, we could reach a daily throughput of roughly 24 face shields which we printed on two M200 class machines", says Meyer-Szary. Student volunteers, who are executing this project and doing a great job. They have swiftly mastered those printers, as well as the Inventure and Inkspire machines we also had, and optimized various design and printing parameters on their own. This way, we could sustain the current production on M200 and simultaneously test new prototypes of respirators.", says Meyer-Szary.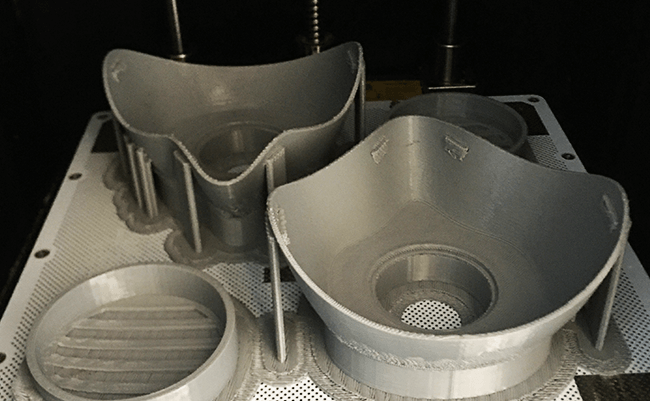 A single-extrusion mode, recently implemented in all Zortrax Inventure 3D printers, played a key part in increasing productivity. "Inventure 3D printers could previously print exclusively in dual-extrusion mode, which means they were using to filaments, one for the model and the other one for the soluble support structures. This increases precision and made support removal easier but increased the printing time. Now, with models optimized to require as little support as possible, we use our Inventure printers in single-extrusion mode, which makes the printing significantly faster as there is no time wasted on switching between model and support filaments", explains Meyer-Szary. 
GUMed received the Zortrax M300 3D printer on Friday, April 3, 2020. "This is a large device capable of printing 20 face shields every 24 hours", says Meyer-Szary. This way, according to him, the total manufacturing capacity GUMED can use has risen to nearly 44 shields daily.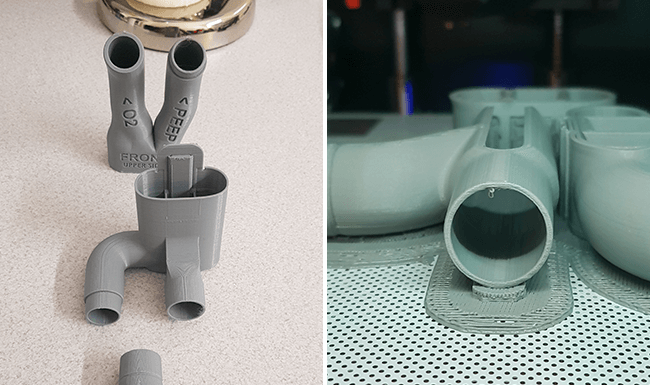 Of course, such throughput is possible thanks to a relatively simple design of the prints. "The demand is huge", says the doctor, "3D printed protective gear fabricated at our lab has been first delivered to personnel working at the Department Pediatric Cardiology and Congenital Heart Diseases, Department of Paediatrics, Haemathology & Oncology and Clinical Cardiology Center, especially the Angiography Lab at our hospital". Now is also used in many other places. "At this moment, people at over a dozen wards are using the 3D printed gear", claims Meyer-Szary. 
The 3D printed face shields have also been examined by the hospital's Chief Physician, Tomasz Stefaniak and received high notes for both design and functionality. "New equipment has been ordered, such we didn't even expect was needed", says Meyer-Szary.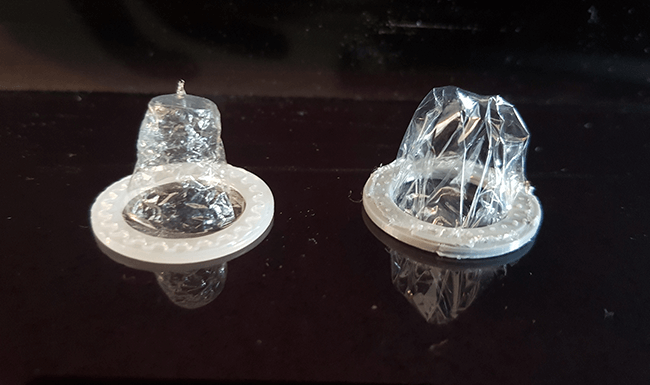 According to him, those were components to keep ear thermometers sterile. "This equipment consists of a polymer ring and a sheet of foil which are put together and used to prevent the thermometer from coming into direct contact with the patient's body", explains the doctor. "Here, also 3D printing solved the same problem too often face during this crisis. Currently, such components can't be bought anywhere on the market. Our 3D printers print the rings, and our volunteers puts the foil on them manually", says Meyer-Szary.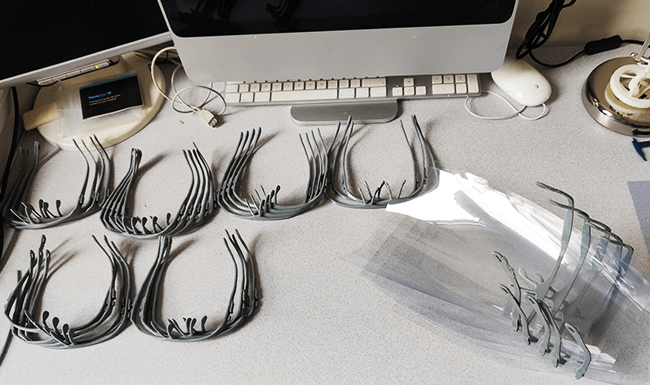 The core of the whole project are volunteers – medical students: Marlon, Agastya, Zuzanna, supported by dr. Meyer-Szary having over three years of experience in medical 3D printing. Their activity, however, is possible only thanks to the support of many people. If you can, please support their efforts to fight the deadly COVID-19 caused by the highly contagious SARS-COV-2 virus. More about the project and progress can be found at www.covid-19-stf.gumed.edu.pl