10 Things You'll Never Have to Buy After You Get a 3D Printer
Summary
There are many practical items you can 3D print and never buy again.
You can save money on simple tools and protective gear for more expensive gadgets around the house.
Your home can be customized to your liking thanks to readily downloadable designs available online.
Have you ever considered buying something that was almost perfect but had this one design flaw that made you pause and rethink your purchase? The future where everyone could create their own goods at home by simply downloading their most desired products or designing them from scratch is almost here. We might still be miles away from Star Trek-like "Replicators" that can create literally everything but there's a lot that can be done with 3D printers  you can have today.
This is a list of 10 most convenient tools and objects you can find online that you'll never have to buy again. They should help you with really bothersome issues and admittedly some first-world problems as well. With a desktop 3D printer you can print them on your own at home.

10. Bottle openers
We're starting with a common household appliance for those who haven't mastered the technique of opening a bottle with their keys, lighters or even eyelids in some extreme cases. A bottle opener isn't the most expensive item you can find but but certainly a must-have. With a 3D printer you can make it into any size you deem fit and carry it with you everywhere you go. Think of it not as saving those 5 to 10 bucks you would normally spend on a new one but rather as saving you the trouble of explaining to your friends why you have never learned to open a bottle without it. Get it here.

9. Earbud cases
Talking about saving you some hustle. Have you ever reached into your pocket to get your headphones only to find them tangled up in an impossible manner? Nothing beats the frustration of something so simple as trying to untangle those dreaded headphone cables when all you really want to do is to listen to your favorite album or podcast to unwind yourself. However, it is very easy to keep them neat and tidy and ready to be plugged into your device with a little help from a headphone case. The cost of such cases varies extremely but with a 3D printer you'll not only save a bit of money but you'll also be able to customize the case to match your gear or even your hobbies. Ultimately, it's about a better experience since listening to music should be relaxing and not another reason to get angry. Get it here.

8. Battery adapters
If you're one of the many people who have a lot of AA batteries lying around the house while you need a completely different one, that's not a problem. These batteries offer the same voltage as the larger and more expensive C batteries. However, with a 3D-printed adapter you can easily use the smaller and cheaper option to power up something requiring a bigger frame. Get it here.

7. Shower heads
Buying a new shower head usually comes out of necessity rather than comfort but if you customize it you might find it will change that experience for the better. Are you a shower singer? You can print one in the shape of a microphone. Not sure whether you prefer a large or small stream? Now you can have both. Having concerns about what's in your water? No problem, filters like the Culligan can reduce chlorine by 99%, allowing you to have that perfect hair day you always wanted to have. Get it here.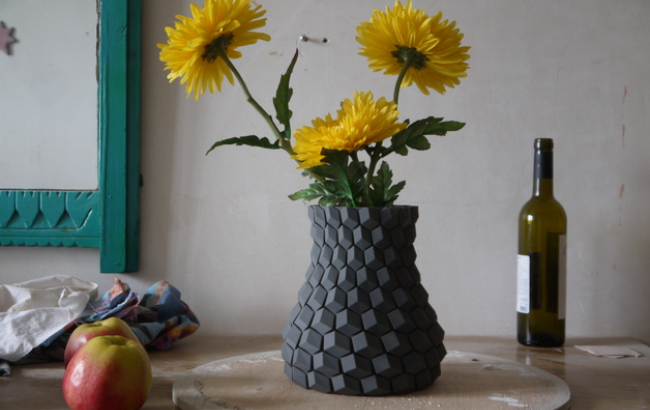 6. Flower pots and vases
In terms of artistic and decorative sensibilities, choosing the right pot or vase can really tie a room together. Whether it's in the image of a Pokemon or Baby Groot, or with a highly stylistic pattern, the internet has hundreds of designs ready to be downloaded and 3D printed. Every pot can be unique and express a different aspect of your personality. It's a perfect example of things you can print at home to make it feel like your own without spending too much money on customized items. Get it here.

5. Toothpaste squeezers
This one is clearly for perfectionists who get annoyed with unused toothpaste in the tube. In order to get all of that paste that's left and all the freshness that you paid for, you can use one of the many tube squeezers that are readily available online. It's a simple mechanism, one which most desktop 3D printers should be able to manufacture. This one will not only save you the purchase of a squeezer but a couple of extra trips to the shop to buy a new toothpaste. Get it here.

4. Windshield scrapers
If you're a driver during winter you know how essential this item is. Another key reason to 3D print a scraper is how you normally use it. Strong filaments shouldn't have any trouble making impact resistant and reliable scrapers that will get that extra frost off your windscreen and not break in the process. And hey, if it does, then you still have a couple of hundreds of other designs you can test. Get it here.

3. Adjustable wrenches
This one is one of the most practical items on the list. Thanks to 3D printing technology you can print your wrenches in various different sizes, instead of spending additional money to get that right size. Not only will you adjust their grip after printing, you'll also be able to change their size with great ease at the production stage, making both XL and XS wrenches to add to your tool kit. Get it here.

2. Phone docks and sound amplifiers
Arguably the most cherished possession a modern person has is their phone and while you still can't 3D print a fully functioning smartphone, you can make accessories that will enhance the way you use it. Large phones can be used as small screens to watch films or other online content and a docking station is the perfect way to keep it steady and fully charged at the same time. If you've ever put your phone into a glass you know that the right shape can also amplify the sound of your speakers. With the right shape of your pod you can boost the volume of your phone's speakers and use it to listen to your favorite music louder. Not to mention, some docking stations can cost hundreds of dollars so you'll be saving quite a lot of money as well. Get it here.

1. Phone cases
Phones are so important these days that they deserve not one but two entries on our list. Not to mention, they're also very pricy so to keep them safe you need some extra protection. A phone case is a perfect tool to prolong the lifespan of your phone and save you the unnecessary costs of fixing them after they accidentally fall down to the ground. The problem with regular phone cases is that they cover the sleek and attractive design of your phone but with the freedom of 3D printing technology you can make your protective case have the thickness, shape and design that you really want. It will look the way you want it to but ultimately it will save you over 100 dollars to replace a broken screen. Get it here.